Electronic medical records are proving to be beneficial above and beyond the offered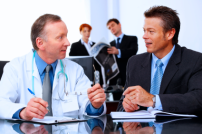 incentives for Meaningful Use and improved efficiency as practice management software. According to a recent study from Stanford University School of Medicine, electronic medical records are providing insight into patient behaviors, and it appears that women report more intense pain virtually every disease and disorder category.
The base information was compiled using data mining of electronic medical records with the intent to establish the broad gender difference based on true recorded data. The study was published online in the Journal of Pain, and the compilation of the data shows that there is a great deal of value behind EMR data mining for research purposes.
That research can be used in a variety of ways, with raw statistics giving physicians a first time insight into trending across a huge database of patients. The University utilized a database designed specifically for research with more than 160,000 pain scores from real patients, with more than 72,000 of those patients being adults.
From those cases and the recorded data, researchers were able to specific disease-associated pain by gender and look at recorded pain scales within system templates.
"None of these data were initially collected for research, but this study shows that we can use it in that capacity," said Atul Butte, MD, PhD, the study's senior author.
While this marks the front of a tremendous opportunity with electronic medical records, the systems are still relatively new. EMR systems have been setup and installed in a variety of health care offices and hospitals throughout the U.S., with more clinics and hospitals integrating these systems each month thanks to incentive programs from the government. Unfortunately, only 1-2% of hospitals currently utilize electronic health records and medical records, and a very small portion of clinics are utilizing web based EMR systems and practice management software.
The lack of integrated systems means far less data available for research, but with a tiered incentive plan rolling out over the next several years, the federal government aims to make sure that 100% of health care providers - regardless of size - utilize EMR software.
By 2018 we can likely expect large-scale research using clinically collected data - and some significant breakthroughs in patient treatment methods, response to medications, trending symptoms based on flu virus strains and other epidemics, etc.
There's a caveat in this research that is a bit controversial; whether or not women actually feel more pain than men.
"It's still not clear if women actually feel more pain than men do," said Butte. "But they're certainly reporting more pain than men do. We don't know why. But it's not just a few diseases here and there, it's a bunch of them – in fact, it may well turn out to be all of them. No matter what the disease, women appear to report more-intense levels of pain than men do."
The hope is that through continued roll out of electronic medical records, Butte and his team will be able to find a biomarker for pain - some form of objective measurement - that might aid in understanding and treating pain in both genders.