Physicians across the United States have spoken. While electronic medical records software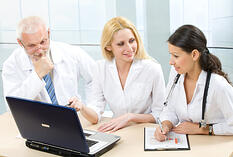 provides a laundry list of features and benefits, data compiled over the course of 2011 by Capterra shows us that clinical staff is demanding more efficiency in the form of practice management software as opposed to focused features around treatment templates.
The 5 Most Requested Features in Electronic Medical Records
Billing System Integration is at the top of the list, and for many physicians and administrators, it's a "god-send" type feature. With various billing requirements depending on insurance, copays, patient data, eligibility among patients, remittance and tracking it can be a never-ending chore to keep the books straight for a small practice.
With practices that are months behind in collecting on insurance, a streamlined system is nothing short of a lifesaver.
Practice management software and electronic medical records that incorporate billing functionality provide numerous benefits including more accurate record keeping, elevated patient security to ensure HIPPA compliance, a more efficient collections process to reduce labor costs, more efficient book-keeping among administrative staff and - above all else - faster payment turnaround from payers.
Automatic Reminders - Depending on the branch of medicine you practice, a missed appointment for a patient can be detrimental to their health. Some appointments are critical and must be kept. Sometimes patients neglect to save the date, in some cases your administrative staff are so backed up that patient rescheduling is missed.
Electronic medical records complete with practice management software make it easy for the physician to plug in the date of next visit. Once appointments are set in the system, automatic reminded are delivered at set intervals to a patient through a variety of chosen channels. Staff is also notified of pending appointments as well as missed appointments.
e-Prescribing - Electronic prescribing of medications is all about accuracy, effectively improving patient care by reducing the risk of errors in reading or writing a prescription. In addition to the accuracy aspect, e-Prescription integration in systems and practice management software allow for duplicate therapy checks, drug interactions and contraindications, proper dosing, allergy and adverse reaction checks all bundled together with simple electronic transmission to the pharmacy of choice for the patient.
The benefits are clear, but for those seeking the incentive on integrating electronic medical records, this is also one of the criteria necessary to qualify for the Medicare Rebate. Last but not least, you'll greatly appreciate the amount of time saved from having to sit on the phone with the pharmacy as they try to interpret prescriptions - any physician can appreciate that.
Document Scanning - Not surprising that document scanning made it into the top 5. One of the challenges of integrating electronic medical records into a practice is trying to decide what to do with old patient records. Some imaging software doesn't integrate with electronic medical records, and other patients may bring you medical records with images that need to be archived.
Having the ability to scan documents into the electronic health records of your patients, as well as adding in records from existing files, ensures the continuity of care across all patients.
Medication Tracking - Tracking medications and reconciliation at the patient, medication and reaction level improves patient care as well as any case studies you may be facilitating or participating in. With the right med tracking system in place with your practice management software, you can more easily manage inventory and usage, leading to automation of medication purchases as needed. Lastly, medication reactions and toxicity monitoring using standard adverse reaction terminology is invaluable for tracking, reporting and the follow-up phase.
The question is: Can you get all 5 of these features in your electronic medical records solution - whether it is server based EMR system or a web based EMR system? The answer is a stout yes. Not only are electronic medical records customizable depending on your needs but there are also a number of systems such as those sought after above, preloaded into top level EMR software systems. This provides you and your practice with an off-the-shelf solution, and access to every one of the top-demanded features in EMR software.