In a busy practice, it can be a difficult choice for you to opt-in to utilizing Podiatry EMR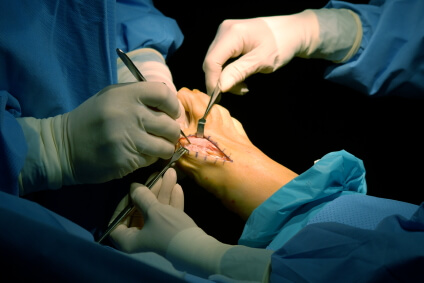 software. A big barrier for many physicians is price, another is time. With a waiting room consistently packed with patients who need to be seen for ankle sprains, ulcers related to diabetes, soft tissue injuries in the feet and a variety of other issues, there's often very little time to plan, implement and train around podiatry electronic medical records.
But is it smart to wait out the process and hope for a better option?
For those physicians who aren't quite ready to adopt podiatry EHR systems and electronic medical records, they often turn to automating individual portions of their office - primarily administrative and clerical in order to reduce some of the paperwork and general work load. This can include things like:
Podiatry EMR Software - Electronic Superbill
Some clinics utilize practice management software to some degree, and may be using billing software. If you're using this in some form, you might consider have changes made so that your superbills/fee slips/encounter forms print the details of the last visit of each patient. With an electronic superbill in place you can do all of this at the touch of a button.
Consider if a standalone option is the best choice though. You'll need to trust in backing up your own systems and you'll still have some measure of training among your staff. Note, too, that Podiatry EMR software already utilizes electronic superbills so you can gain the benefits of this system with the right Podiatry electronic medical records solution.
Podiatry EMR Software - Template Generation
Some physicians are savvy enough with their office software to create templates for chart notes, letters and other documentation in the clinic. These templates can reduce errors, focus patient treatment, and reduce treatment times to streamline encounters. The downside is that you're still dealing with printed templates.
For a fee you can have a more sophisticated template integrated into many practice management systems. You're faced with a high cost to get a variety of templates made, you'll still need to design them, and then you're faced with storage issues, file structures of dedicated servers on site to store all the patient data.
Podiatry EMR is designed to simplify this process. The systems come preloaded with a wide variety of templates for diagnosis and treatment, and depending on your set up (web based EMR or on site EMR) the costs are minimal in order to maintain secure copies of that patient data. You'll be saving a lot of time and money by investing in Podiatry electronic medical records that are preloaded with all the templates you need for your practice.
Podiatry EHR Software - Handling and Tracking Prescriptions
Even if your office utilizes simple practice management software, few offer detailed and in-depth review of prescriptions for tracking purposes. That's why patients sometimes have issues, all around the United States, with contradicting medications, improper dosing, and no-follow up on some treatment plans.
A complete solution for Podiatry electronic medical records provides the benefit of e-prescribing. This allows you to easily track the medications you've prescribed to your patients, if they're following their treatment plans, medications and supplements that may conflict with a prescription and more. That's extremely difficult to achieve outside of Podiatry EMR software without costly customization.
And there's still no real guarantee that it will properly interface with many simple practice management systems.
Lastly, if you want to improve the patient experience and work flow by utilizing mobile technology in your Podiatry practice, the best investment you can make is in a complete electronic medical records system. Otherwise you may encounter common problems in file sharing via a wireless network including file corruption, data loss, security issues, data saved to the wrong drive and more
With Podiatry EMR software, all patient information, administrative functions, schedule, billing, prescribing and treatment templates are centrally located, secure and easy to access no matter what technology you're using in the clinic.

Readers may also like the following: