While healthcare providers across the United States are ramping up efforts to integrate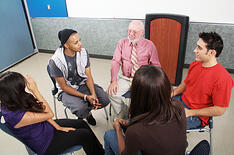 complete EMR solutions, some practices are reluctant to invest in a complete onsite solution for Psychiatry EMR software and practice management system.
It's not that they don't see the benefits, but a psychiatry practice is often run in a dissimilar way to other branches of health care. The most notable difference is in how psychiatrists make contact with patients.
While each operates their practice differently, many are required to travel to other facilities in order to observe, speak with and review patients. A traditional electronic medical records setup with on-site servers and dedicated work stations could pose a significant barrier depending on how the practice operates.
Tearing Down Barriers with the Best Psychiatric EMR
Meeting with a patient while the attention is turned to a glowing flat screen or workstation monitor creates a significant barrier between yourself and the patient. Psychiatrists need to maintain an open dialogue, and if you're constantly punching keys without providing the majority of attention to the patient it can be difficult to establish necessary rapport.
Psychiatry EMR that integrates a mobile solution (table PC's) offers a number of benefits, including eliminating that barrier.
1. Using Psychiatry EMR with a mobile solution such as with web based EMR and a tablet PC, you benefit from the slim profile of the tablet. Similar to a note book, the tablet maintains a low profile that reduces the perception on the patient that the attention of the psychiatrist is elsewhere.
2. A tablet integrated with a web based psychiatry EMR allows you to take your work virtually anywhere with a secure connection. From a hospital or clinical setting, the psychiatrist can still access patient notes, data, medications and more to maintain continuity of care.
Going Paperless with Psychiatry EMR
Even if you have a favorite pen, the amount of note-taking in psychiatry can wear on you. Some choose to record patient encounters using a digital voice recorder but this requires additional time transcribing those recordings – or adding the expense of paying an agency for transcription.
Psychiatry EMR software offers numerous options to simplify note taking to help psychiatrists go paperless. Not only do complete electronic medical records systems offer voice recognition for instant transcription of conversation and meetings, but handwriting recognition makes it easy to take digital notes using a touchscreen interface – such as those available on tablet PC's
Improving the Well-being of Patients with Psychiatry EMR
Prescription medications developed for mental health patients, including treatments for anxiety, depression, phobias and more severe mental illnesses can sometimes present with significant side effects. In addition, a patient can have adverse reactions when some medications are mixed.
ePrescribing not only offers simplicity in prescribing a medication but it allows for tracking and controls that check for contraindications and drug interactions that could be harmful to a patient.
Psychiatry Electronic Medical Records software solutions have become much easier to integrate into a practice, and for psychiatry and other mental health professionals, the system can be even easier. Opting for web based psychiatry EMR is often the best choice, providing ease of integration, rapid setup, lower operational costs while still benefitting from custom templates, mobile accessibility and a complete practice management system for operating a more efficient practice.