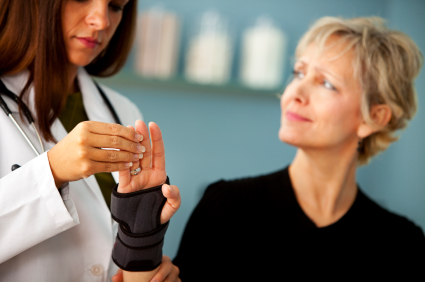 One of the most common complaints physicians have about electronic medical records is the difficulty of balancing using the EMR and patient interaction. If you're like most physicians, you entered into your profession because of your desire to help other people. Regardless of the age group you work with on a day to day basis, patient interaction has always been high on your priority list. While EMR has proven successful in making your practice more efficient, the challenge of continuing to give your patients the personal attention they need from you still exists. However, by making a few small changes to your encounters with your patients, you can still maintain your interaction with them while successfully using your EMR system.
Your Physical Actions
You're probably used to being able to walk into an exam room with your hand extended, ready to sit down and converse with your patients eye to eye. There's no reason why this has to be abandoned. Your patients will experience your attention if you can keep as much of your interaction with them the same as it was when you used paper charts. Where you will run into problems and dissatisfied patients is when you walk into the room and immediately go to the computer. Take a few moments and sit across from your patients. Have a conversation about their overall general health. Ask your staff to enter as much information into the computer as possible before you get into the room. That will require you to spend less time at the computer. It will also be helpful if you can position the computer in a way that you can still maintain a considerable amount of eye contact with your patients even when you're typing.
Delegate EMR Documentation
While some physicians have chosen to enter information into their EMR after the patient has left in order to maintain a sufficient amount of patient interaction, this method undermines the usefulness of the system. However, many have opted to employ the use of a scribe during patient interactions. A scribe would take your notes for you, entering all information into the system during the appointment. This is a much more efficient method, especially since the information is entered during the appointment, leaving less room for errors than if you were to enter it later on. If having a scribe doesn't sound appealing to you, consider using dictation software along with your EMR system. You'll be able to speak your notes and they will be entered into the system automatically.
Combine EMR and Patient Interaction
Many physicians are finding that if they're able to combine EMR and patient interaction, their patients are much more appreciative. As long as the privacy of your other patients is protected, allow your patients to sit beside you and look at the record together. The Microsoft Surface Tablet is an excellent example of a device that allows for both of you to view the record at the same time, giving you the opportunity to maintain eye contact and converse freely.
As with any technologically advanced product, EMR takes some getting used to. Integrating it into your practice was probably much more simple than learning how to maintain excellent communication with your patients during their appointments. However, with a little bit of trial and error, and finding the style that works for you, you can successfully use EMR to enhance your patient encounters, just as it was intended to do.
If you'd like more information on electronic medical records for your practice, we'd love to talk to you. Contact us today!