Medicare payments to physicians not qualified as "meaningful users" of Certified Electronic Medical Record software will be reduced by 1% in 2015, then 2% in 2016, 3% in 2017, 4% in 2018, and by as much as 95% in subsequent years.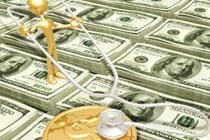 To avoid this situation your timing is critical. Experts predict that by mid-to-late 2010, the demand for Electronic Medical Record Systems may far exceed the number of qualified sales and support staff that companies with Certified Electronic Medical Record software will have to meet the last minute rush of physicians suddenly realizing their forthcoming financial misfortune. Therefore, now is the time to take action and give serious attention to the 2 to 4 months of lead-time required for planning and selection, set-up and training, implementation and "go live". Then, add an additional 6 to 8 months to ensure physicians and staff are proficiently up and running as "meaningful EHR users", so that each physician in your practice is eligible for the up to $44,000.00 in Medicare Incentive Payments beginning in January 2011.

Late adopters can surely expect huge delays or worse, being placed on a waiting list (at least by the best and most popular EMR software vendors). In this case, your options may become very limited, and prices may even increase. So, instead of receiving Bonus Payments, you may wind up being penalized through reduced payments. Don't be surprised if you find yourself on a "hotchpotch" path of trying to force-fit poorly matched EMR and Practice Management software together from different vendors. This predicament will cost you a lot of time, frustration, and money.

There are over 300 EMR vendors on the market, and only a few are CCHIT Certified and qualified take on the question, "Which EMR has the smoothest transition and implementation that meets the requirements of your practice and, ensures each physician in your practice receives the maximum Medicare Incentive payments?" The answer, find a good Independent Consultant who, at no cost to you, can help you find the best-fit Certified Electronic Medical Record software, which has all the answers "built-in".

It's not everyday the government imposes new laws, regulations, costs, and penalties upon your business and then, turns around and pays you, to become compliant and avoid being penalized. Now is the time to start positioning each provider in your practice to leverage every Bonus Incentive dollar available. After all, the right-fit Electronic Medical Record software will make running your practice easier, more profitable, boost morale, improve patient care and, enhance your quality of life and that of your patients. Everyone will "feel" the difference.