In a statement to Orthopedics Today , American Academy of Orthopedic Surgeons Internet Communications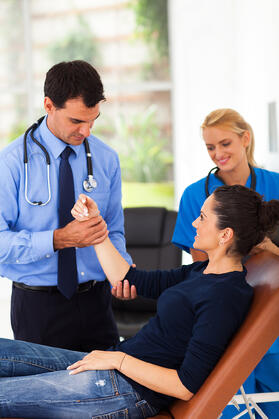 Chair Herbert Alexander, MD said, "After having a totally electronic office for two years, I would never go back to using paper charts, as EMRs have improved my efficiency and quality of care. Life is better with an EMR." Indeed, EHRs offer many benefits to 21st century orthopedic practices. However, the degree to which they positively impact workflow, patient care, and ROI varies according to the EHR system. One way to ensure optimal outcomes across all measures? Make the switch to a cloud-based orthopaedic EMR. Read on for seven reasons why cloud-based EHRs are the best choice for today's orthopedic clinics.
1. Implementability
Unlike server-based EMR systems, Cloud-based Orthopedic EHR software runs on the web and requires neither hardware nor software installation. Because of this, implementation is quick, simple and efficient with a minimal learning curve -- the ideal choice for orthopedic surgery centers looking for faster ROI.
2. Optimization of Space and Pace
Because server-based EHRs require physical data storage, they are inefficient when space is at a premium. Cloud-based EHRs maximize usage of square footage and minimize wasted space. Additionally, cloud-based storage offers the optimization of your time. While server-based EHRs run the risk of crashes and data corruption, cloud-based EHRs ensure safe access as long as you have a secure internet connection.
3. Accessibility
Web-based orthopedic EMR offers physicians and staff instant access to patient records, lab reports, and other data regardless of location. The result? Better access, collaboration, and continuity of care. Cloud-based EHRs can also promote critical patient engagement by allowing them to securely log into the system to view their own data.
4. Scalability
Orthopedic clinics not only come in all sizes, but they're also dynamic. With millions more patients positioned to enter the healthcare system due to the Affordable Care Act, the ability to expand your practice without taxing your IT infrastructure is essential. Whether you're looking to add new doctors, patients or locations, cloud-based EHRs offer unparalleled economy of scale.
5. Affordability
The initial cost of EHR installation can be steep, particularly when you factor in equipment expenses related to server-based EHRs. Meanwhile, cloud-based EHRs require no hardware, software or licensing fees, so upfront costs are low. You also save on maintenance costs and upgrades, while benefiting from a demand-based, pay-as-you-go system.
6. IT Optimization
Web-based orthopedic EHRs significantly reduce the burden on your existing IT infrastructure. Rather than devoting IT resources to installing, configuring, running, and securing hardware and software, it's all done internally via your cloud-based SaaS provider. Updates are automatic so you're always running the most current version.
7. Security
The healthcare sector has historically avoided web-based EHRs because of security concerns. However, the truth is that cloud-based systems may actually be more secure than both paper and in-house servers. Why? Because not only are they subject to HIPAA compliance, but they also use the most sophisticated security methods, including bank-level encryption, which render data unreadable if a security breach does occur. Furthermore, because paper and client-server based EMR systems depend on physical security, they are more vulnerable to threats such as fire and natural disaster.
While many orthopedic surgeons previously favorite on-site systems, more hospitals and practices are turning to cloud-based Orthopaedic EHR in order to increase their capacity to handle more complex healthcare practices and ultimately deliver a better standard of care for orthopedic patients.
To find out more about what an orthopedic EHR program can do for your practice or to see a demo of Revenue XL's Orthopedic EHR, contact Revenue XL today. If you want to check out our hosted demo right away, please click here.
Readers may also be interested in the following: