EMR Cost
An updated version of the post was published here.
When prospective EMR clients ask me "so how much does EMR cost?", the immediate answer to this somewhat of a thought provoking question is, "well, how much time do you have on your hands today to listen to the answer?" Meaning, are they looking to just find out about the cost of the EMR Software itself, or are they really interested in understanding the Total Cost of Ownership (TCO) as it relates to implementing an Electronic Medical Records solution in their practice successfully.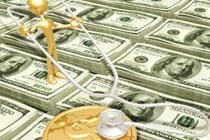 So, what are the true total costs of implementing Electronic Medical Records (EMR) Software?
For the purposes of this blog article, I will confine myself to a Client Server kind of installation where the EMR Application Server is installed on a Server (typically a Windows Server 2003) located within the premises of a medical clinic. Total cost of implementing an Electronic Medical Records system can be divided into two main groups: Product Cost and Services Cost.
Let us explore these two main cost components and then dive down further into their respective sub-components.
I. Product Costs
a. Software costs
i. EMR / Practice Management Software License Cost (for Provider and other staff like PA, RNs, etc,)
ii. Procedure, Diagnosis & HCPCS codes
iii. Drug Interaction Database (with or without dosing)
iv. Patient Education Advisors
v. Code scrubbing software
vi. Recurring annual maintenance and support costs
(Complete list available in the downloadable Excel Template below.)
b. Interface(s) and Conversion Costs
i. Lab interfaces (may be offered free from the EMR Vendor side but, there usually will be a charge for the lab side of the interface, which the lab may pay for)
ii. Medical device interfaces (as required)
iii. Practice Management interface (if required to interface with an existing Practice Management application)
iv. Data conversion
v. Electronic Remittance Set up
vi. Other compatible third party interfaces
c. Hardware Costs
i. Windows Server
ii. Windows workstations / Laptops with flat screen monitors
iii. Scanner
iv. Scanner and OCR for Drivers license and Insurance card
v. Insight Scanner and Docuscan from Scantron
vi. Tablet PC
(Complete list available in the downloadable Excel Template below.)
II. Services Costs
a. EMR Implementation and Training Services Costs
i. Onsite implementation and training costs
ii. Travel costs (Flight, hotel, boarding, commute, etc.)
iii. Remote training (using software like Webex)
iv. Project Management
v. EDI Set up and training
(Complete list available in the downloadable Excel Template below.)
b. Installation, Configuration and recurring IT Services Costs
i. Installation of Windows Server, workstations, printer, fax server, scanner, tablet PC, etc.
ii. Network setup (Router, Switches, etc.)
iii. Configure outbound and inbound fax services
iv. Configure VPN and / or RDP for remote access
v. Installation services for EMR/PM client software (if required)
(Complete list available in the downloadable Excel Template below.)
c. Electronic Billing Costs (recurring monthly costs)
i. e-Prescribing via Surecripts, re-fills, etc.
ii. Electronic Medical Claims processing
iii. Medical Paper Claims processing
iv. Electronic Remittance processing
v. Statement Service
vi. Credit Card processing service
vii. Appointment reminder service
Does this seem staggering? Does everything listed here apply to your practice? If not, what things are must have and what's optional? Which costs are one-time upfront only, or monthly or annually recurring? My answer is really quite simple, find and work closely with a good independent certified EMR consultant that will provide you with these answers throughout your EMR selection process and do so, at no cost to you. Yes, you read that right.
So, when an EMR vendor quotes you a price for an EMR solution be sure to ask them to address and clarify as to what components are really included in their proposal and quoted price? I am certain that you will be quite surprised and taken back by the responses you get.
Well, enough for now, but I promise to provide more detailed explanations about these popular components and their related costs and variations, that you should be aware of throughout your EMR selection process. Keep an eye out for more of my articles on this topic and others.
Download free template on EMR Implementation Cost Computation.