2006 marked the beginning of an era for soaring demand at record setting paces for the adoption of Electronic Medical Records Software by Pain Management Physicians. This record growth can be attributed in part to a combination of several factors including, technological innovations, greater efficiencies caused by product innovations reducing costs and increasing revenues, market and political pressures, and now, government tax and payment incentives. Since this time, tens of dozens of EMR software vendors have been popping up everywhere jockeying for a piece of the pie by claiming that their solution can best meet the Specialty EMR needs of Pain Management Physicians and their practices.

Pain Management Physicians who are working with a good EMR Consultant are experiencing smooth, timely, and successful selection of the best Electronic Medical Records Software for their practice. At the opposite end of this Pain Management EMR software selection process are those physicians trying to take on this daunting task on their own, and they are quickly finding themselves in a rather precarious situation and learning things the hard way by going through tumultuous EMR software search that engulfs a tremendous amount of their time and resources, not to mention, all of the frustration, confusion, and headaches that accompany trying to ride solo through the EMR software selection maze.
Those Pain Management Physicians who have managed to make their un-assisted way through the EMR selection maze say that, if they had it all over to do again, they would have brought in some professional help and saved a lot of time, headache, and money.
One thing all of those Pain Management Physicians who manage to make it through and find the right Electronic Medical Records software for their practice is that they tend to really like the EMR software that offers a operational foundation that is a combination of having pre-defined and customized templates or intuitive or "smart learning" abilities and related software design. Then comes the other key EMR software features and functions Pain Management Physicians are getting when they find the right Electronic Medical Records Software for their Practice. The vast majority of those are listed here:
Pre-loaded pain management specific conditions and nomenclature
The software must be well developed with Specialty templates and built-in intuitive or smart-learning capabilities, and have encounter scripts and key equipment integration points ideal for Pain Management Practitioners.
The technology must enable plug and play integration with most Pain Management medical equipment.
Easily accessible and interactive built-in diagrams or images for documenting precise location of pain, numbness, tingling, burning on extremities, neck, back, shoulder, face.
Ability to upload and use additional diagram, images, and drawings specific to your practice.
Interactive diagrams (extremities, body, etc.) for documenting pain locations
Pain management patient education
Pain management specific HPI complaints and ROS with systematic documentation of pain effect on daily activities, previous treatments tried and their efficacy, investigations undergone in the past, expected outcome of the present pain treatment.
Operating Room Vitals Monitoring Integration
Templates for Multiple Procedure, Back/neck pain, Selective nerve block, Lumbar puncture, Epidural steroid injections, Trigger point injections, Facet injections, Bursa injections, Botulinum injection, Epidural Steroid injections, Intrathecal cath / pump placement, Stimulator implantation, Opioid trials for chronic pain, Anesthesiology, etc.
Quick glance face sheet to view patient's medical history in details including allergies, past/present medical problems, family and social history, surgery history, current medications, all previous prescriptions, stopped medications with inbuilt drug-to-drug, drug-to-allergy contraindication warnings or alerts.
There is no doubt that the search and selection process is quite an undertaking and the demand for EMR software by Pain Management Physicians is expected to continue to soar. So your best bet is to find and engage the services of a good EMR Software Consultant. This will save you a lot of time and this is important because right now the longer it takes you to find that right-fit EMR Software, the longer you can expect to wait in line for your turn to get started in implementation and then "go-live". Another important thought regards your timing has to do with being properly up and running in order to be qualified and eligible in time to receive the Stimulus Incentives.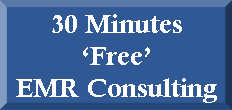 Click here to find a good and experienced EMR Consultant who will provide you a free 30-minute EMR needs assessment, selection, and next steps Consultation for your Practice.