Orthopedic EMR Checklist
Should an orthopedic clinic choose an orthopedic specific EMR or multi-specialty EHR which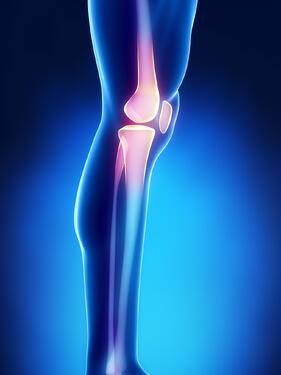 can support a number of other specialties? In the early development phase of EHR software, the general conscious was a one-size-fits-all system would work for any practice regardless of field. For years, however, specialty physicians have been pointing out the deficiency of systems created for primary care, according to EHR Intelligence.
Orthopedic practices have their own list of needs, just like an obstetrician or a pedestrian. Variation between specialties requires customization with designs that distinguish the subtle differences. The Certification Commission for Health Information Technology, a nonprofit group that vets EHR systems for compliance with performance standards, has also noted that a one-size-fits-all approach to electronic health records does medical practices a disservice.
A. The Basics
Small orthopedic practices should take into account basic criteria when evaluating an Orthopaedic EHR system.
Practice size
Focus on scalability. Is the chosen EMR program appropriate for your practice size? Can it handle multiple locations (if that is what you require)?
Web-based EHR or Server-based EHR
Which is better for the practice, software that installs on the current hardware (server) or one that works in the cloud? Orthopedic practices were often more comfortable integrating the software into their server to retain control of patient data. This is however gradually changing and Orthopedists are no longer reluctant to use a SaaS based Orthopedic EHR.
Certification
Require EHR certification by the Office of the National Coordinator for Health Information Technology. This ensures you are purchasing a vetted program; otherwise, the practice may not qualify for Medicare payments and incentives.
A few must-have generic features to enhance usability:
E&M Coding Assistance
Drug database with interaction checking
Billing/Scheduling interface
Online patient portal
Online portal for referring physicians
Lab Interface
PACS/imaging center interface
Electronic faxing and e-prescribing
Decision support
Automatic referring physician letters
Ideally, your new EHR software must be enabled for mainstream devices like iPhone and iPad, as well.
B. Orthopedic-specific EHR Features
Patient Engagement
Patient forms customized to meet all the needs of an Orthopedic specialty besides having patient education items relevant to Orthopedic and Sports Medicine practices.
Reports & Worker's Compensation
If you deal with Workers Conpensation cases or accident attorneys, then report generation and transmission capabilities including PR1-Doctors First Injury Report, PR2-Primary Treating Physician Report, Permanent Disability Report, & Workers Compensation Form would be important.
Diagramming Capabilities
Ability to display relevant diagrams and graphics that include Dermatomes, Shoulder Front & Back; Male Front & Back Sides; Right Lateral View; Forearm Back & Front; ROM Ankle; Cervical; Hip; Lumbar, etc. , as well as editing and illustrating over those images is significant.
Orthopaedic Specific Complaint Management
Ready-to-use complaints that are Orthopedic specific & associated with relevant SNOMED, ICD 9 & 10 codes.
Customized Procedural and Physical Exam Templates
Easy to use and customized procedural and comprehensive physical exam templates that are relevant to an Orthopedic and Sports Medicine Clinic. They improve workflow, help evaluate quality of care and modify easily to fit specific needs. When designed well, the templates create automation that will streamline patient management. EHR vendors offer pre-designed templates that fit the specialty by focusing on conditions applicable to it.
Physicians must have the option to customize templates, so that they accommodate their unique needs and create a workflow that works best for each user.
Orthopedics related Index Study Templates
Depending on the services provided by the Clinic, EHR must support Index Study templates that include studies such as Neck Disability Index, Neck Pain & Disability Index (Vernon-Minor), Low Back Pain & Disability Questionnaire, Roland Morris Disability Questionnaire, Oswestry Disability Index, & SF 36 Health Survey.
C. The Extras
Once you have the necessities mapped out, consider the extras that just make things run smoother.
Staff training options
Health IT.gov explains that staff training is critical for successful implementation.
EHR remote access
A vital tool for off-site documentation. Remote access makes the system available even when there is no Internet connectivity.
Automation
Automation improves network security and documentation for compliance.
Versatility
EHR is a changing technology. It is important to invest in a program able to expand as the practice does and as the technology grows.
Future Cost Considerations
Orthopedic practices create an initial budget for implementation of the EHR program, including any necessary hardware, but there may be additional costs to consider down the road. When shopping for a program, ask questions about maintenance fees and product upgrades to get a full understanding of the financial requirements.
To find out more about what an orthopedic EHR program can do for your practice or to see a demo of Revenue XL's Orthopedic EHR, contact Revenue XL today. If you want to check out our hosted demo right away, please click here.
Readers may also be interested in the following: