Medical Billing Audits
There is no doubt that the transition to ICD-10 forced a lot of healthcare organizations to take a long hard look at their claim processing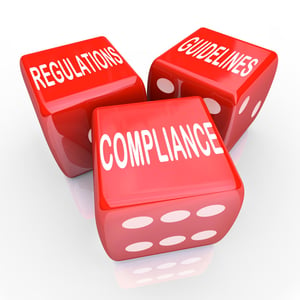 practices. While that transition is in the past, the importance of medical billing audits isn't.
Every practice should have a strong understanding not only of the nature of billing audits but also what kinds best fit their individual needs. If you don't you have a strong grasp on the billing practices, weaknesses, and opportunities for growth in your practice, it might be time for a refresher.
What is a Billing Audit?
Billing Audit is an organized process which examines and evaluates the effectiveness and reliability of clinical documentation contained in the health records maintained by the practice and medical billing data submitted to the payers in order to ensure that the practice identifies, monitors, and rectifies inappropriate billing practices, which will not only benefit its bottom line but also simultaneously highlight potential compliance issues.
Data sources to conduct billing audit would include all or some of the following:
Clinical (e.g., medical record, documentation such as consultation, x-rays, and lab reports)
Financial (e.g., documentation of receipt of payment such as charge sheets from the front office, remittance advice, and accounts receivable ledgers)
Policy-related (e.g., documentation related to such areas as provider-specific policies (regarding follow ups, patient collections, appeals, etc.), government policies, CMS memos, and bulletins)
Audits can be conducted either the before claims are sent out to the payers (prospective) or after the fact (retrospective). At some practices, all new provider audits are conducted prospectively while audits for current providers are conducted retrospectively.
Scope of Billing Audits
Billing Audits are much wider in scope as compared with Coding Audits and must cover all the areas of the medical billing life cycle starting from insurance verification processes, ICD and CPT Coding, claim submission process, payment posting process, follow up processes and denial management processes.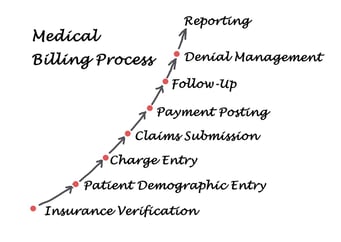 Billing Audits - Exclusions
Billing audits are relatively specific and do not include:
Level or scope of care
Medical necessity
Pricing structure
Items or services delivered by providers
These issues can be reviewed in other ways and providers and payers should have mechanisms that involve properly qualified personnel to address them.
Benefits of Billing Audits
Billing audits might sometimes seem like a luxury, especially in a very busy practice, but there are a number of compelling reasons why performing audits is actually beneficial. Those benefits cover coding, clinical practice as well as administration.
Coding Benefits
Identifying and correcting problem spots before government or insurance payers come back to challenge inappropriate coding
Building confidence among coding staff
Helping to prevent government investigational auditors like RACs or ZPICs from visiting
Stopping the use of incorrect and outdated procedure codes
Establishing staff education and training standards that will provide support for future changes (e.g. ICD-11)
Administrative Benefits
Making sure claims are submitted correctly
Determining outliers before large payers identify them in their claims software (and request an external audit)
Protecting against fraudulent billing activity and claims
Reducing and even preventing incorrect payments
Revealing whether your practice exhibits variation from national averages because of insufficient documentation, lost revenue, or inappropriate coding
Remedying under-coding, code overuse, improper unbundling habits, and encouraging appropriate billing for documented procedures
Saving your staff unneeded frustration
Identifying areas for increased reimbursement
Ensuring claims are submitted accurately, improving the relationship between you and your payers
Setting standards for staff
Identifying reimbursement deficiencies as well as opportunities for proper reimbursement

Verifying ICD-10-CM and EHR Meaningful Use readiness

Decreasing the chance of an external audit

Create a robust culture of compliance.
Reducing and preventing improper payments;
Ensuring that claims submitted are true and accurate
Speeding up and optimizing proper claim payment
Creating a positive environment that will allow for recruiting and retaining the best talent
Improving practice financial health, creating more stability for your staff
Clinical Benefits
Improve patient care
An increased focus on care quality
Tracking and monitoring service and procedure use
Educate physicians on the entire patient experience
Enhancing care through a high-level look at the types of procedures you're offering
A smoother revenue cycle which has been linked to a better patient financial experience and better patient outcomes
Overall, conducting billing audits helps a practice understand risk and serves as a starting point for working toward smooth workflows and the best-functioning practice possible.
Billing Audit Process
As far as processes are concerned, medical billing audits will cover:
Determining the Scope of the audit and resources needed to complete it efficiently and effectively. This will include understanding clinical staff involved, payer mixes, and composition of billing and coding staff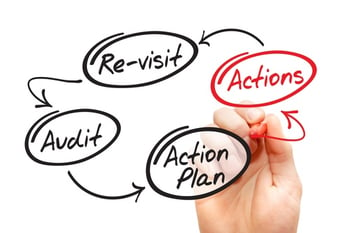 Assessing the Scene of the audit to determine problematic trends or areas of increased risk. It also involves checking the frequency of provider services and analyzing CPT code usage by billing staff and providers.
Taking Corrective Action in the form of using audit results as strategic information to improve revenue cycle management and care outcomes. This will also include setting achievable targets for improvement, addressing internal issues that have been identified, and pressuring payers to improve any areas in which they've been found lacking.
Learning and Repeating the process so future audits are simpler and easier to execute.
Internal Billing Audits vs. External Billing Audits
Sometimes the question of medical billing audits isn't one of type, but of who's conducting it. That's where the internal vs. external audit question pops up.
Advantages of Internal Audit
Internal audits are exactly what they sound like — an audit performed by a team that is internal to an organization. Larger organizations might have a dedicated internal audit group, giving them the key benefit of performing them on an ongoing basis (this provides the organization with the ability to continuously improve its processes and accuracy).
Advantages of External Audits
External audits can be a great option for a small, busy practice. They provide insight that's above conflicts of interest and the ability to spot upcoding without worries of impact to revenue, something that internal auditors with even the best of intentions might miss. There's also the added benefit of recommendations carrying more weight when they come from an external source. External audits though aren't a clean substitution for internal. Even organizations that conduct ongoing internal audits should have an independent, external audit performed once a year.
Overall, small practices might find it useful to lean on one of the many companies that specialize in external audits, especially if they don't have the resources to conduct consistent periodic internal reviews.
The Nuances of the Internal Billing Audit
The internal audit is almost as much art as it is science. If you do decide to perform internal audits, keep a couple of things in mind.
Prioritize accuracy
It's your job to make sure that your charges are accurate. Make sure your coders are proactive and monitor their work before submission to payers. The AMA suggests designating someone to spearhead any internal audit initiatives you do take on.
Focus on Reports
Monthly reports can be powerful audit tools in spotting reimbursement trends as early as possible. Reports can include
Reimbursement by CPT code
Encounters vs. Appointments
Growth in net collection percentages
Days in AR
Days in AR, in particular, should be compared to the prior month and averaged over quarters, half years, and years. These can also be benchmarked against previous years and the Medical Group Management Association's national data. If your revenue cycle software doesn't offer the capabilities you need, it's likely time to talk to your vendor or consider a change.
Internal Billing Audits – Best Practices
Establishing best practices for your audit processes will help ensure that your practice gets the most out of the time invested in your audit efforts. Here are a few suggestions.
Keep an eye on the big picture
Perform quarterly audits
Prioritize opportunities for physician training
Invest in pre-submission monitoring
Designate a qualified person to head up audit initiatives
Stay proactive, especially in terms of following payer guidelines
Keep the lines of communication between coders and providers open when it comes to documentation

Focus on billing reports
Monitor monthly reports to catch trends as early as possible.
Consider tracking growth in net collection percentage
Monitor days in AR
Reach out to your practice management software team to help facilitate reporting
Consider a system that allows for the tracking of revenue cycle for each patient from appointment to complete payment
Focus on the areas with the greatest potential return
Match patient encounters to appointments
Run reports on CPT reimbursement and compare to individual payer contracts to identify underpayments
Monitor Benchmarks
Review the frequency of physician services over a one- to six-month period and compare to peers (often through an E&M frequency report) to avoid RAC audits
Check to make sure nothing is written off at 100% (i.e. being given away for free)
Establish a profess for dealing with claims that are denied or paid incorrectly.
Larger groups should consider creating a policy that addresses providers who consistently demonstrate poor coding practices
Speaking of avoiding RAC audits, there are a few steps you can take to make sure you don't get caught up in one yourself.
Be proactive with your internal audits and consider bringing in outside consultants as support
Keep an eye on evaluation and management (E/M)
Focus on details like principal diagnosis and medication reports as well as high-dollar charges
If you do face a RAC audit, make sure to call in the help of an outside billing and coding specialist. Most importantly though, going forward, learn to view your internal audits as an investment.
Tips for Small Practices
Small practices will have their own concerns in conducting audits, so here are a few tips to make sure you're getting the most out of yours.
Designate a qualified team
Implement a system of accountability
Create controls that will catch and prevent mistakes
Establish benchmarks for improvement
Consider hiring a third-party service
As billing becomes more complex, a deliberate and strategic approach to billing and coding audits will be necessary for every medical practice. Managers of small practices should be working to assemble their healthcare audit arsenal today and partnering with skilled professionals dedicated to getting great ROI on their audit investment. We'd love to be a part of your medical billing audit services team.