Certified EMR & EHR for Ophthalmology Practices
Top Ophthalmology Electronic Medical Records
We understand that the needs of an Ophthalmology practice are unique; therefore you need a specialized EMR (Electronic Medical Records)/ EHR (Electronic Health Records) solution. Top Ophthalmology EHR Software solutions are designed from the beginning with Ophthalmology requirements in mind. RevenueXL brings you an OphthalmologyEMR/EHR that is:
-Top-rated: our certified EMR is rated in the top ten KLAS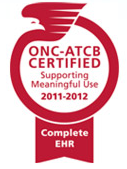 -Affordable: we work with you to fit your budget. See our prices here.
-Easy-to-use and implement: our product is completely customizable to your needs; we will help you every step of the way with your implementation- at no extra cost!
Ophthalmology Electronic Health Records integrated with Medical Billing
Our solution is a feature-rich product for an ophthalmologist, which allows for greater automation and clinical efficiencies. Our Electronic Medical Record Software solutions are reliable and based on proven technology to meet the specific needs of the doctor. The EMR and Practice Management Software also incorporate an electronic superbill and E&M coder that has been customized for the ophthalmology specialty. Like other specialty EMRs, our ophthalmology EMR can also be customized to mimic your existing workflow and model your existing templates/forms. To see our templates, click here.
Ophthalmology-specific customized EMR
Vision Testing Device Integration (Autorefractor, Keratometer and Visual Fields)

Eye Exam Codes

Point of Sale System for Sale of Glasses and Contact Lenses

Accounting, Inventory and General Ledger Integration

Automated Yearly Vision Check Phone and Email Reminders Integrated with Scheduler

Digital Pen Solution for Eye exam

Opthalmology Drug Database with interaction checking

Opthalmology specific ICD/CPT Codes
Generic Features
CCHIT Certified EHR System

ONC-ATCB certified supporting meaningful use complete EHR

Client/Server or Web-based options for Ophthalmology Electronic Health Records software

Complete library of customizable templates

Ophthalmology related E&M Coding Assistance

Diagnoses and CPT Codes for Ophthalmology

eRx (ePrescription)

Lab Interface (Quest, LabCorp, etc.)

Medical Billing Software Interface

Varied clinical documentation methods including speech recognition and hand writing recognition

Appointment Scheduler and Reminders

Seamless integration with mobile devices including tablet PC's

Scalable from single-physician Ophthalmology practices to large groups with multiple locations

Complete clinical process automation