What is EHR?
EHR Definition
An Electronic Health Record (EHR) is an electronic or digital version of a patient's traditional paper-based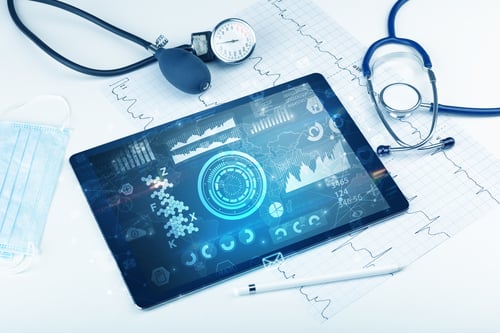 chart and offers a comprehensive, real-time and patient centered view of a patient's medical history maintained by one or more authorized providers over time to authorized set of users. EHRs include all of the key administrative clinical data relevant to that persons care under one of more authorized providers, including demographics, progress notes, allergies, problems, medications, vital signs, past medical history, immunizations, laboratory data and radiology reports, etc.
A key feature of an electronic health record (EHR) is that health information can be created and managed by authorized users in a digital format that can be shared across authorized providers belonging to more than one healthcare organization. This includes primary care physician, specialists, pharmacies, laboratories, and emergency facilities, among other providers. As such, electronic healthcare records will include health information from all providers involved in a patient's care.
According to HealthIT.gov, Electronic Health Records (EHRs) "go beyond standard clinical data collected in a provider's office and are inclusive of a broader view of a patient's care."
What you should know about EHR?
EHRs are a global and all-encompassing view of the patient's health status and care that is useful to anyone treating the patient, including pharmacists, workplace health clinics, and school and public health agencies.

EHRs facilitate true coordination of care across the entire health care spectrum.

HIMSS Analytics states that, "The EHR represents the ability to easily share medical information among stakeholders and to have a patient's information follow him or her through the various modalities of care engaged by that individual."

EHRs are designed to be accessed by all people involved in the patients care—including the patients themselves.

The word "health" covers a lot more territory than the word "medical." And EHRs go a lot further than EMRs providing significant benefits.
What does Electronic Health Record Include?
An EHR includes most of the following patient health information:
Medications

Lab and test results

Administrative and billing data history
Recommended Factors Influencing Selection of EHR System for your practice
Choosing an EHR (either as a new or replacement EHR) for your practice is one of the most important decisions your will ever make on behalf of your practice. We explore important features of EHR software and some pointers for successful EHR implementation. Making the best decision largely comes down to:
Cost

Ease of Use

Vendor training and support

Integration

Reporting features
Cost of EHR software
Cost is an important consideration in every facet of your practice. The prices of EHR software vary considerably. The trick is striking the right balance between affordability and usability. In other words, be careful not to overpay but do not sacrifice features that you have identified as important to your practice.
Ease of use
EHR software should be intuitive and simple to use. A poorly designed interface can cost your staff hours of precious time. Clinicians and staff will be spending much of their days using the EHR system. The experience should be both efficient and enjoyable.
Vendor training and support
EHR vendors offer varying levels of training and customer support. Recognize that there can be some initial implementation challenges. You want to work with a vendor that will help you to overcome these challenges to minimize any potential disruptions to your workflows. Ensure that physician and staff training is offered, and that support is readily available to users.
Interface with Pharmacies and Labs
Getting the most use out of your EHR software requires that your system work with the interfaces of other entities like pharmacies and laboratories. Find out what interfaces the vendor employs and whether they are willing to incorporate other integrations if required.
Extensive Reporting Features
In the age of big data, your EHR should give you access to financial and clinical data. You should be able to generate detailed reports and make informed practice-level decisions.
Note that the above considerations are also important for providers considering replacing their existing EHR software. Check out this guide for help finding replacement EHR software.
EHR System features
An electronic health record system offers features well beyond those of any paperless chart technology. These include things like the patient's demographic data, diagnoses, and treatment histories. EHR software is more comprehensive than EMR software, offering a more comprehensive view of the patient's overall status and care.
The core features of an effective EHR system include:
Charting and record keeping

Patient portal

E-prescribing

Information sharing

Clinical decisions support

Additional features
1. Charting and Record keeping
EHR is designed to simplify time-consuming charting and record keeping processes, while permitting access to patient data in real-time. Features in an effective EHR include:
Ability to prepare patient charts in real-time

Include immunization records, medication histories, radiology images, and other test results

Include consultations, discharge summaries, and provider notes

Offer out-of-the-box convenience

Customizable templates for specific specialties

Provide valuable insights above and beyond streamlining patient encounters

Manage daily tasks helping providers to work smarter

Ability to expedite clinical encounters by supporting flexible and personalized charting styles including voice recognition and handwriting recognition
2. Patient portal
Patient access to health data is an essential component of increasing participation and transparency. A patient portal should include all the following features:
Request or schedule appointments

View test, lab, and other results

View summaries of recent doctor visits

Make payments online

Request prescriptions and refills

Communicate with staff

Offer the latest security features
3. Integrated E-prescribing
E-prescribing gives a provider the ability to electronically send accurate and error-free prescriptions directly to a pharmacy from the point of care. This feature also enables EHR software to efficiently make use of large connected healthcare database to consider factors like drug formulations, drug-drug interactions, and the correct dosage.
4. Facilitates Information sharing
The core purpose of EHR software is to facilitate and streamline access to health information an entire healthcare ecosystem. Providers not only benefit from the convenience of e-prescribing but can easily share information with laboratories and other clinicians. The result is an enhanced level of care and the ability to make crucial decisions in real-time, saving lives.
5. Provides clinical decision support
Clinical decision support features have become an indispensable part of quality EHR software. Decision support gives providers the ability to quickly sort through and make sense of large amounts of information. Important functions include things like treatment alerts, reminders, and recommendations to treat patients based on their conditions.
The best EHR systems strike the right balance between information need and delivery to ensure patient safety, value-based healthcare, and high practice efficiency and efficacy.
6. Additional features of EHR
To be sure, there are many other important features of leading EHR Systems including:
Certification under the Medicare Access and CHIP Reauthorization Act of 2015 (MACRA)

Mobile integration

Comprehensive task management

Workflow management

Telemedicine

Document management

HIPAA compliant faxes and virtual document e-signature
EHR Selection & Implementation
Many providers worry that implementing an EHR system will disrupt their current workflows. EHR implementation, however, can be seamlessly integrated into your practice provided you take the necessary steps and partner with the right EHR partner. Successful EHR implementation typically requires that you take the following steps:
Build your team
Select and evaluate the right EHR vendor
Create workflows and delegate tasks
Ensure adequate training, technical support, and maintenance
Choose the right EHR software for your practice
Continuously evaluate
1. Build your team
Prepare to take a leadership role during the EHR implementation process. In addition to the physician leader, the team also includes at least an office manager and "super users". The team should set clear goals, including:
Increased operational efficiency
Reduced documentation time for clinicians
Improved billing
Improved scheduling
2. Research and select the right EHR vendor
There are many factors that go into choosing the right EHR partner. There are more than 1,100 EHR vendors offering some version of EHR software. Spend some time researching potential EHR vendors that seem like a good fit for your practice. Create a short list of EHR vendors.
Reach out to your shortlist. At a minimum, request answers to the following questions:
Does the vendor have references?

How long have they been in business? How many installations have they handled?

What specialty specific interfaces have they built and what is the roadmap for new interfaces?

How much implementation support is provided? Will staff receive EHR training?

What support is offered following EHR implementation?

Will the vendor migrate EHR data to a new system in the future?

Are there free trials of the EHR software?

What components are included in the monthly price?

What security and privacy features are included?
For more details on selecting the right EHR vendor for your practice, check out RevenueXL's vendor selection guide.
3. Ensure adequate EHR vendor training, technical support, and maintenance
One of the core functions of EHR vendors is to offer your staff training and ongoing technical support. A best practice is to train "super-users" first. These users will receive ongoing training during the implementation process.
Decide what role each staff member will play in both EHR implementation and in the day-to-day operations of the practice following implementation. Ensure your staff understands their responsibilities and be prepared to offer guidance as needed.
4. Choose your EHR software
After identifying the which EHR features are essential to your practice and reaching out to your shortlist of potential partners, you are ready to request a proposal. Cost is an important factor to consider when finding the right partner. Relationships are also important. Ask yourself which vendor seemed the most helpful and the best to work with? Trust your gut.
5. Create EHR workflows and delegate tasks
The key to successful EHR implementation is to address both clinical and administrative workflows. Consider how existing workflows will be impacted and what the needs and demands will be following implementation.
The Agency for Healthcare Research and Quality (AHRQ) offers an excellent resource as a starting point for further information on creating workflows. You can access the Workflow Assessment for Health IT Toolkit here.
6. Continuous Evaluation
As you work towards your EHR system goals, set aside time to regularly review your progress. Identify what is working and what is not. Rely on your EHR vendor for guidance and support. Make changes as needed.