What is Electronic Health Record (EHR) System?
Like an EMR System, while an EHR System also contains the medical and treatment histories of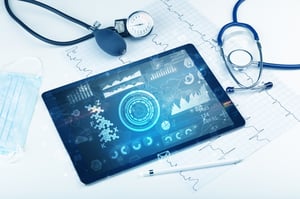 patients, an EHR System is built to go beyond standard clinical data collected in a provider's office and can therefore be inclusive of a broader view of a patient's care.
EHR Systems are an electronic or digital version of a patient's traditional paper-based chart and offers a comprehensive view of a patient's medical history. EHR System is a vital part of Health IT and can:
Contain a patient's demographics, medical history, vital signs, diagnoses, medications, treatment plans, immunizations, allergies, radiology images, and laboratory and test results
Allow access to evidence-based tools that providers can use to make decisions about a patient's care
Automate and streamline provider workflow
What Differentiates EHR System from EMR System?
One of the key features of an EHR System is that health information can be created and managed by authorized providers in a digital format capable of being shared with other providers across more than one health care organization. EHR Systems are built to share information with other health care providers and organizations – such as laboratories, specialists, medical imaging facilities, pharmacies, emergency facilities, and school and workplace clinics – so they contain information from all clinicians involved in a patient's care.
EHR System Frequently Asked Questions
What are the Key Functions of an EHR System?
An EHR System should support the following group of eight key functions for safety, quality, and care efficiency:
Physician access to patient information, such as diagnoses, allergies, lab results, and medications.

Access to new and past test results among providers in multiple care settings.

Computerized provider order entry to enhance legibility, reduce duplication, and improve the speed with which orders are executed.

Computerized decision-support systems to help improve compliance with best clinical practices, ensure regular screenings and other preventive practices.

Secure electronic communication among providers and patients to improve the continuity of care, increase the timeliness of diagnoses and treatments, and reduce the frequency of adverse events.

Patient access to health records, disease management tools, and health information resources.

Computerized administration processes, such as scheduling systems.

Standards-based electronic data storage and reporting for patient safety and disease surveillance efforts.
Components of an EHR System
An EHR system is more than just an EHR. It often includes the following components:
Infrastructure - Physical and hardware system components, for example, Workstations and Servers, Tablet PC, Laptops, Monitors, Scanners, Routers and Bridges, etc.
Core Software - Application software (EHR Software), Operating System software, utilities, and other applications like Instant Messaging, Fax Servers, Networking Software, Lab interfaces, e Prescription, etc.
Other Software components including:

Integrated practice management software or an ability to interface with an external practice management program;
Patient service tools - Triage tools, coordination care, lab results, intake forms, medication tracking and more;
Patient portal - Enables patients to contact a practice with questions and refill requests, and permits the office to send reminders and messages, and allow access of information including test results;
Workflow tools - To manage the practice, track communications and issue resolution status.

People - Personnel involved in using, maintaining or managing the EMR - this includes the clinical and administrative staff, Physicians, etc.
Business Processes - Guidelines, instructions, and steps involved in keeping the EMR System running smoothly. This includes patient appointment scheduling, reminders, billing, etc.
Data - Information captured, used, and supported by a system, including documents, document manager, images and databases.
The clinical workflows behind the software all form an interconnected universe bringing together people, processes, and technology to create a more efficient practice.
Types of Electronic Health Record Systems
There are two primary types of EHR systems:
Cloud based EHR
Server-based EHR
There are pros and cons to both, so it is important to understand which of these might be more suitable for your practice.
What are Cloud-based EHR Systems?
Cloud-based EHR systems are housed on a third-party server accessed through the Internet. The third-party vendor maintains all server hardware, handles security, and any software updates. They are offered on low-cost monthly subscription basis. That is one of the biggest benefits of these services; medical practices do not have to incur the hardware and maintenance expenses that come with on-premise deployments of medical systems.
What is a Server-based EHR System?
A server-based EHR system is housed on-site at your practice. While the benefit of an on-premise deployment is that you have control over the equipment -- that is also a drawback. Medical practices that deploy EHR systems in-house must have an IT expert to maintain the hardware, software and the data it stores. If equipment has a breakdown, it can add unexpected expenses to your bottom line.