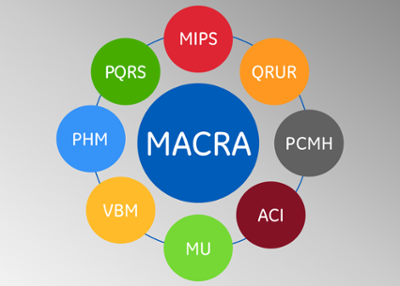 Optimize EHR for MACRA - What Does it Mean?
The Medicare Access and CHIP Reauthorization Act of 2015 (MACRA) marks an entirely new era in physician reimbursement—one characterized by quality, cost containment, and population health management. MACRA essentially shifts Medicare payments from fee-for-service to pay-for-performance that rewards participation in risk-bearing payment models.
To participate in MACRA, physicians must choose one of the following two tracks:
The choice that physicians make today will affect their payment beginning in 2019. Physicians participating in MIPS will see a sliding-scale bonus or penalty ranging from 4% in 2019 to 9% in 2022. The bonus or penalty derived from 2017 data is based on a composite score that includes these components: Quality measures (60%), advancing care information (25%), and clinical improvement activities (15%). Physicians participating in APMs will see a bonus of 5% of Part B professional services payments between 2019 and 2024.
Read More