Changing Landscape of Medical Practices
Recent developments in the operating environment of medical practices have resulted in several changes that have made managing the revenue cycle even more important, including:
Increased regulatory oversight: The implementation of new regulations, such as the Affordable Care Act and HIPAA, have added complexity to the billing and collections process, making it more important for practices to stay compliant.

Shift towards value-based care: The move towards value-based care models has increased the importance of accurate and timely billing and collections, as reimbursement is tied to the quality of care provided.

Growing patient financial responsibility: With the rise of high-deductible health plans, patients are now responsible for a larger portion of their healthcare costs, making it more important for practices to accurately bill and collect.

Technological advancements: Advances in technology have enabled practices to automate many of the manual processes involved in RCM, making it easier to manage the revenue cycle more efficiently.
To summarize, the operating environment has seen several changes that have increased the importance of effectively managing the revenue cycle in a modern medical practice. Healthcare organizations and medical practices must learn to optimize their revenue cycle while continuing to deliver optimal patient care and succeeding as a business entity.
What is Revenue Cycle Management (RCM)?
Revenue Cycle Management (RCM) is a financial process used by healthcare practices to manage and optimize all the administrative and clinical functions contained in the revenue cycle. This process utilizes revenue cycle management software to identify, manage and track all functions in the revenue cycle (from patient registration to the final payment), that impact the patient service revenues collected by a practice. It helps practices to ensure accurate and efficient payment for healthcare services, reduce billing errors and denials, reduce revenue leakage, improve revenue collection, and ensure compliance with regulations.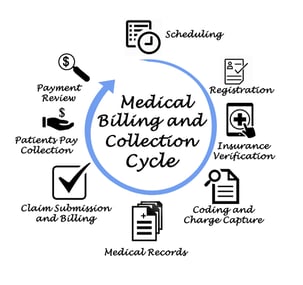 In general, revenue cycle comprises of clinical and administrative functions like insurance verification, charge capture, coding, claim submission, remittance processing, denial management, AR Follow-up, patient payment & collections.
RCM also helps healthcare organizations to improve their cash flow, improve staff performance and patient experience. Revenue Cycle Management software enables the providers to correctly bill the insurances and patients for the services provided, address any claim denials and implement deep analytics to find leakages in revenue generation and plug the same.
Benefits of Efficient Revenue Cycle Management
Efficient Revenue Cycle Management (RCM) is the key to derive the associated benefits:
Improved Cash Flow: RCM helps to reduce the amount of time it takes to receive payment for services, improving overall cash flow for the practice.

Increased Revenue: RCM helps to ensure that claims are processed accurately and efficiently, reducing denied claims and improving the likelihood of full payment for services rendered.

Enhanced Patient Experience: By reducing billing errors and streamlining the payment process, RCM helps to provide a more positive experience for patients.

Enhanced Compliance: RCM helps medical practices to stay compliant with healthcare regulations, reducing the risk of financial penalties and legal issues.

Improved Efficiency: By automating many of the manual processes involved in RCM, practices can save time and resources, and focus on delivering high-quality patient care.

Better Data Management: RCM helps to improve data accuracy and organization, providing valuable insights into practice performance and enabling better decision-making.
Revenue Cycle Management Services
Revenue Cycle Management (RCM) services are a set of activities aimed at managing the financial aspects of healthcare services, from the moment a patient is seen for a service to the final payment for that service. Although practices have differences in their workflows, the main steps are the same. They include:
1. Patient Scheduling and Registration
Demographic and insurance information can be collected from patients when they schedule an appointment. The revenue cycle starts here with an opportunity to gather the necessary information needed for the next steps of the cycle.
2. Eligibility Verification and Prior Authorization
Both eligibility verification and prior authorization should happen before services are rendered, ensuring that the correct amount is billed to the proper payer. And, the patient is made aware of out-of-pocket costs. A verification checklist can be a great tool to ensure that all vital information is collected and considered.
3. Patient Visit and Care Delivery
High-quality patient outcomes and excellent customer service are essential in the revenue management cycle. These two aspects ensure that patients are satisfied with the treatment and services provided. This results in patients who return the next time they need care and expands the practice's patient base.
4. Clinical Documentation
The clinical documentation of the patient visit and services rendered must be timely, accurate, complete, and comply with regulatory standards. EMR templates help clinicians achieve those goals and streamline the revenue cycle process by capturing clinical data that payers may require.
5. Charge Capture and Charge Entry
Whether done manually or with the aid of software, efficient charge capture and charge entry ensure that the documented services are translated into billable charges.
6. Coding
Proper coding of diagnoses and procedures ensures accuracy and maximizes reimbursement. Experienced and knowledgeable coders optimize this process.
7. Claim Submission
Submitting accurate and timely claims maximizes the revenue collected and prevents delays. Medical billing solutions that consider the whole revenue cycle with claim submissions right from the first step help boost the practices' ability to collect the full payment amount.
8. Payment Posting and Reconciliation
The endpoint of the revenue cycle is when payment is received, based on the patient's coverage and any existing contracts with payers. Payments made by the patient for services not covered by insurance payers are included.
9. Denial Management
Claim denials represent a significant challenge to a practice's income stream. An effective denial management process can appropriately address denials and recover revenue that may have been otherwise lost.

What Internal and External Elements Drive Revenue Cycle?
Multiple elements influence a practice's revenue. Some of these are internal and can be controlled by the practice. However, several are external and outside of the practice's control.
Internal Drivers
Internal revenue drivers include the fees that the practice charges for certain services, procedures, and treatments. They also include the make-up of the patient base served by the practice, such as the number of patients, health status or conditions, frequency of seeking treatment, and the physicians' capacity to see patients and deliver the necessary care. Front and back-office workflow and skill of the staff also drive revenue to some extent.
External Drivers
These drivers include patient and insurance payer payments and present a much greater challenge. External drivers also include healthcare regulations and reimbursement schemes.
Challenges in Revenue Cycle Management
Having a process for collecting payments for services that have already been provided appears to be a simple and intuitive way of doing business. However, practices are not always able to successfully manage some or all aspects of this process. Real challenges exist in the effective execution of revenue cycle management, some of which are unique to the U.S. healthcare industry.
1. Healthcare regulations and reimbursement models
One of the biggest challenges in revenue cycle management is the ever-changing healthcare regulations and complex reimbursement models introduced every few years. Practices must stay abreast of these changes and ensure that their staff understands them and performs their tasks in compliance with these regulations. Expertise in all aspects of the change may be hard to attain, especially for smaller practices.
2. Collecting payment from patients
With the new regulations and the rise of consumerism, patients are increasingly responsible for more of their healthcare costs. Practices need to master the balancing act of ensuring that they collect patient payments while not resorting to "high-pressure sales tactics" that may turn off patients and cause them to seek care elsewhere. By continuously educating staff and patients regarding payment workflows and expectations and establishing alternative payment methods, including payment plans and online payment, this situation can be avoided.
3. Tracking a claim through its entire cycle
If a process is not established for monitoring claims, errors or delays may not be easily identified and resolved, resulting in lost revenue.
4. Denial management
Having claims denied is frustrating and impacts a practice's bottom line. Each denial increases the risk of a practice not getting paid for services already rendered. The high percentage of denials (14%) and claims that are never refiled (50%) represent a significant chunk of revenue that practices are leaving on the table. An effective denial management plan involves insurance follow-up services and AR (accounts receivable) management to improve the chances of being paid.
5. Staff training
Each staff member involved in the revenue management cycle must be properly trained in the policies, procedures, and workflow. Adequate, effective staff training might be time-consuming and involve costs but pays off when knowledgeable staff members know their roles and functions and perform them correctly and efficiently.
How to Improve Healthcare Revenue Cycle?
Given the challenges mentioned above, these key elements boost the success of an organization's revenue cycle:
Patient
High-quality patient outcomes, which result from exceptional care delivery and patient engagement, help expand the patient base and lower costs, thus increasing revenue.
People
A well-trained staff provides the backbone for a successful practice. The team includes front and back office, clinicians, certified medical coders, and others. In addition to proficiency in their specific jobs, the staff needs to understand their role in the revenue cycle process and how they can enhance and improve the process.
Processes
An efficient process that moves the claim through its life cycle with no errors or delays allows practices to collect the cash they need and deserve.
Technology Products
The appropriate and effective use of technology solutions improves patient care, enhances accuracy, automates and streamlines repetitive or tedious processes, and increases staff productivity.
Here are some ways that technology supports and enables an optimized revenue cycle process.
1. Front office
Patient scheduling and registration, as well as patient reminders, can be done via a patient portal.
Insurance eligibility verification can be automated.
Practices can accept and process credit cards, HSAs, and FSAs for co-pays, co-insurance, and deductibles.
2. Patient visit
Clinical care delivery, charge capture, and charge entry are documented in the EHR/EMR
3. Back office
Medical transcription, medical coding, and claim submissions are enabled by technology.
Reports and analytics provide insights into how well a practice is doing in terms of key performance indicators.
Patient payment can be made online via a payment portal.
Posting of payments can be automated.
Best Practices in Revenue Cycle Management
Ever-changing healthcare regulations and reimbursement models have made it incumbent upon medical practices to be increasingly responsible for optimizing payment collections and all other aspects of healthcare RCM. While there are indeed many significant challenges, implementing best practices maximizes collections. Further, it reduces costs at each phase of the revenue cycle and helps small practices better understand, measure, and control its financial aspects.
1. Optimize front office processes and collections
Train your front staff to gather all the necessary demographic and insurance information from the patient during appointment scheduling. Use "communication scripts" to help staff explain co-pay collection and the various payment methods or plans available to patients. A well-trained front office staff contributes to both revenue optimization and patient satisfaction.
2. Automate insurance eligibility verification
Automating insurance eligibility verification helps both the practice and the patients. It has the dual advantage of preventing claim errors and making patients aware early on regarding any payment responsibilities. The increased transparency helps patients plan for out-of-pocket payments and more readily respond when front-office staff collects these payments.
3. Customized EMR Templates
Use and customize EMR templates to efficiently capture both clinical documentation and charge data. Remind clinicians to document clearly, completely, and accurately, and set up a review process to help them identify areas for improvement.
4. Integrated EHR and Practice Management Software
When possible, use an EMR/EHR that is integrated with your practice management system. Data can be pushed automatically and seamlessly downstream, which helps reduce errors and delays.
5. Back Office Related Best Practices
Use technology to automate key aspects of your claim submission process. Use e-remittance to speed up payment turn-around time.
Provide an online payment portal that allows patients to conveniently make payments that were not collected during an in-person visit.
Improve cash flow by effectively managing your insurance follow-up and claims denial processes.
Use reports and data analytics to monitor revenue goals and visualize areas for improvement
Evaluate and implement software solutions for various aspects of revenue cycle management that meet the practice's needs. The right software solution for the right process enables physicians to focus on patient care instead of worrying about payments.
Consider outsourcing your RCM processes to a vendor that offers a comprehensive and integrated solution. Practices that don't have the time or staffing resources to internally acquire the necessary knowledge and expertise of all the aspects of revenue cycle management may find this option feasible and advantageous. According to Becker's Hospital Review, "seventy-two percent of hospital CFOs consider end-to-end RCM outsourcing to be the best option until value-based payment models are better established."
Conclusion
Healthcare regulations, reimbursement models, and technology have been changing at an increasingly accelerated pace. These present formidable challenges for healthcare organizations to maintain their financial viability. A well-thought-out and robust revenue cycle management strategy can mean the difference between practices that are struggling to survive and those that succeed and prosper.
Practices that automate where appropriate and streamline when necessary gain an advantage over those that are mired in tedious and time-consuming tasks that do not provide the desired outcome—maximum payment for rendered services at the soonest possible time.
It is more crucial than ever for practices to assess their need for robust and reliable revenue cycle management solutions. RevenueXL has flexible solutions for a variety of needs. We offer individual or integrated tools that support your overall revenue cycle management strategy. Contact us today to discuss how we can help.
Commonly Used RCM Terminology
When thinking about Revenue Cycle, it would be helpful to know some commonly-used terms:
ACO - CMS defines an Accountable Care Organization (ACO) as a group of doctors, hospitals, and other health care providers, who come together voluntarily to give coordinated, high-quality care to their Medicare patients. The goal of coordinated care is to ensure that patients get the right care at the right time while avoiding unnecessary duplication of services and preventing medical errors.
Alternative payment models (APMs) – APM is a model of payment that gives incentives for high-quality care instead of the number of services or treatment provided
Bundled payments – These payments are either "fixed-rate" or "flat-rate" pricing structures for the treatment of certain conditions based on the expected costs of associated services.
MACRA - The Medicare Access and CHIP Re authorization Act of 2015 is a law signed on April 16, 2015, and replaces the Sustainable Growth Formula. It rewards clinicians for value over volume, streamlines multiple programs under MIPS, and gives bonuses for participation in APMs.
Medicare Shared Savings Program – This program is a voluntary CMS program, which offers providers and suppliers such as physicians, hospitals, and others involved in patient care an opportunity to band together as an ACO.
MIPS – The Merit-Based Incentive Program began in 2019. MIPS streamlines three independent programs to work as one to ease the clinician's burden. It also adds a fourth component to promote ongoing improvement and innovation to clinical activities. It aims to provide clinicians the flexibility to choose the activities and measures that are most meaningful to their practice to demonstrate performance.
Value-based reimbursement – This refers to payments that Medicare, Medicaid, and other payers tie to the quality of care provided or patient outcomes. They are intended to incentivize care providers to focus on quality, lower costs, and inefficiencies.