Many medical practices are becoming more efficient through the use of practice management software and electronic medical records. These developments have proven to be effective at improving patient care, as well as increasing the profits of those practices who have implemented them. However, they have not been without their challenges.
Many providers prefer to keep the two systems separate. Many of them already had practice management software before electronic medical records started to become popular. Using two separate systems can come with many problems because the two don't always work well together. Quite often, there is a breakdown in communication, even among programs who are supposed to work in sync.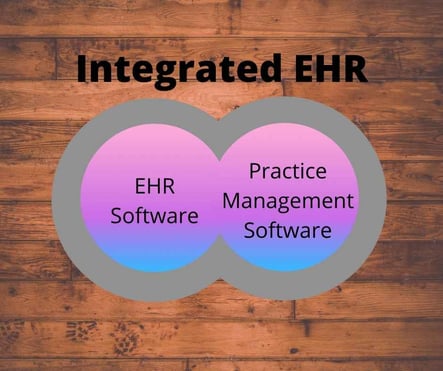 Integrated EHR Provides Seamless User Experience
The best solution to this breakdown in communication between practice management software or medical billing software and EMR is by choosing an integrated practice management and EMR system. This is an all-in-one answer that provides a seamless user experience, regardless of whether you're an office manager or a provider. This integrated system provides many benefits to the practice as a whole.
Experience Improved Efficiency
It takes time to switch between programs when you're using separate systems for practice management and medical records. Quite often, support staff need to access medical records for more information to help them code properly, or to do referrals. These are only two examples of common actions performed with practice management software. When staff are able to access the patient's record in tandem with their practice management system, the result is fewer errors and an improved experience for staff. Billing, which was once a tedious task that took hours to complete, can be done with only a few clicks of the mouse. Your staff's ability to perform these tasks is vital to your practice, however when they can perform them quickly, and with more precision, they'll be free to attend to the more pressing needs of your patients.
Benefit from Improved Reimbursement
Medical billing has always been a very challenging task, even for an experienced medical biller. It's vital to pay strict attention to details, as even the smallest error can result in a claim being rejected. Thankfully, we've come a long way from the days of processing patient billing by hand. But, even with the use of practice management software, billing can still be difficult. Not only are insurance companies constantly changing their reimbursement rates and coding requirements, but when ICD-10 becomes the requirement, those without integrated practice management and EMR will find it to be even more challenging. Using an integrated practice management and EMR system for billing will cut down dramatically on the amount of time your billing staff spends processing claims, as well as entering payments. You'll find less rejected claims, because accuracy will be at an all time high. The immediate results you'll see are increased profits.
Improved Patient Communication
Integrated practice management and EMR systems are very popular among patients, specifically those who require the ability to communicate with their doctors regularly. Patients are easily able to request prescription refills and appointments. They can also quickly access their own medical records, test results and medication lists. Providers are finding that the continuity of care is much improved, and patients feel as though their needs are being met even more so than just a few years ago.
Integrated practice management and EMR systems have a great deal of benefits to offer your practice, regardless of whether you are a general practitioner or you have a specialty practice. Your office staff will appreciate the simplicity it brings to their jobs, and your patients will love the improvement in patient care.