RevenueXL - Silicon Valley's Leading Medical Solutions Provider
Established in 2005, RevenueXL of Cupertino, California (Silicon Valley) is a leading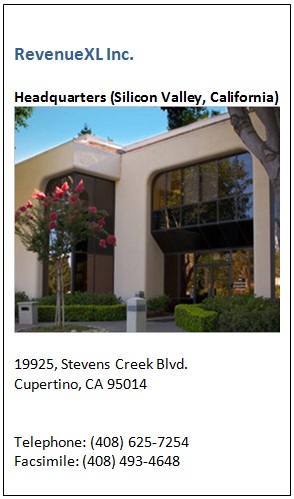 provider of healthcare solutions and EMR software, providing CCHIT and ONC-ATCB Certified Electronic Health Records Software to small and mid-sized practices. Our mission is to be recognized as the most trusted provider of integrated practice management solutions and electronic health records.
To achieve that, we use a unique blend of process knowledge, the most mature, proven EMR technology, and some of the most gifted individuals that allow us to deliver exceptional quality and value.
We see ourselves as a valued partner in your practice. You are surrounded by countless opportunities to improve how healthcare is delivered to your patients, and how your practice generates revenue. This partnership and our gold-standard commitment to supporting you ensure that you're truly prepared for what lies ahead.
At RevenueXL, we foresaw the coming changes in the industry, and exciting days are ahead. Advancements in EMR technology over the last 10 years, and the government's desire for a more solid standard and quality in healthcare have provided the industry with extraordinary innovation. Together, we ensure that you can take advantage of and leverage these opportunities for improving efficiency and revenue.
There has never been a more exciting time in our industry. Technology is allowing for extraordinary advances in care and in business. The government has recognized and acted upon the cry for change in healthcare and the need for a solid foundation in standards, technology, and quality outcomes.
---
EHR Selection Checklists
Specialty-specific Feature List
Other Checklists
---
Preparing for the Future with RevenueXL
With our fully customizable, integrated electronic medical record solution, we make your transition to electronic medical records and practice management software a breeze by:
Understanding your needs to provide the best EMR software for your practice
Optimizing your revenue by increasing patient flow and going paperless
Simplifying the management of information and patient data
Helping you grow and thrive as a business
Providing around the clock service and support
We have specifically designed our solutions to enable you to transform your practice into a fully paperless environment. Our goal for each provider is to help you enjoy faster payment, increase your revenue, provide more focused patient care and improve control of billing and clinical operations. To date, we have helped thousands of physicians in small to mid-size practices get amazing results.
RevenueXL is more than just a provider of EMR software solutions – we are your partner in bringing your practice into the future of healthcare.
How RevenueXL Works with Your Practice
We provide a variety of EMR and practice management services to help you advance your practice
Affordable, certified meaningful use EMR software and implementation that is up to 40% cheaper than other providers
Comprehensive integration EMR and practice management software
Unlimited customization of templates to meet the needs of your practice
Additional interfaces at no additional cost (eRx, lab access, etc.)
Offline capabilities to with internet access requires
Optional web based EMR or server based (on site) EMR software solutions
Comprehensive training programs via web conference to meet your staffing needs
Secure patient portal for individual patient access to complete forms and provide patients access to their records
HL7 compliance allows our EMR software to be easily integrated into existing practice management software in your practice.
We also offer comprehensive billing services to streamline the administration of your practice and increase your net revenues.
Daily submission of claims (paper or electronic)
Handling of all insurance follow-up for claims
Payment posting including zero pays (cash receipts, EOB and ERA)
Submission of secondary and tertiary claims
Generation and mailing of patient statements
Clearinghouse interface with real time eligibility
Customized practice website with a link to your patient portal
Inbound toll free number for handling patient inquiries
Customized trending reports and usage data
No contract – monthly costs from only 3% of collections