Want to know where other physicians and provider networks stand on implementing electronic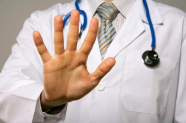 medical records? We're a lot closer to widespread adoption than many small practices think. According to recent studies into the use and implementation of practice management software and electronic medical records, small medical practices with one physician - or joint practices with two physicians - are the fastest-growing group among those working to implement EHR and EMR software.
The study was performed by a healthcare information research and database center out of Irvine, California known SK&A. The research study, known as "Physician Office Usage of Electronic Health Records Software", stated that for the first time in several years, those individual and dual practices are finally gaining ground over larger group practices and major health care systems in the implementation of EHR.
During 2011, primarily in the last half, the adoption of EMR software rose by 6% to almost 37% total adoption and implementation (36.9). For larger practices hosting 6 to 9 physicians, the adoption rate rose to only 65% (up from 63%).
SK&A Tracks Growth of EMR Software
To compile the data, SK&A surveyed more than 240,000 U.S. based medical clinics. One of interesting results of the study showed that the more physicians working within a facility or environment, the higher the percentage of adoption. For example, larger healthcare organizations with more than 25 practicing physicians were at about 77% adoption while smaller practices with just 5 physicians were around 54% adoption.
Other factors were found to influence the rate and scale of adoption for electronic medical records. This includes number of exam rooms on site (adoption rates nearly doubled between sites with 11 exam rooms when compared to sites with 3 rooms or less). In addition, patient volume strongly influences the adoption rate of EMR software. Those with higher patient traffic (more than 100 per day) showed a 68.4% adoption rate vs clinics with 50 patients a day or less showing a 41.2% adoption of EHR software.
Another ongoing survey by SK&A, titled "EHR Adoption in Medical Offices: Looking Forward," provides deeper insights for EHR installation and intent; including timeframes for adoption, buying factors, primary decision makers and awareness of government incentives. Key findings in this survey of 50,822 U.S. medical sites include:
Of those who have not yet adopted, 70.6 percent have not determined a timeframe.
Cost is the most important buying factor for 18.2 percent of physician offices; however, 68.1 percent have indicated no single main buying factor.
The doctor(s) at the practice (70.1%) are the primary decision makers.
Growing Benefits of EMR Software for Small Practices
Why the increase for smaller practices? Many are beginning to see the benefits of early implementation. Above all else, vendors are constantly improving these systems, helping physicians find the best EMR for small practice environments. As the systems improve, so too do the benefits.
Reduced errors in charting thanks to voice recognition and electronic charting as well as handwriting recognition
More efficient workflow in the back office among administrative and support staff
Reduced technology costs with mobile work stations that can move among exam rooms
Error reduction in prescriptions with e-Prescribing tied into EMR software
Faster return on billing with electronic billing services tied into practice management software
Simplified training and learning thanks to -pre-customized templates. This makes it easy to get nurses and technicians on the same page, easily updating charts before the physician exam.
The primary benefit is that early implementation of electronic medical records while a practice is small can save you a significant amount of money both in technology and labor along with billing to generate a more consistent, elevated revenue stream. Adopting electronic medical records will make it easy to grow your practice later, as the EMR software is easily customizable to grow with you.