Certified Podiatry EHR
With encouragement from the federal government, increasing numbers of hospitals and medical clinics are adopting electronic health record (EHR) systems and anticipating the promised incentive payments. In May 2011, the first batch of incentives was distributed. As it turns out, podiatrists earned a surprisingly high portion of the payments; they made up about 1.5 percent of Medicare providers, but they received roughly 12 percent of the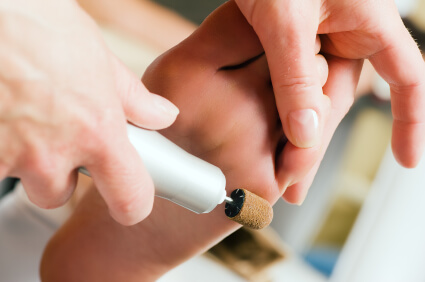 incentive payments.
Why did that happen? EHRs, also known as electronic medical records (EMRs), adapt especially well to podiatry. Certified EHR software satisfies the government's technical requirements, which must be met in order to demonstrate "meaningful use" and qualify for the incentive money.
What Makes a Podiatry EHR Better for your practice?
Certified Podiatry EMR software offers several advantages, including:
Podiatry-specific forms and templates
Many EMR systems come with generic templates, but podiatry systems provide specialized documents and user interfaces. For instance, a certified podiatry EMR includes patient instructions and exam templates that save time and encourage you to follow routines. Podiatry-specific diagrams help you take notes more accurately and quickly.
Customized medical billing manager
With this feature, the EHR automatically suggests a code according to the procedures and diagnoses of the patient visit. This reduces errors and facilitates accurate, timely payment.
Meaningful use dashboard and module
Podiatry EMR software uses built-in reporting modules to provide dynamic feedback on your progress toward documenting meaningful use. The dashboard also displays what progress has yet to be made. At any time, you can view your percentage of compliancy or see a list of patients with whom you have achieved meaningful use.
What Other Benefits Can I Expect with Certified Podiatry EHR Software?
A well-designed, properly implemented EHR offers many measurable benefits for your practice. An analysis by Chaudhry et al. reported the following findings from providers who use a fully functional EHR:
* 82% improvement in the quality of clinical decisions
* 72% improvement in the quality of communication with patients
* 92% improvement in the quality of communication with other providers
* 82 to 85% improvement in delivery of preventive care and chronic-illness care
* 86% improvement in avoiding medication errors
These results summarize general EHR experiences, but many can apply to your podiatry practice as well. The most significant EMR benefits include:
1. Improved convenience and quality of patient care
Certified EHR for podiatricts provides rapid access to complete patient records, live quality reporting, enhanced medical information and decision support, thorough documentation tools, communication with other EMRs and providers, and more reliable, safer prescribing. Meanwhile, your patients will appreciate having less paperwork, reliable reminders and information, and electronic referrals and prescriptions. Patients also correlate the latest technology with higher quality; seeing an EHR in use encourages patients to communicate more openly and to make more informed decisions.
2. Improved accuracy of diagnoses and health outcomes
Since an EHR instantly pulls up the patient's complete medical history, providers diagnose problems more quickly and more accurately, view warnings of life-threatening conditions or allergies, and reduce errors.
3. Better coordination of care
Comprehensive patient care relies on a team of health care providers, each of whom carries a different perspective and knowledge of the patient. A certified EMR for Podiatrists assembles the pieces into a complete picture for each provider's perusal; this reduces fragmentation of care while promoting communication and smooth transitions between settings.
4. Enhanced efficiency and increased cost savings
A functional EHR links patient appointments to notes, claims, and coding while managing charts and enabling greater communication among providers. This creates three key benefits:
* Increased coding accuracy
* Improved delivery of care
* Increased patient flow, employee productivity, and revenue
In conclusion, a certified podiatry EHR for Podiatrists can revolutionize your Podiatry practice and qualify you for government incentives. EHRs in general offer a myriad of advantages over relying on paperwork, but a pre-programmed podiatry EHR uniquely positions you to improve your service and revenue while increasing patient satisfaction.