PrognoCIS EHR Software
Choosing an EHR software is a difficult task that should never been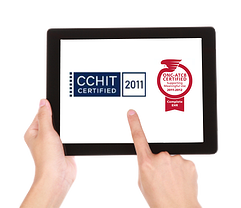 taken lightly. It can take months of research and demonstrations to choose one that's right for you and your practice. If you've been disappointed in your EHR in the past, you're probably looking for a replacement EHR. However, before you make any decisions, we'd like the opportunity to introduce you to RevenueXL PrognoCIS EHR Software. We're sure you'll find that it has pretty much everything you need in your EHR, making your practice more efficient and productive, while ensuring that you continue to provide excellent patient care.
1. Integrated EHR and Practice Management Software
PrognoCIS EHR Software is integrated with its own practice management software. However if you choose to continue using the practice management software you are currently using, as long as your system is HL7 compatible, the integration will be seamless.You'll experience quicker billing reimbursements, and your staff will enjoy being able to enter payments more quickly, making your coding and billing procedures much more efficient.
2. Web-Based or Server-Based EHR Options
Some practices prefer to use a web-based EHR, and some prefer a server-based EHR option. At RevenueXL, we understand that all medical practices are different. You have different needs, and different preferences. You'll receive an EHR solution that works for you, based on your unique practice.
3. Meaningful Use Package
Most providers, regardless of their specialty, are very interested in achieving Meaningful Use so that they can qualify for EHR reimbursements from the government. However, it's difficult to know if you're making your goals unless your EHR has a system of tracking your progress. Ours Meaningful Use Dashboard does exactly that, so you'll know where you need to make improvements and what you're doing well. We also package everything that you need to achieve Meaningful Use, including a patient portal, which is required to achieve Stage 2 Meaningful Use, into your EMR Solution.
4. Fully Customized For You
Too many practitioners are forced to customize their EHR themselves, only to be disappointed later at all of the hard work that's needed to make it work for them. Upon implementation, our EHR will be fully customized according to your specialty and your specific requirements, giving you ALL the templates you need. Of course, if you need further assistance with customization, we're happy to work with you, providing you the support you need to make the EHR work well for your practice.

5. Mobile Adaptability
One of the best things about RevenueXL PrognoCIS EHR Software is the fact that it's completely mobile. Mobility offers you many conveniences, including being able to use voice documentation, which will transcribe your spoken notes into text and then insert them into the patients' charts. You will also enjoy more point-of-care time with your patients, which will allow you to have more time to speak with your patients during their appointments. Not to mention, your software will be accessible from any location.
6. E-Prescriptions
The e-prescribing feature is one that no physician should be without. Not only does ePrescribing offer convenience to your patients by sending their prescriptions directly to the pharmacy, but it will also alert you regarding any potential problems with the medications you've prescribed.
7. Exceeding HIPAA Security Standards
Many physicians are reluctant to switch to EHR because they want to be sure the company they choose will be HIPAA compliant. RevenueXL PrognoCIS EHR Software is designed to exceed HIPAA security standards through some of the most advanced encryption methods in the industry.
We're confident that you're going to love our RevenueXL PrognoCIS EMR Software. If anyone understands the unique needs of your medical practice, it's us. Contact us today for more information, or to set up your complimentary demo