Certified EMR & EHR for Ophthalmology Practices
Ophthalmology Electronic Health Records integrated with Medical Billing
We understand that the needs of a Ophthalmology practice are unique and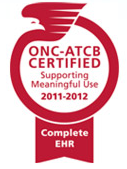 therefore you need a specialized EMR (Electronic Medical Records) / EHR (Electronic Health Records) solution. Top Ophthalmology EHR Software solutions are designed from the beginning with Ophthalmology requirements in mind. RevenueXL brings you top-rated, affordable, and easy-to-use Ophthalmology EMR & EHR software solutions - from the best vendors on the market.
Our solutions also help your ophthalmology practice implement your new EMR faster since you will not need to spend your time, energy, money developing ophthalmology-specific templates to chart patient visits, consults, and procedures.
Top Ophthalmology Electronic Medical Record Vendors
RevenueXL brings to you top rated ophthalmology specific EMR software from well established vendors in the market place. These vendors have been short-listed by us on the basis of the vast experience gained by our consultants and our industry knowledge. Our solutions possess feature-rich solutions for an ophthalmologist allowing for greater automation and clinical efficiencies.
Our Electronic Medical Record Software solutions are reliable and based on proven technology to meet the specific needs of the doctor. Our EMR and Practice Management Software also incorporates an electronic superbill and E&M coder that has been customized for the ophthalmology specialty. Like other specialty EMRs, our ophthalmology EMR can also be customized to mimic your existing workflow and model your existing templates/forms. Chances are that we already have a template that we have customized for other ophthalmologists, but even if we have not seen it in the past, we can easily customize EMR software from top rated vendors to specifically meet your needs as an ophthalmologist.
Packages includes detailed graphics of the eye, medical eye exam templates, and operative procedures. Ophthalmic exam template content includes graphics of corneas, eyes, eyelids, macula, gonioscopy, optic nerve and retina. It also features patient instructions, lens prescriptions and special content for IOP, refraction, lens, visual acuity and keratometry.
Graphics for the cross-section of the eyes, corneas, retinas, and partial face views.
Annotation tool allows the physician to write/draw on the graphics and store them in the patients electronic folder.
Eye Care specific examination dialogs for vision: Visual Acuity, Contacts, Lenses, Keratometry, and IOP.
Generic Features
Client/Server or ASP based
E&M Coding Assistance
PDR-Based Prescription Writing
Lab Interface (Quest, LabCorp, etc.)
Custom Decision Support (ADE, Coding)
Billing/Scheduling Software Interface
Document/Image Management
Tablet PC Enabled
HL7 Custom Interfaces
Online Patient Portal
and many more user-friendly EMR features...
Ophthalmology-specific customized EMR
Vision Testing Device Integration (Autorefractor, Keratometer and Visual Fields)
Eye Exam Codes
Point of Sale System for Sale of Glasses and Contact Lenses
Accounting, Inventory and General Ledger Integration
Automated Yearly Vision Check Phone and Email Reminders Integrated with Scheduler
Digital Pen Solution for Eye exam
Opthalmology Drug Database with interaction checking
Opthalmology specific ICD/CPT Codes
Contact Us For Free EMR Consulting & Demo

EHR systems can assist ophthalmologists in improving the quality of care being provided as well as assist the doctor in building solid relationships with his patients.
RevenueXL works with stable and reliable Ophthalmology Electronic Health Records vendors for your practice. We will guide you through the maze and bring you customizable solutions based on proven technology for your practice.
Best of all our service is at NO COST to you! Fill out the form for a FREE DEMO of our ophthalmology specific EHR Software for the ophthalmology practitioner; you have nothing to lose and everything to gain! We can also provide more information on our EMR solutions and software.
So why not contact us today, you have nothing to lose, but only to gain, and that's our promise to you.