Looking for a Great Pain Management EHR?
Have you often heard that EHR Software implementation causes more headaches than it solves? It doesn't have to be that way.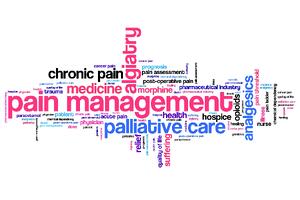 With the right partners and solutions, Pain Management EHR adoption and implementation can be smooth and successful, with flexible EHR customization, effective training strategy, and full support for providers and staff from analysis and implementation all the way to post-deployment.
Top 9 Questions to ask when investing in new Pain Management EHR Software
1. Will you get a customizable EHR that puts you in control?
Pain Management issues come in many varieties – and treatments and therapies may differ greatly between patients.
When you have an EHR that can be easily modified to address these differences, you can enjoy the flexibility of these essential features:
Customizable templates

that address pain-related issues and which can be used as-is or adjusted on the fly for many procedures, such as

trigger point injections, peripheral or selective nerve blocks, spinal cord stimulation, and many others.
Voice and handwriting recognition technology are on-hand throughout in order to support ease and efficiency of documentation.

Easy access anywhere any time - when deployed as a

cloud-based technology

solution, Pain Management EHR provides access to patient records using a PC, Mac, or tablet. In this case, the only requirement is an internet connection and a standard web browser. Because this is software-as-a-service (SaaS), it does not involve expensive start-up costs that are usually associated with implementing a new hosted system, such as buying and maintaining software and investing in server infrastructure.

Convenient and secure e-Prescribing - o

ne of healthcare's game changers, e-Prescribing enables patients to have their medications refilled without a single sheet of paper being used – and with much greater clarity and accuracy. This includes Certified ePrescription for controlled substances. What's more, the ability to electronically check drug-drug and drug-food allergies adds an extra layer of protection for the patient.
2. Will you receive appropriate and high quality training that eases the strain of adopting new technology?
Any change can put pressure on already-busy providers and staff.
Providing comprehensive EHR training to providers and clinic staff so they learn the different aspects of the system is crucial to both short-term and long-term success of the implementation.
The many benefits of appropriately training the users of the system includes, among others:
Ensuring patient safety – thorough understanding of the EHR's functionality helps you and your staff know where to document and find important data about the patient so that you can make appropriate decisions and provide safe care
Optimizing the system's functionality – thorough training of EHR functionality decreases the frustration of learning by trial and error and increases users' efficiency by giving them the confidence to know how to find the most direct way of getting to the information they need
Achieving Meaningful Use incentives – sufficient training gives clinic staff the ability to navigate the different modules and ensure that all Meaningful Use-related data are captured in the documentation
Successful EHR training includes best practices such:
Making sure everyone has basic computer knowledge before the start of EHR training
Providing an in-house trainer
Opting for ongoing EHR training
Ensuring that the training is relevant and customized for your specialty, and
Approaching EHR training with a plan
And because users have different learning styles, effective training incorporates various training modalities in the form of:
Live in-person training
At-the-elbow support during the go-live/implementation
Supplemental online or computer-based training
3. Will you have access to top-notch implementation support?
An effective end-to-end implementation includes comprehensive analysis of your needs and current processes to help ensure minimal disruption to your existing workflows.
Each practice should have its own Implementation Specialist who can act as a guide and resource person throughout the various phases of the implementation – from analysis to installation, testing, training, and implementation.
These Implementation Specialists should:
Listen to all of your needs

Study existing workflow and procedures, and

Develop the Optimization Blueprint to customize your EHR software to optimize every facet of your practice.
Prior to go-live, these resources will ensure that every device is fully connected, tested and configured for maximum efficiency and security.
Ideally, you and your staff should also have access to the following support services:
An online Resource Center that you can use as a reference
Unlimited technical support via phone, email, and online chat
4.
Is there a track record of exceptional customer service support that goes the extra mile?
Small and medium-sized specialty practices need to have access to customer support that understands their specific needs. There definitely is more to implementing or replacing your EHR than just installation. Increased focus on efficiency, a transparent process, having an in-house operational or clinical champion, sufficient testing, and comprehensive training need to be supplemented by outstanding customer support, so that providers and staff always know who to turn to when they need their answers and concerns addressed any time, day or night.
5. Is it compliant with Meaningful Use?
Certified and compliant EHR software is a requirement for reimbursement under the Patient Protection and Affordable Care Act (PPACA). The best EHR systems for small practices automate compliance with MU regulations, thus saving you and your team time and effort and thus enabling you to focus more on patient care.
Pain Management practices can be successful in value-based care reimbursement models by leveraging EHR software that:
Streamlines the end users' workflows
Enables patient care coordination
Improves patient engagement, and
Supports health data exchange
6. Will you have actionable data at your fingertips?
One of the advantages of EHRs over paper is the ability to continuously collect, sort, and organize data – even after office hours.
At any given time, you can make a few clicks and right there on your EHR is a dashboard that displays vital statistics – either for your patients or your practice.
This powerful tool gives providers and staff the real-time ability to:
Track patients
Identify trends that reflect the quality of care
Monitor the practice's compliance to MACRA and other reimbursement-related criteria
7. Will the change result in more satisfied patients?
Ever wonder what makes patients happy besides having their pain and other issues addressed?
According to a study conducted in Florida, it could be as simple as:
Improving

waiting room wait time
Exam room wait time
Turnaround time for return of phone calls, and
Time spent waiting for laboratory testing and results
The study revealed that the responses in these categories accounted for nearly 50% of all fair and poor ratings.
An EHR has the ability to improve waiting and turnaround times through:
Online booking via a Patient Portal that gives patients the ability to select the most convenient time for them to visit the office, right from wherever they are
Appointment reminders that help them to remember when they are supposed to get to the clinic, thus increasing engagement and satisfaction while decreasing incidence of no-shows
Of course, providers and staff providing attention and excellent service are also major contributors to patient engagement and satisfaction.
A cloud-based EHR that helps to improve workflows and efficiencies definitely assist in making this a reality. When the EHR is very simple to use and is available in mobile format, it gives you the ability to streamline your workflows that help decrease waiting times and turn around times.
8. Will patient data be both secure and easy to share when needed?
These days, the challenge is two-fold:
Seamlessly sharing data with other care providers while at the same time

Ensuring that it is done so in a secure manner
The ideal Pain Management EHR system constantly gathers data from laboratories, other physicians and staff, categorizing data, and creating appropriate alerts to keep you focused and on-track.

Pain management software also makes it possible to do the following without worrying about security issues:
Communicate with other facilities or providers about patient care in a secure manner

Route specific records or information

Send letters of recommendation or referral

Bill insurance companies
Pain Management clinic operations spend a significant amount of time and resources in collaborating with, as well as sending and receiving referrals to and from, other practitioners or specialists.
The ability to use the EHR for referrals allows you to:
Ensure that the patient receives necessary follow-up care, and
Prevent issues and problems from falling through the cracks when a patient transitions from one care provider to another
This kind of internal and external collaboration requires robust EHR software that enables streamlined health data exchange to allow for electronic ordering of lab and imaging tests and accepting electronic results in return, as well as for e-referrals.
9. Does it have the ability to help increase revenue capture?
Pain Management EHR that is fully integrated with the Practice Management Software increases and streamlines the efficiency of your clinic's operations, giving you and your staff the freedom to focus on patient care and spend less time on administrative activities and tasks.
Having this integration provides a seamless user experience, and includes the following benefits:
The billing process is easier and more efficient because ICD codes are assigned to each complaint within the Pain Management EHR
Reimbursements become faster, as encounters can be easily converted to billable EDI and paper claims.
Looking to the future
The Practical Pain Management publication recently invited several industry experts to a virtual "roundtable" and share their insights as to what they see in Pain Management's future.
Clay Jackson, MD, DipTh, President of the Academy of Integrative Pain Medicine shared the opinion that "technologic advances will digitize the assessment process, extending the monitoring of patient experiences outside the brick-and-mortar locale of the clinic into the realm of digital biometric devices… Digital devices will allow for continuous feedback from the patient experience to the clinician's counsel."
With Artificial Intelligence and Machine Learning steadily being incorporated into the latest technology, Pain Management EHR Software has the potential to be even more intuitive and easier to use in the near future, as well as hold the promise of helping improve patient outcomes, lower costs, and reduce provider burnout.
Additionally, big data that results from the collection and analysis of data generated by a host of biomedical and other health-related devices, has the potential to make a positive impact in the personalization of patient care, as it creates a more holistic picture of patient patterns as well as physician efficiency and effectiveness.
How RevenueXL can help
The right partner with the right expertise and solutions can make a huge difference in making your EHR implementation or replacement experience more of a streamlined transition instead of a painful headache.
Our EHR team provides exceptional support right from the start. We can help you with customized and personalized support to get you up and running and smoothly going regardless of the size of your Pain Management practice.
We have the solutions, tools, and training to support practices and help make this transition seamless and successful.
Readers may also be interested in the following: