Data shows that mental health EMR systems are being incorporated by more mental health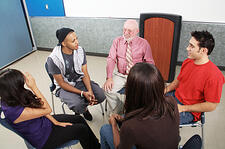 professionals and institutions. According to SAMHSA in a study, 46 states are working toward incorporating mental health EHR or in the process of installing (switching over to) mental health electronic medical records for use in state psychiatry hospitals and other community mental health facilities.
This information comes from the SAMHSA report "Characteristics of State Mental Health Agency Data Systems. The report is intended to review the current status of IT in the mental health industry across all 50 United States, the District of Columbia and four territories - referred to as "states".
The report released just two years ago SAMHSA details the importance of IT in a progressive medical system with emphasis on mental health EMR software. The emphasis rests in how IT plays a crucial role in providing better, more efficient mental health services to patients across the U.S.
Additionally, the report details the differences in types of electronic medical records, EHR solutions and practice management software that makes up the options for mental health EMR systems available to the Nation's mental health agencies.
Mental Health EMR Systems - The Importance of Better IT
The bulk of mental health services are provided by state agencies, though some are individual practices. Regardless of the backing, these agencies, like others in the healthcare system, are relying every-increasingly on IT systems and solutions like mental health EMR to provide improved patient experiences and essential functions, including:
Monitoring public mental health services for continuity of care
Prescription tracking
Reduction in patient errors that endanger the patient
Matching milestones established by Medicaid and Medicare for reimbursement (meaningful use initiatives)
Ensuring persons living with mental illness receive timely, appropriate services
Schedule and billing to effectively improve practice management
Additional Info Related to Mental Health EMR
The study also released findings related to mental health electronic medical records including
Five states already have a complete mental health EMR system in their state psychiatric hospitals, while 18 states have incorporated some parts of electronic medical records
Twenty-one states reported that mental health EMRs are completely (or partially installed) in community mental health provider agencies.
Twenty states have agreements about sharing mental health EMR client-level data between providers to improve continuity of care
Twenty-one (55 percent) of the reporting states are using an electronic pharmacy/medications ordering system. (e-Prescribing)
The study ultimately shows us that mental health facilities and agencies are making a concerted effort, and devoting considerable resources, to improving the IT systems and enhance the overall level of service and care provided to their patients. In just two years, electronic medical records have made significant strides on system quality, integrity and functionality - ultimately making them readily available for smaller practices and virtually any branch of medicine.