As the deadlines for Stage 2 Incentives for the Health Information Technology for Economic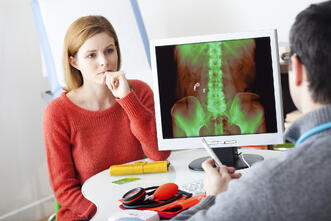 and Clinical Health (HITECH) Act and the new billing procedure ICD-10 quickly approach, perhaps there is not a better time for Urology Clinics and Urologists to consider moving from the cumbersome, space hogging paper chart system to the streamlined certified Urology EMR Software designed to assist them not only with patient care and patient health records, but also offer them the assistance they need to comply with a tightly controlled billing structure.
While it may be daunting to consider a change that is inclusive of almost every function of the Urology practice, the benefits can far outweigh the growing pains associated with adapting to a new system. The return on investment may be significant, and the reduction in ancillary operational costs may be reduced or eliminated as well. When you look at the day to day operational improvements that a certified Urology EMR or EHR system may provide, these systems are really the only choice for moving forward and remaining financially competitive.
Orders, Labs, Imaging & Results Tracking – Urology offices that do not utilize a certified EHR have a considerable responsibility controlling and keeping track of orders and results. A certified Urology EHR offers the benefit of a system that not only takes on the task of keeping track of orders such as laboratory requests, X-rays, CAT Scans or Ultrasounds and Urograms removing the burden from an employee allowing more efficient use of time, but also receives the reports from outside sources and places them in the correct patient charts to be reviewed by the Urologist.

Office Notes and Procedure Reports – As with any specialty practice, Urologist know that documentation is a necessity not only for the care of the patient, but also for relaying patient care information to primary care physicians and other specialty practices when necessary. A certified Urology EHR system allows office notes to be prepared as the patient care is being delivered through use of a laptop, tablet or PC, but also can be customized to generate standard office visit reports with fill in the blank information, procedure notes and follow ups notes in pre-designed document sets.

Urology Specific Nomenclature – Urology has a standard set of codes, billing and procedure, as well as specific terminology related to their practice and patient care. Certified Urology EMR systems for Urologitsts can be customized to the practice of Urology and reduce the time a practitioner or office staff would typically use making the charting process simpler.

Billing Coding and Documentation – While many practices, even specialty practices, may see an overlapping in coding or procedures, there are many codes that are uniquely specific to urology. Urology EMR Software customized specifically to a Urology practice can utilize either only urology specific coding, or be customized to offer urology specific codes as a top preference. Utilizing the Urology EMR or EHR to help generate procedure and diagnosis codes streamlines the billing process and allows the Urologist more time to direct their attention to other patient care matters.

Task Management – Other points on this list may seem to be task management, but every operation performed by every staff member in the Urology office is a task. A certified EMR or EHR system streamlines those tasks and through system task management allows all those jobs to be coordinated in a master system so that jobs that typically would have to wait while one staff member works in a particular patient chart can be done simultaneously.
It is the perfect time for Urology practices and Urologists to consider a move from a cumbersome, inefficient paper chart system to a certified Urology EMR or EHR system that maximizes efficiency, reduces errors and operational costs.