So much of the focus on Electronic Health Records (EHR) has been on primary care practices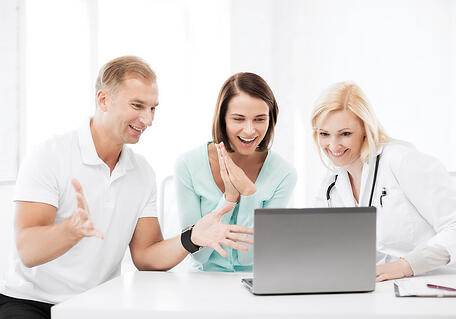 and hospitals, leaving many specialists struggling with systems that simply weren't designed for their needs. That, according to a 2014 study published in the Journal for Healthcare Quality, is one reason that obstetrician / gynecologist practices have lagged behind in adopting EHRs. In short, the researchers noted, many existing systems don't address the unique needs of ob-gyns, including the fact that they focus on both the mother and the child; practice in the office and in hospitals; and have practices that are medically and surgically based.
That's a shame. Because, as this and other studies find, the right EHR can have significant benefits for ob-gyns.
In a recent Healthcare Quality study, researchers analyzed surveys assessing 559 ob-gyns' use of EHRs and satisfaction with the systems. They found that just 56 percent of the physicians used an EHR, although 16 percent said they planned to implement one in the next year. About 63 percent of physicians using the EHR were satisfied with their system.
Those physicians using EMRs found numerous benefits, including:
Improved financial performance. Forty percent of physicians who embraced an Ob/Gyn EHR (and even 11 percent of those who didn't like their EHR) said their practice's financial performance had improved since implementing the technology.
Improved clinical benefits. Eighty-five percent of those who were satisfied the systems found improved clinical benefits, compared to a third of those who were unhappy.
Improved patient care. Seventy-one percent of those who were happy with their EHRs cited improved patient care as an outcome compared with 11 percent of those who were unhappy.
Improved comprehensive access to records. Ninety percent of those who were happy with their EHRs said the systems improved comprehensive access to records; while nearly 98 percent said it made records more "readily available." Even physicians who weren't happy with their EHRs found improved access to records – 61 percent said the technology improved comprehensive access; 66 percent that it made the records more readily available.
Improved efficiency. About half of physicians with an EHR said they spent less time on pharmacy calls since implementing the system and received and reviewed lab results quicker. They also said their EHR increased the efficiency and comprehensive of billing while reducing the cost of managing and storing the results.
Other studies find improved adherence to cervical cancer screening in ob-gyns who use EHRs, as well as improved documentation of shoulder dystocia deliveries and the delivery of prenatal care – all of which are important not only for quality of care, but for reducing the potential for malpractice claims.[1],[2],[3]
In fact, one large ob-gyn network found that implementing a real-time, decision support-enabled Ob/Gyn EHR led to a 50 percent drop in malpractice claims.[4]
The lesson from these studies is clear: a well-designed EHR system can significantly improve efficiency and effectiveness in an ob-gyn practice – resulting in improved financial outcomes and quality of care.
Readers may also be interested in:
---