Dermatology EMR
Dermatology EHR System - 5* Usability Rating
The needs of a Dermatology practice are unique and therefore call for a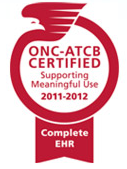 specialized EMR (Electronic Medical Records) / EHR (electronic Health Records) solution catering to the specific needs of a Dermatologist. Dermatology Electronic Health Records are designed to meet the specific needs of a Dermatologist's practice.
For example, dermatology-specific EMR and EHR systems will often include ability to bill for multiple lesion treatment in one visit, graphics of each area of the body on which the dermatologist can draw lesions and ability to fully analyze dermatological lesions (Rashes, Ulcers and Lesions) with ability to describe them graphically in detail.
Cosmetic Surgery EMR & EHR Software
RevenueXL provides top rated Cosmetic Surgery and Dermatology EMR and EHR software from well established vendors in the market place. These vendors have been short-listed by us on the basis of the vast experience gained by our consultants and our industry knowledge. They possess feature-rich solutions for a Dermatologist allowing for greater automation and clinical efficiencies.
Our Dermatology Electronic Medical Record Software solutions are reliable and based on proven technology to meet the specific needs of the Dermatologist. Our Dermatology software also incorporates an electronic superbill and E&M coder that has been customized for the Dermatology specialty. Our Dermatology EMR system can also be customized to mimic your existing workflow and model your existing templates/forms. Chances are that we already have a template that we have customized for other Dermatologists, but even if we have not seen it in the past, we can easily customize EMR software from top rated vendors to specifically meet your needs as a Dermatologist.
Among these Dermatology-specific templates are acne consults, burns, insect bites, lesions, psoriasis, rosacea, cancer screenings, and many more. These templates automatically populate the patient information - eliminate duplicate data entry and allow dermatologists to be more efficient in their documentation.
Dermatology EMR - Generic features
Client/Server or Web based
E&M Coding Assistance to facilitate optimal coding
ePrescription
Lab Interface (Quest, LabCorp, etc.)
Billing/Scheduling Software Interface (if required to interface with your Practice Management System)
Document/Image Management
Tablet PC Enabled
HL7 Custom Interfaces to other devices
Online Patient Portal
and many more user-friendly EMR features...
Dermatology Electronic Medical Records Software - Customized EMR
Before and After Reports
Breast Augmentation/Lift/Reduction Consultation and Procedure Note
Dermatology Images (Images of each body part for describing lesions, etc.)
Before and After Photo Comparisons
Dermatology Specific Graphic Database
Inventory management
Dermatology Drug Database with interaction checking
Dermatology specific ICD/CPT Codes
Dermatology Templates
Our strategic partners have developed templates specific to your system, which remain customizable for each physician in your clinic. Dermatologists will find Custom SOAP Note Templates, many specific templates, information to evaluate quality and cost of care and many other critical features in our feature rich Electronic Medical Record Software.
• Acne Template
• Actinic Keratosis Template
• Atopic Dermatitis Template
• Burn Template
• Cryosurgery, Shave Biopsy/Removal Template
• Drug Eruption Template
• Herpes Zoster Template
• Ingrown Toenail Evaluation Template
• Insect Bites Template
• Laceration/Contusion Template
• Rosacea Template
• Seborrheic Dermatitis Template
• Varicose Vein Templates
• Cold Sore Templates
• Skin Cancer Templates
• Psoriasis Templates
• Liposuction Note Template
• Tummy Tuck Template
• Before and After Photo Comparison Template
• Point-n-Click SOAP Note Templates
• Custom Dermatology SOAP Note Templates
• Referral Letter Templates customized for Dermatologist
and many more Dermatology EHR templates...
Dermatology EMR & EHR Software - From RevenueXL
EHR systems can assist Dermatologists and Cosmetic Surgeons in improving the quality of care being provided as well as assist in building solid relationships with his patients.
RevenueXL works with stable and reliable Dermatology Electronic Health Records vendors for your practice. We will guide you through the maze and bring you customizable solutions based on proven technology for your practice.
Best of all our service is at NO COST to you! Fill out the form for a FREE DEMO of our Dermatology specific EHR Software for the Dermatology Practitioner. We can also provide more information on our Dermatology specific EMR solutions and Dermatology Software.
So why not contact us today, you have nothing to lose, but only to gain, and that's our promise to you.