EHR Incentive Programs
Promoting Interoperability Programs
The path to CMS incentives for using electronic health records (EHRs) has been a meandering and often challenging journey. The HITECH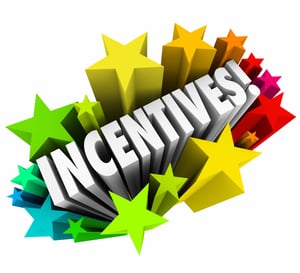 Act 2009 paved the way by passing laws that gave CMS the authority and ability to establish programs that promoted health IT, including the adoption and use of EHRs.
CMS established the EHR Incentive Programs in 2011 (commonly known as "Meaningful Use"), which in 2018 it renamed to Promoting Interoperability (PI) Programs. This signaled an important change in the programs, moving from the current requirement for meaningful use to what CMS calls "a new phase of EHR measurement with an increased focus on interoperability and improving patient access to health information".
Medicare Program Requirements for 2019 and Onwards
The Merit-based Incentive Payment System (MIPS) is a "new and improved" program that replaced three legacy programs (PQRS, VM, and Medicare EHR Incentive Program for Eligible Professionals). MIPS performance is measured in four categories – Quality, Improvement Activities, Promoting Interoperability, and Cost.
Results of participation in the 2017 reporting period:
1,057,824 total MIPS eligible clinicians* received a MIPS payment adjustment (positive, neutral, or negative)
1,006,319 total MIPS eligible clinicians reported data and received a neutral payment adjustment or better
Starting in the 2019 reporting period (which will result in adjustments in 2021), all EPs, eligible hospitals, dual-eligible hospitals, and critical access hospitals (CAHs) are required to submit a single set of Promoting Interoperability objectives and measures that adhere with the 2015 Edition certified electronic health record technology (CEHRT), to avoid a negative base rate adjustment that will be reflected in reimbursements two years after the reporting period.
Key features of the 2015 Edition CEHRT:
Believed by CMS to have the most up-to-date standards and functions that would "better support interoperable exchange of health information and improve clinical workflows".
Aims to meet the goal of improved interoperability by utilizing new and updated vocabulary and content standards
Uses a Common Clinical Data Set (CCDS) and content exchange standards called Consolidated Clinical Document Architecture (C-CDA)
Together, CCDS and C-CDA facilitate the structured capture and exchange of health information. This means that a piece of data (for example, a diagnosis) would appear consistently in the patient's medical record, regardless of which EHR product(s) are used in the facility or facilities.
Helps ensure that the product is secure and able to maintain data confidentiality, as well as share information with other systems.
Supports technologies that allow patients "greater flexibility and choice in how they access and share their health information".
Important Things to Keep In Mind
The 2015 Edition CEHRT did not have to be implemented on January 1, 2019
The functionality must be in place by the first day of the EHR reporting period
The product must be certified to the 2015 Edition by the last day of the EHR reporting period
The eligible hospital or CAH must be using the 2015 Edition functionality for the full EHR reporting period
The product may be deployed, but pending certification
2019 Reporting Requirements for Promoting Interoperability Performance Category
Performance Category and Corresponding Weights
Final 2019 performance categories and corresponding weights are as follows:
Quality – 45%
Improvement Activities – 15%
Cost – 15%
Promoting Interoperability – 25%
Promoting Interoperatiblity Performance Category Final Reporting Requirements for 2019
| | |
| --- | --- |
| Basics | Reporting Requirements |
| Must use 2015 Edition Certified EHR Technology (CEHRT) in 2019 | Eliminated the base, performance, and bonus scores |
| New performance-based scoring | New performance-based scoring at the individual measure level |
| 100 total category points | Must report the required measures under each Objective, or claim exclusions if applicable |
| | One set of Objectives and Measures based on 2015 Edition CEHRT |
| | Four Objectives: ePrescribing, Health Information Exchange, Provider to Patient Exchange, and Public Health and Clinical Data Exchange |
| | Added two new measures to the e-Prescribing Objective: Query of Prescription Drug Monitoring Program (PDMP) and Verify Opioid Treatment Agreement |
Reporting Objectives, Measures, and Points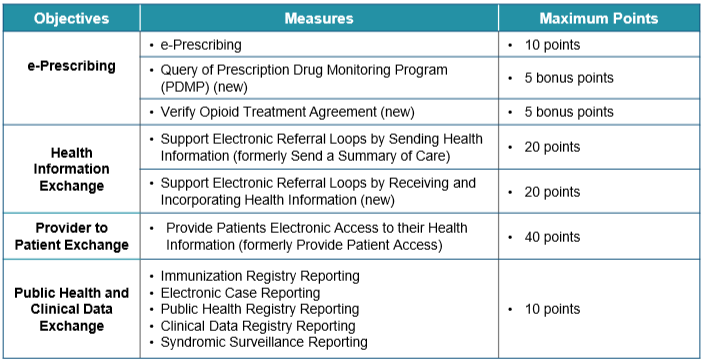 Scoring
To earn a score for the Promoting Interoperability Category, a MIPS eligible clinician must:
Use 2015 Edition CEHRT for the performance period (90 consecutive days or greater)
Submit a "yes" to the Prevention of Information Blocking Attestation
Submit a "yes" to the ONC Direct Review Attestation
Submit a "yes" for the security risk analysis measure
Report the required measures under each Objective, or claim exclusions, if applicable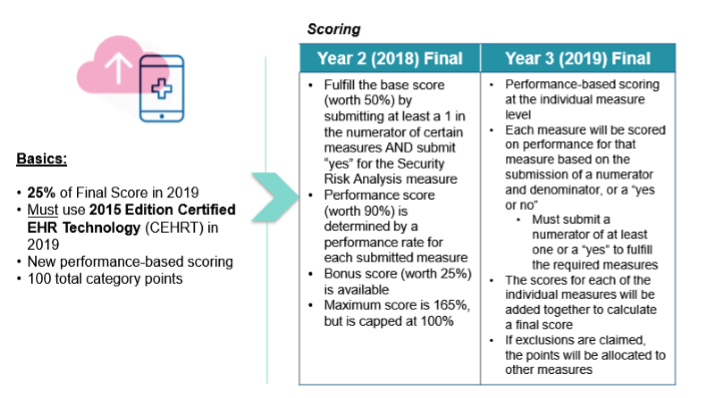 Download the CEHRT Fact Sheet here.
Read the Rule details here.
Medicaid Program Requirements for 2019 and Onwards
The Medicaid Program Requirements are similar to the ones for Medicare in that emphasis is placed on the use of the 2015 Edition CEHRT, with the same guidelines as noted above.
The 2019 Medicaid Promoting Interoperability Program objectives and measures for EPs include the following:
Protect patient health information
Electronic Prescribing
Computerized Provider Order Entry
Patient Electronic Access to Health Information
Coordination of Care through Patient Engagement
Health Information Exchange
Public Health and Clinical Data Registry Reporting
Important Dates
January 1 – December 31, 2019: 2019 Promoting Interoperability Programs Reporting Year
Januay 2, 2019: Attestation period begins for CY 2018 Promoting Interoperability Programs
What Should Small Practices Do Now
Review and understand the performance-based scoring

. As illustrated in the graphics above, practices must meet the measures in four key objectives: e-Prescribing, Health Information Exchange, Provider to Patient Exchange, and Public Health and Clinical Data Exchange. Practices need to be able to deploy and appropriately use CEHRT functionality to achieve the defined measures for each of the objectives.
Register for the incentive programs and/or seek assistance if needed

: Registration and Attestation for the Promoting Interoperability Programs is available online. Medicare EPs may contact the Quality Payment Program help desk for assistance at qpp@cms.hhs.gov or 1-866-288-8292. Medicaid EPs and hospitals participating in the Medicaid Promoting Interoperability Program with inquiries about their participation should contact their State Medicaid Agencies.
Carefully assess your EHR system and ensure it meets requirements

: The 2019 Promoting Interoperability Program requirements include the use of 2015 Edition CEHRT as a basic requirement. Now more than ever, clinicians and practices must pay attention and carefully evaluate the EHR application that they are using or are planning to implement, in order to be compliant with the requirements in this MIPS category to receive optimal reimbursement and prevent downward or negative base rate adjustment.