What is EHR Interoperability?
'EHR interoperability' refers to any technology which enables the secure exchange of electronic health information between two EHR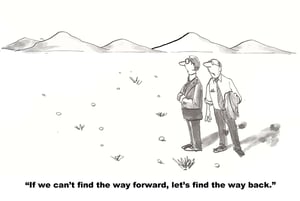 Systems without special effort on the part of the user and allows for complete access, exchange, and use of all electronically accessible health information for authorized use under applicable laws.
The Office of the National Coordinator for Health IT's Nationwide Interoperability Roadmap includes many detailed and lofty goals that could benefit even the smallest of group practices. But small group practice leaders need to understand the ins-out-outs of the interoperability plan before putting the pedal to the metal.
The Office of the National Coordinator for Health IT (ONC) spent much of 2014 and 2015 drafting, hearing comments and revising its Nationwide Interoperability Roadmap. The end result: A 10-year, 166-page plan that starts to shirt the focus of the federal government away from its long-term Meaningful Use program that was designed to incentivize provider organizations to use IT, and more toward the interoperability of those technologies.
It's definitely some heavy reading for small group practice leaders. But you're in luck. Here in this blog, we're offering a crib sheet, of sorts, to this substantial tome – and are providing some straightforward answers to your most likely questions to help you get on the path toward interoperability:
What's the point of interoperability?
The goal of the entire plan is to obtain and use interoperability to develop a nation of person-centered health that involves the portability and liquidity of electronic health information so that it can be shared among individuals, providers and organizations.
What is included in the Interoperability Roadmap?
The comprehensive roadmap, which was originally released last January, not only spells out the barriers to this lofty goal but also describes desired standards, principles and future states for where healthcare should be in relation to it in three, six and ten-year timeframes. More specifically, it sets 2017 as the target date for the nationwide ability to send, receive, find and use a common clinical data set to improve health and healthcare quality.
Benefits of EHR interoperability
ONC also plans to incentivize providers to implement and use the resulting interoperability data standards in patient care. While it plans to continue to clarify and update its roadmap and interoperability standards and goals over the next few years, provider organizations – including small group practices – stand to reap tremendous benefits from using such interoperability as described in the document. Some of these benefits include:
Improved patient health outcomes
Improved health care quality
Lowered health care costs
Tailored treatment recommendations that account for each patient's individual genetics, preferences and health history
Increased patient engagement
Greater competition among EHR vendors
Reduced redundancy
Where can small Practices turn for help?
Despite such touted benefits, however, small group practices can get lost in the shuffle if they don't have an ally to help them wade through all the enormous changes and requirements that are likely to shake down from the Interoperability Roadmap. Though ONC says its plan is still a work in progress, there are a few options for providers who want to stay ahead of the game.
For example, they can partner with other similar-minded small group practices to harness the collective bargaining power when it comes to implementing and using the new technologies, standards and best practices required for interoperability. They also can take this companionship to the next level by joining a Health Information Exchange. HIEs, which can be local or statewide, also can offer the scalability and security that small group practices may need to weather the changes while staying cost-effective and true to their own needs regarding the new technology and standards.
Further, small group practices could lean on their existing or new vendors and consultants to stay abreast on how the changes and new technologies will directly affect their own practice as well as get advice on other resulting changes from the Interoperability Roadmap, including the potential for state- and health plan-driven payment reform.
---
Looking Ahead

No matter how the new Interoperability Roadmap shakes out over the next few years, health care organizations—including small group practices—stand to yield some tremendous benefits from the impending standards, technology and other best practices that are sure to result from this new shift in focus for healthcare. But again, they likely will have to implement some new workflow changes and technologies before they can reap those benefits. To find out how RevenueXL's EMR systems can help your practice make the best of these new interoperability standards and goals, contact us today.
---