Cloud based EHR vs Server based EHR
The explosive growth of Software as a Service (SaaS) technology has opened the door for even small and medium-sized practices to access a full-featured EMR systems without the major investment in infrastructure that accompanies any client-server based EMR (aka server-based EMR). This makes Cloud-based EMR (aka web-based EMR) very attractive for groups who want to implement a new system or upgrade to a more robust EMR. But each of these two types has its own strengths and weaknesses, so it's important to understand how each works with your practice and your ongoing needs. Here's what you should know before you reach a final decision.

What Is a Client Server Based EMR?
EMR is a piece of software, which means it requires a network architecture to function. When you choose a client server-based EMR system, your practice invests in necessary servers and infrastructure to host the EMR, and provide the necessary maintenance and security to store and manage the data. Until recently,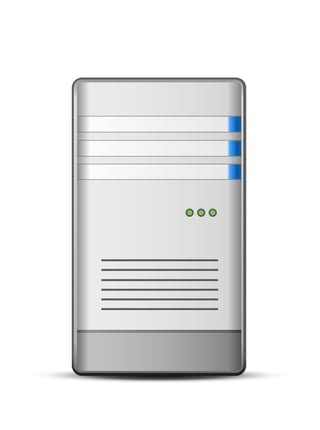 client server EMRs were the norm for most medical practices.
Advantages of Client Server Based
EMRs
Extensive customization options, including integration with other practice management software through third-party interfaces.
Total control over data and hardware; both reside in your practice.
Does not require Internet connectivity except for external interfaces (lab, e-prescribe, diagnostic imaging).
Faster processing speed; can handle larger file sizes such as images.
Typically less expensive over the long haul.
Disadvantages of Client Server Based
EMRs
High upfront investment (servers, workstations, databases, LAN/WAN infrastructure).
Ongoing costs for server and network maintenance and support.
Security is usually not as robust as safeguards in hosted systems.
Upgrades are the responsibility of the practice IT department.
Practice is responsible for data protection and backup measures.
What Is Web Based EMR?
Web based EMR, also called hosted EMR, cloud based EMR, or SaaS EMR, resides on the vendor's network and is accessed via the Internet on the client's devices and equipment. The practice leases the software and network on a monthly or annual subscription basis from the EMR vendor.
Advantages of Web Based EMR
Low upfront costs; vendor supports and maintains the servers and data centers making it cost-effective for smaller practices.
Vendor responsible for upgrades, patches, and support.
Supports mobile devices and multi-location practices; more mobility options.
Vendor responsible for HIPAA compliance, security, backup, and protection of data.
Real-time access to patient data regardless of location or device as long as there is Internet connectivity.
Disadvantages of Web Based EMR
Slower processing speeds; less practical for larger imaging files.
Fewer opportunities for customization.
Overall costs may be higher over the long term (ongoing monthly or annual expenses as long as you use the system).
Depends on reliable, fast Internet connection to function optimally.
Vendor controls the data; may be at risk if vendor goes out of business.
Deciding Between Web Based EMR and Client Server Based EMR
1. Identify your practice needs and priorities
As you can see, there are advantages and disadvantages to each system and what works for Practice A isn't necessarily the best option for Practice B. When evaluating the options, ask yourself the following questions to help you identify your practice needs and priorities:
What's the current state of your IT department? Do you have staff and resources available to implement, maintain, and support an EMR system?
Financially, is it more advantageous to your practice to make a larger upfront investment with lower ongoing costs, or spread the costs out over time in smaller payments? Is there more flexibility in your capital or operating budget?
What other software do you rely on to manage your practice? Does your EMR need to integrate with these applications?
Would an off-the-shelf EMR system work with your practice needs or do you need a fully customizable system?
Do you have reliable Internet at all practice locations?
How important is anytime/anywhere access via mobile devices to your providers and clinicians?
Does your practice frequently store and access large digital files?
The answers to these questions will point you toward the right solution.
2. EMR Vendor Questions
But before you decide, it's also a good idea to ask a few questions about your EMR vendor, especially if you're leaning toward a hosted, web based EMR system:
How long has the vendor been "in the cloud?" Has there ever been an instance of co-mingling data between the vendor's clients?
How established is the vendor? What is the risk that the vendor will go out of business, taking your data with it? Are there options for you to download your patient data?
How flexible is the web based EMR system? Can it be customized for your specialty? Can it be configured to work with your practice management software?
Does the vendor live up to its speed and downtime promises?
Does the vendor have both functional and financial depth? Has the EMR software passed certification requirements from an ONC-ATCB?
How robust is the vendor's system for HIPAA data protection and backup? Are there multiple backup locations for data recovery in the event of an emergency?
Does the vendor have a reputation for providing good support and timely upgrades?
3. Weighing your EMR Software Options
It's become accepted wisdom that long-term cost savings make sense with a client server based EMR because ultimately, you "own" your system. In theory, this is true, but in practice, the hardware and software you invested in three or five years ago is not going to be the EMR system you will want or need today, especially in an industry as rapidly changing as health IT. The system you buy today will be outdated in three years and you will continue to invest in upgrades, even if you "own" your EMR system.
With a cloud-based, hosted EMR, you do make ongoing payments, but your vendor is responsible for upgrading the hardware and applications to keep pace with technology. Competition in the web based EMR marketplace is stiff, so it's in your vendor's best interest to always use leading edge technology and provide top-notch service; after all, you aren't locked into your system the way you are if you invest in your own infrastructure and software.
4. Offline Access
Some EMRs, such as the PrognoCIS EHR, even offer an offline version of their web-based EMR products. PrognoCIS uses technology called Progno-Synch to serve up information from the online database to a laptop or mobile device for stand-alone encounters at remote locations and then reconnected and updated, or synched, to the master records stored online. This option works well for practices with rural locations or who see patients in locations with unreliable WiFi connections.
In addition, today's cloud-based EMR systems offer much more options in terms of customization, in many cases, reaching near parity with their client server counterparts.
Final Decision Rests On Your Practice Needs
Ultimately, then, the decision between the two comes down to which EMR product offers the features and benefits most compatible with your practice needs and then choosing a vendor that delivers them in the most reliable and cost-effective manner.
Want to switch between Cloud-based EHR and Server-based EHR? We can help.

RevenueXL also offers clients the ability to easily switch between a web-based EMR and client-server version if they are dissatisfied with their original choice.
Why not schedule a free demo of our RevenueXL certified EMR software, or contact us for more information about our client server based and web based EMR software options.