Why Population Health Management?
Population health management has been an important concept in healthcare for several decades, but it has gained increasing prominence and popularity in recent years due to a variety of factors.
The shift towards preventive care: The healthcare industry has recognized the importance of focusing on preventive care rather than simply reacting to illness. What is needed is an approach that allows providers to identify and address health issues before they become serious, keeping patients healthier and reducing healthcare costs in the long run.

Advances in technology: The availability of data and analytics tools has made it easier for healthcare providers to identify trends and patterns in health outcomes, and to track and manage the health of large groups of patients more effectively.

The need to manage chronic conditions: Chronic conditions such as diabetes, heart disease, and asthma are increasingly common and account for a significant portion of healthcare spending. Industry is looking for solutions for managing these conditions by identifying at-risk patients, providing targeted interventions, and promoting healthier lifestyles.

Value-based care models: Healthcare providers are increasingly focused on improving patient outcomes and reducing costs. New solutions can help achieve these goals by improving the health of entire populations, reducing the need for expensive treatments and hospitalizations, and promoting more efficient care delivery.

The importance of social determinants of health: Social factors such as poverty, education, and housing can have a significant impact on health outcomes. New solutions need to address these factors in order to improve the health of entire communities or patient populations.
What is Population Health Management?
Population health management refers to an approach to healthcare that focuses on improving the health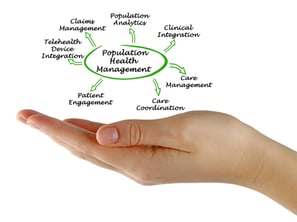 outcomes of an entire population, rather than just individual patients through the use of data analysis, community engagement, and evidence-based interventions. The goal is to improve the overall health and well-being of the population, reduce health disparities, and lower healthcare costs.
Overall, population health management is becoming increasingly important as healthcare organizations strive to improve the quality of care, lower costs, and achieve better health outcomes for populations.
How does an EHR Support Effective Population Health Management?
Future of Population Health Management

Find out what makes RevenueXL's medical billing services unique – contact us to schedule a demo.