EHR (electronic health record) vs. EMR (electronic medical record)
EMR vs. EHR: Is there a 'real' difference?
Today, it's not uncommon for health care professionals to use "EMR" and "EHR" interchangeably; however, though these digital records share certain functionalities, they actually serve quite different purposes. Confused about electronic records technology? Here's what you need to know.
What is EMR?
An Electronic Medical Record (EMR) is "an electronic record of health-related information on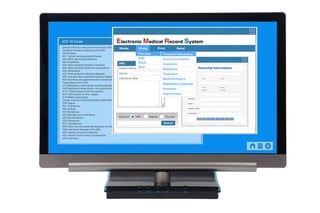 an individual that can be created, gathered, managed, and consulted by authorized clinicians and staff within one health care organization."

EMR contains some version of a paperless chart that collects, tracks, and manages patient information such as demographics, diagnoses and treatment histories, and health benchmarks, and includes features to increase efficiencies and improve quality of care.
According to HealthIT.gov, the easiest way to define an electronic medical record is to compare it to a digital version of the paper chart in a doctor's office. An EMR software package should be able to:
Collect patient demographic data
Document patient encounters and treatment history; record response to treatment
Track data and health metrics over time
Identify patients due for preventive services and routine care
Generate data to help monitor and improve the overall quality of care within the practice
These functions are extremely helpful to clinicians within the practice, and therein lies the main limitation of EMR software.
What you should know about EMR?
EMR systems are designed to replace the paper chart and streamline the documentation and data management within a particular practice.
EMRs don't travel with patients, they aren't amenable to information sharing across health care systems and networks
EMRs are usually designed around the workflows, procedures, and processes of a particular organization and medical specialty. Therefore you will see Pediatrics-specific EMR, or Cardiology

EMR

, for example. These specialty-specific EMR systems include templates and features that simplify the care delivery, documentation, and billing processes unique to a specialty practice.
EMRs may incorporate ancillary services such as lab and imaging, and even include clinical decision support, but these components are tightly organized around the needs of the individual physician and practice.
What is EHR?
EHR Definition
Again, according to HealthIT.gov, Electronic Health Records (EHRs) "go beyond standard clinical data collected in a provider's office and are inclusive of a broader view of a patient's care."
An EHR system includes all of the functionality of an EMR, but adds other key elements: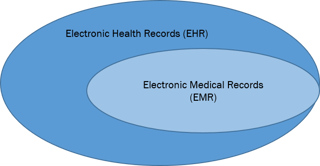 The ability to securely share information across health care systems, networks, and authorized public health agencies in real time.
Patient access portal to view, add to, and manage portions of the health record.
The ability to upload digital images, lab results, and progress notes by all clinicians involves in the patient's care.
Broad spectrum clinical decision support and medication management.
Portable across all sites of care, including hospitals, skilled nursing facilities, emergency departments, and outpatient facilities whether in or out of patient's home network.
The ability to monitor and manage population health and quality of care across broad networks and care delivery organizations.
What you should know about EHR?
EHRs are a global and all-encompassing view of the patient's health status and care that is useful to anyone treating the patient, including pharmacists, workplace health clinics, and school and public health agencies.
EHRs facilitate true coordination of care across the entire health care spectrum.
HIMSS Analytics states that, "The EHR represents the ability to easily share medical information among stakeholders and to have a patient's information follow him or her through the various modalities of care engaged by that individual."
EHRs are designed to be accessed by all people involved in the patients care—including the patients themselves.
The word "health" covers a lot more territory than the word "medical." And EHRs go a lot further than EMRs providing significant benefits.
EHR vs EMR : What is the Real Difference?
In practice, many vendors market EMR software with features that were originally only found in EHRs. Also, both EMRs and EHRs offer many similar benefits:
Reduced medical errors and improved quality of care due to instant access to accurate, updated patient information.
More complete, legible patient charts.
Safer, more reliable prescribing.
Increased productivity from custom workflows and templates.
Many solo practices and small to medium-sized groups get all the functionality they need from today's EMRs, especially when they include popular EHR components such as imaging and lab interfaces and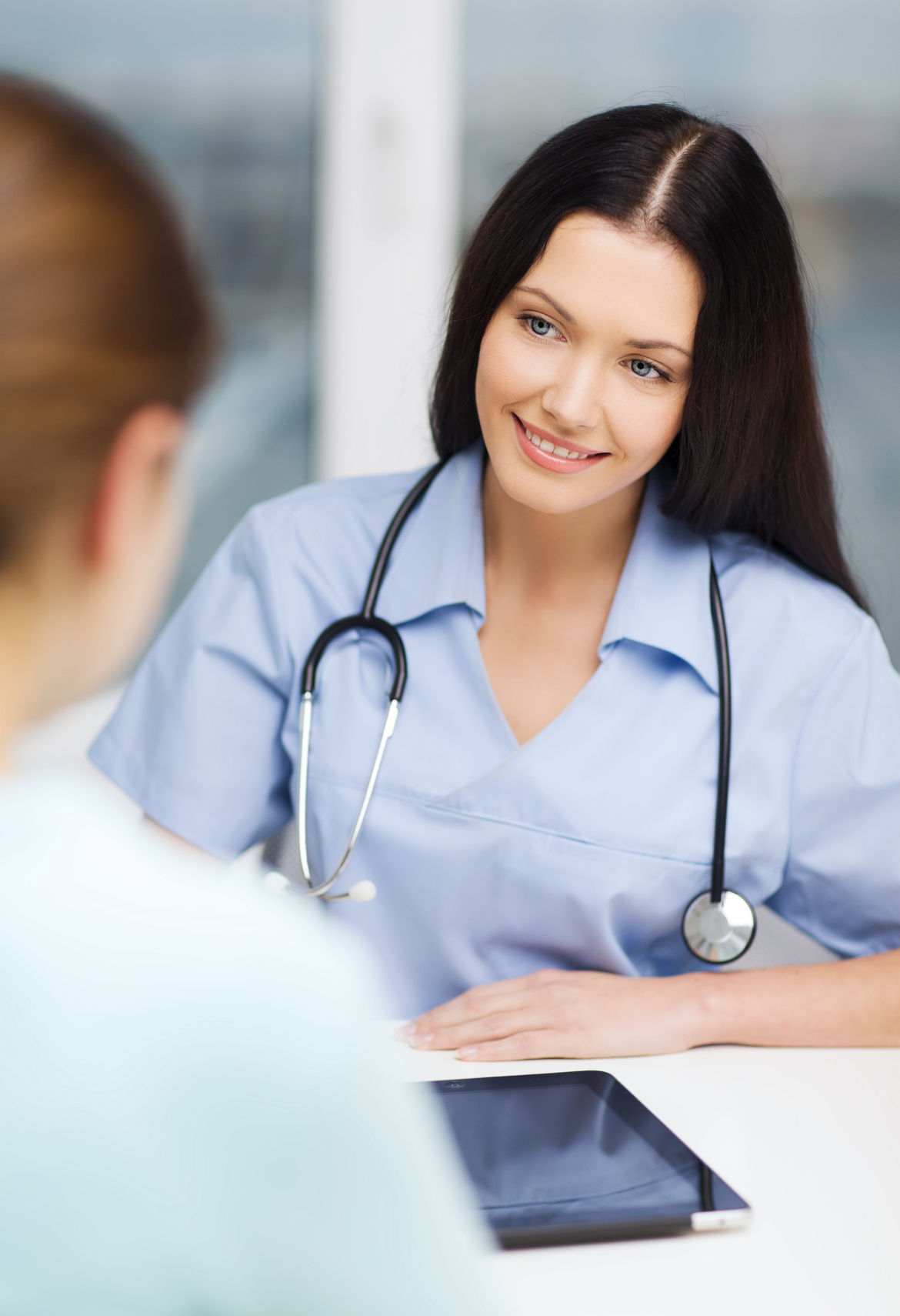 ePrescribe modules.
Examples of differences between EHR and EMR
An EMR records immunization data, but an EHR enables electronic sharing of that information with government, school, or workplace clinicians.
A primary care practice can enter the report from a patient's diagnostic imaging study in an EMR, but the radiologist can upload digital images and notes into the patient's EHR.
A patient can request that information from the EMR be transmitted to a consulting physician, but multiple authorized providers can view and add information to an EHR, enabling interactive communication and care coordination.
In addition, patients have an element of control over information in their EHR that isn't required in an EMR; Meaningful Use explicitly lays out guidelines that allow patients to access, share, and even add to certain portions of the EHR. In reality, secure patient-to-provider and provider-to-provider communication is a hallmark feature of electronic health records.
Relevance of the EHR vs. EMR Debate
It is important to note that many EMR software systems are actually EMR/EHR hybrids, and if they are ONC-ATCB certified, they meet the requirements contained in the American Recovery and Reinvestment Act (ARRA) for EHR software in terms of functionality, interoperability, privacy, and security.
Finally, remember the following:
1. What is important is the feature set you need to meet your requirements in whatever software you choose, no matter what the nomenclature used by the vendor.
2. Vendors use both the terms (EMR and EHR) interchangeably, even though CMS and ONC exclisively use the term 'EHR'.
Still have questions about the EMR versus EHR debate? RevenueXL offers certified EMR/EHR products for most medical specialties that can be customized to meet your practice requirements and workflows with expanded functionalities including patient portals, ePrescribe, and lab and imaging interfaces to streamline and improve patient care. Contact us today for a consultation and to schedule a free demo of our EMR software.