Telemedicine Challenges and Solutions for Small Practices
Over the past few years, the healthcare industry has been investing heavily in telemedicine. Experts predict that by 2025, the size of the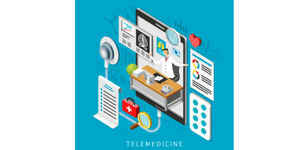 global telehealth market will reach $17.2 billion. Telemedicine offers many benefits, from the conveniences of at home medical consultations to a system-wide solution for the astronomical rise of healthcare costs.
Yet, in the wake of the COVID-19 pandemic, the uses of telemedicine have only grown in importance. In a world where social distancing has become the new norm, medical providers need to offer patients alternatives to traditional in-office visits. The Centers for Medicare & Medicaid Services (CMS) has also come to this realization. In March of 2020, CMS took several actions to ease restrictions on reimbursement for telemedicine services.
In this article, we explore the uses and need for telemedicine in the age of COVID-19, including:
Challenges for implementing telemedicine
Solutions for implementation challenges
CMS's responses to the growth of telemedicine and the pandemic
What other small medical practices are doing
Telemedicine best practices
Telemedicine Implementation Challenges
Any new technology, regardless of the industry, faces some initial implementation challenges. Fortunately, as the uses of telemedicine have become more widespread, solutions have arisen to make the transition more seamless. Some common implementation challenges include:
Reimbursement and billing concerns
Integration challenges
Technological challenges
Security and privacy concerns
Reimbursement and billing concerns
One of the biggest concerns that providers have when implementing a telemedicine program is getting reimbursed for their services. This concern manifests itself in two ways. First, providers are concerned that they will experience a reduction of income by offering remote services in lieu of traditional in office visits. Second, providers find billing codes confusing and restrictive. As we explain below, however, telemedicine programs are highly profitable and partnering with the right telemedicine partner can simplify and streamline the billing process.
Integration challenges
One of the most common problems that healthcare providers report is that their telemedicine platform fails to integrate with their EHR system. As a result, workflow processes and records are complicated. Providers have difficultly documenting e-visits and maintaining treatment records. This problem extends to the patient level in the form of an interruption of the continuity of care. In other words, if a patient decides to switch to a new provider in the future, the new provider will have difficulty accessing the patient's treatment records.
Technological challenges
No matter the industry, technological innovations typically experience an initial pushback from those resistant to change. The medical industry is no exception. Elderly patients can be resistant to the prospect of receiving medical treatment outside of a traditional office setting or learning how to use new devices. Providers worry that educating patients on programs and devices, as well as troubleshooting tech issues will place further burdens on staff.
Security and privacy concerns
Under HIPAA, providers must implement safeguards to prevent the unauthorized disclosure of personal health information. Providers worry that they could be exposed to hefty fines for violations. Moreover, they worry that implementing security measures are cost prohibitive.
Solutions for common telemedicine challenges
While telemedicine implementation presents some unique challenges, there are, fortunately, some viable solutions.
Integration solutions
Solving integration issues is as simple as choosing the right platform and partnering with the right telemedicine partner. Providers should choose a platform that integrates with their EHR. Even better, providers should choose a fully integrated solution – EHR that is already integrated with a telehealth platform.
Reimbursement and billing solutions
CMS has greatly expanded billing codes to accommodate the rapid growth of telemedicine. Providers should become familiar with these codes. To streamline the billing process and maximize revenue, providers can opt for revenue cycle management solution providers that offer complete medical billing solutions.
Overcoming technological challenges
Much of the technical concerns with implementation can be addressed by choosing an out-of-the-box solution. For instance, mobile application-based telehealth programs give patients the convenience and comfort of doing everything on their smartphone. Older patients are more willing to use devices that they are familiar with. And despite public perception that seniors are resistant to new technology, research shows that seniors are more digitally connected than ever. These solutions are also affordable, readily available, and easy to train patients on.
Privacy and security issues
HIPAA imposes strict and burdensome obligations on providers for the security of patient data. For instance, data must be encrypted, and communications must occur on a secured network or line of communication. Short of hiring a dedicated legal or HIPAA compliance expert to oversee the daily operations of your telemedicine program, you could choose a technology partner that offers HIPAA compliant systems. These systems are secure and prevent the inadvertent disclosure of confidential patient information.
Current Trends Impacting Telemedicine Usage
CMS responds to the widespread adoption of telemedicine
CMS was slow to come around to telemedicine. Over the past few years, CMS has dramatically increased both the frequency and scope of reimbursement. This is especially true following the outbreak of COVID-19.
On March 6, 2020, the President signed into law the Coronavirus Preparedness and Response Supplemental Appropriations Act (the "Act"). The Act included a provision allowing the Department of Health and Human Services (HHS) to waive certain Medicare telehealth payment restrictions. What this means is that patients that were not previously eligible for telehealth services, like those outside of rural areas or living at home, are now eligible.
The waiver of these restrictions occurred under Section 1135 of the Social Security Act and is known as an "1135 Waiver". HHS also announced that it will waive potential penalties for HIPAA violations during the pandemic.
What is interesting about the government's actions is that they further validate the effectiveness of telemedicine to treat patients. In a world where social distancing may become the new norm, it will be interesting to see whether the measures will be adopted on a long-term basis. If so, the use of telemedicine will only increase beyond its already exponential growth. Providers that fail to adapt to this changing landscape will be left behind.
Telemedicine Usage Increasing Amongst Small Medical Practices
Well before any of us had ever heard of COVID-19, the medical industry was already moving towards the widespread adoption of telemedicine. This was primarily motivated by the need to lower healthcare costs. Afterall, healthcare costs are projected to reach $5.7 trillion by 2026. Research has clearly shown that telemedicine and other forms of remote patient care are effective alternatives to in-person visits at a fraction of the cost.
Research also shows that small medical practices are turning to telemedicine at increasing numbers for many other reasons. These include things like increasing patient satisfaction, improving the quality of care, and reaching patients that struggle to make it in for in-person visits. Consider that:
Benefits of Telemedicine for Small Practices
Small medical practices have been willing to adopt telemedicine because it works and has revolutionized their practices. These providers report benefits at both the practice and individual level:
Medical Practice Benefits
A significant reduction of stress on both physicians and support staff
Reduced rate of physician and staff burnout
The opportunity to spend more time with each patient. This is particularly important for providers that treat high risk patients
The ability to see more patients in the same amount of time
Less cancellations and no-shows
Providing a higher level of care
Reducing unnecessary in-person office visits. This increases patient satisfaction since those that are required to come into the office report lower wait times
A higher rate of patient engagement in treatment, particularly medication compliance and the management of chronic health conditions
Remaining competitive in a rapidly evolving industry. With the emergence of urgent care centers and an increasing number of small practices offering telemedicine appointments patients have more options than ever
A significant boost in the practice's annual revenue
Provider Benefits
Schedule flexibility allowing the provider to see patients outside of normal office hours
The opportunity for an improved work/life balance. For instance, providers can take vacations without worry since telemedicine appointments can be conducted from anywhere
Spending more time with family
Enhanced mental, emotional, and physical health
Better working relationships with colleagues and staff
A significant boost in the provider's annual income
Enhanced Practice Revenues
It's worth looking at revenue benefits in more detail. Small medical practices are especially concerned that incorporating telemedicine into their practices would hurt their bottom lines. The belief is that reimbursements for telemedicine visits are lower and place additional time constraints on physicians causing them to reduce in-person visits.
As we mentioned above, providers offering telemedicine appointments are able to see more patients in the same amount of time. This is because telemedicine appointments are more efficient that in-person visits. There are also less cancellations and no-shows, and practices can experience revenue growth without having to hire additional staff or acquire more office space.
Telemedicine also opens a new revenue stream. Many providers conduct follow ups with patients over the phone. Providers are not reimbursed for these calls. However, providers that conduct follow ups with patients using telemedicine technology are reimbursed.
Consider a small practice with two physicians. Suppose each physician took on a modest 3 telemedicine appointments per day, or a total of 30 per week. At an average reimbursement rate of $72, the practice would bring in an additional $112,320 per year in revenue, all without increasing their working hours. The practice will also have significantly reduced their costs and freed up desperately needed resources. Most importantly, providers will put more money into their pockets.
Telemedicine best practices
The success of any telemedicine program depends largely on the methods used to implement and operate the program. While every practice is different, there are some best practices that every provider should follow.
#1 – Access your practice and designate staff and/or a team to oversee the implementation process
You know your practice better than anyone. This includes both your strengths and weaknesses. A weakness might be that your staff is overburdened. Or that your patients complain about excessive wait times. Or that your practice has become less profitable due to rising costs. All these factors highlight the need for a telemedicine program.
Yet, you should ensure that you have the correct team in place. An experienced telemedicine provider is invaluable to the success of your program. In addition to laying the technological groundwork, they can provide important guidance and support throughout the process. You should also decide what roles each staff member will play in the process.
#2 – Set goals
Decide what you want to achieve. Whether it is improving the quality of care your practice provides, reducing costs, or boosting revenue, put your goals down on paper. The more specific you can be the better. List what you hope to achieve and when you will achieve it by.
#3 – Educate your team on billing and reimbursement
Telemedicine billing can be confusing since codes are relatively new and guidelines are constantly changing. Educate your team on applicable billing codes. Consider investing in software that includes up-to-date billing and reimbursement information to automate the process for you.
#4 - Market the services to both new and existing patients
An indispensable part of the process is educating your patients. First, you need to make them aware of the new services that you are offering. Explain the benefits of telemedicine, as well as coverages. You may experience some initial resistance from some patients. Show them how easy it is to use the technology to alleviate their concerns. Be sure to advertise your telemedicine services to potential patients to increase your practice size.
#5 - Evaluate
Continually review your goals. Decide what is working and what is not. Ask your patients for feedback. Make changes. Continue to evaluate your program on a regular basis, trying new things along the way until you have found the winning formula.
Telemedicine is here to stay
Telemedicine is revolutionizing the healthcare industry. In recent years, small medical practices have begun offering their patients telemedicine services at increasing rates. With the outbreak of the COVID-19 pandemic, telemedicine services are needed now more than ever. The health of the American public depends on patients having alternatives to traditional in-person medical treatment.
Getting your practice's telemedicine program up and running is a simple as partnering with the right technology partner. RevenueXL has been offering providers award winning EHR and practice management for over a decade. RevenueXL offers a telehealth solution that is fully integrated with its EHR, offering providers a simple to use HIPAA compliant out-of-the-box solution.
Contact us today to learn how RevenueXL can help to accelerate your healthcare revenues.
Useful Telehealth Resources for Providers