What is Telehealth or Telemedicine?
Telehealth also known as Telemedicine refers to use of two-way, real-time interactive electronic communications and software to deliver "clinical services" (to patients by healthcare providers at a distant site, supported by secure audio and video connections and integrated medical devices frequently used for follow-up visits, management of chronic conditions, medication management, specialist consultation) as well as remote "non-clinical services", such as provider training, administrative meetings, and continuing medical education.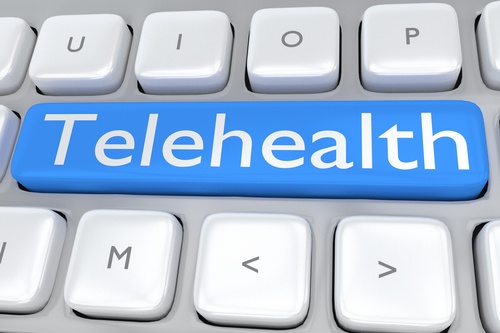 Technologies used include videoconferencing, the internet, store-and-forward imaging, streaming media, and terrestrial and wireless communications.
Telehealth vs. Telemedicine: What is the difference?
The American Telemedicine Association (ATA), among many organizations and individuals, considers the words "telehealth" and "telemedicine" synonymous. However, the Health Resources and Services Administration (HRSA) of the U.S. Department of Health and Human Services note a distinction between these two terms.
HRSA considers telehealth to have a broader scope than telemedicine. While "telemedicine refers specifically to remote clinical services", such as the transmission of radiologic images or a consultation between clinicians, "telehealth includes remote non-clinical services" such as provider training and continuing medical education, as well as "direct, electronic patient-to-provider interactions" through the use of devices "that collect and transmit health information to help monitor or manage chronic conditions".
Awareness and adoption of both telemedicine and telehealth has been steadily increasing in recent years. The Wall Street Journal reported in 2015 that more than 15 million Americans received medical care remotely that year. This view is supported by a 2017 Virtual Visits Consumer Choice Survey conducted by the Advisory Board which showed that "up to 77% of respondents would consider seeing a provider virtually, and 19% already have."
Types or Modalities of Providing Telemedicine Services
The Health IT Playbook describes four telehealth modes:
Live video (synchronous)
Live, 2-way interaction between a person (patient, caregiver, or provider) and a provider using audiovisual telecommunications technology.
Store-and-forward (SFT)
Transmitting videos and digital images through a secure, electronic communications system. As compared to a "real-time" visit, this service provides access to data after it's been collected. Generally, Providers record or capture diagnostic information (like X-rays, CT scans, EEG printouts) at the patient's care site. Then they send them to a specialist in another location using a telecommunication tool such as secure email. Because of the time delay between the image's transmission and when it's interpreted, SFT is often referred to as "asynchronous."
Remote patient monitoring (RPM)
Personal health and medical data collection from a patient in one location, which is then transmitted to a provider in a different location. RPM helps clinicians and patients manage chronic illness. It uses devices, such as Holter monitors, to transmit information, including vital statistics — like heart rate, blood pressure, and blood oxygen levels.
Mobile health (mHealth)
Smartphone apps designed to foster health and well-being. These apps offer a wide range of health-related help. A small sample includes apps that send targeted text messages to encourage healthy behaviors, alerts about disease outbreaks, and reminders that help patients adhere to specific care regimens. Increasingly, smartphones may use cameras, microphones, or other sensors and transducers to capture vital signs and venture into RPM.
Standalone vs. EHR Integrated Telemedicine?
While telemedicine services do not need to be integrated into an EHR, doing so leverages the patient's clinical information already in the EHR to support and improve continuity of care.
In an integrated system, providers are able to give better quality care when they have access to a more comprehensive picture of the patient's health and medical conditions beyond a single visit. This may include laboratory and imaging results over a period of time as well as progress from other clinicians, among others.
Key Considerations for Practices Implementing Telehealth
Research and understand the implications of adding telehealth to your practice. Even when you can't immediately implement a full-fledged virtual visit program, some aspects of telehealth such as secure messaging and online scheduling via a patient portal may be possible and can help pave the way for more offerings in the future.
Work out the logistical details with your leadership team and staff.
Perform due diligence by researching and understanding federal regulations, state laws, and commercial payer reimbursement rules.
Communicate the plan with your patient base and solicit their feedback. This will give you an idea of the level of interest and demand from your patients.
Discuss the availability of telemedicine features with your EHR vendor.
Once providers understand why telemedicine is important to the structure of their practice, they can then work on finding the perfect vendor of telemedicine software to set their practice up for success. A quality vendor is crucial to making sure a practice has the quality technology it needs to provide quality care.
The American Medical Association has an online module called Steps Forward: Adopting Telemdedicine in Practice, which walks Providers and practices through the process of evaluating and preparing to launch a telemedicine/telehealth service.
Additionally, the Telehealth Resource Center has comprehensive information for organizations and individuals who are actively providing or interested in providing health care at a distance.
Specialties Leveraging Telemedicine
According to a recent report, the top 15 physician specialties that are most engaged with telemedicine are:

1. Radiology
2. Psychiatry
3. Internal medicine
4. Neurology
5. Family medicine
6. Dermatology
7. Pediatrics
8. Emergency medicine
9. Geriatrics
10. Allergy and immunology
11. Endocrinology
12. Infectious disease
13. Urology
14. Pediatric pulmonology
15. Occupational medicine
Telemedicine Use Cases
Source: https://www.wheel.com/blog/top-10-telemedicine-specialties-treatment-areas-for-2020
Wellness exam follow-up appointments that do not require an in-person exam
Minor urgent care visits such as cold and flu, allergies, UTIs, diarrhea, and vomiting
Non-urgent care visits to access treatment for "lifestyle" conditions
Leveraging remote patient monitoring technology to streamline chronic disease management
Menopause and hormone replacement therapy management
Birth control prescription management and monitoring
Postpartum depression screenings and video consults
Remote lactation assistance through video consults
Reproductive guidance
Psychiatric evaluation and diagnosis via asynchronous or synchronous consultations
On-demand mental health counseling via video consultation
Medication management using mobile health applications or remote patient monitoring programs
Applications for Pediatric Telehealth
Acute-care video visits at schools or daycares
Pre-transport assessments for critical care at community hospitals
Remote patient monitoring of chronic conditions
Specialty video consults to support primary care in remote areas
Post-surgery follow-up appointments from the comfort of home
Remote medication management