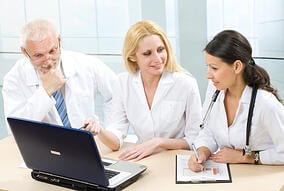 There's a vast array of technology available to help move a clinic into the future with electronic medical records software. While some is optional based on cutting edge technology, there are certain technologies that are required in order for these integrated systems to operate efficiently.
For a new practice edging into an upgrade, understanding how the systems work and the cost potential can help smooth the overall integration. Ultimately you can make a more educated decision on the best course of action for your practice.
Technology Expectations with Electronic Medical Records Vendors
Every vendor has a different approach to the technology because different EMR solutions can be customized to work in a variety of environments. There's no one shot solution or single path when it comes to choosing your hardware and systems. Here's a rundown of the different technology you can expect to come into play depending on the electronic medical records software and system setup you choose.
Tablet and Pad Integration for Electronic Medical Record Software
Current tablet PC's offer the highest level of mobility in your office. Utilizing electronic medical records software on a device like this makes it easy to interface with patients and record data as if you were using a traditional charting method.
This doesn't necessarily mean they're the best choice for on-site hardware; you have to consider things like initial cost investment, learning curves and training time, battery life, durability and system security for a mobile PC.
On the upside, Apple and Android, along with other brands, are continuing to refine and produce cheaper models that are designed to compete with standard PC's. While these smaller models are far more portable, they may not suit your needs in a clinical environment.
If you're investing in electronic medical records software, check with your vendor first as the pad or tablet PC you want to use/purchase will need to meet some specific application requirements.
Server Integration for Electronic Medical Records Software
There's two ways to approach electronic medical records software: On site (client-based or client-side) or web based EMR software. No choice is necessarily more reliable than the other because it's based on similar technology but there are bonuses to a web based electronic medical records systems.
The cost to you for a monthly web based EMR is much lower (as low as $300/mo) than the standard upkeep of a client-side system. In addition, your dependence on the operation of the server is quite high. Choosing a client-side setup for electronic medical records means a sizable upfront investment in the technology, security and firewall systems. You also have to consider the cost of technical support or an IT team to address regular maintenance issues as well as network/software emergencies.
Workstations or Desktop PC's for Electronic Medical Records Software
A common workstation is often one of the best choices for an office because they are relatively inexpensive. Even with a web based EMR system you may want to consider upgrading your hardware for smooth operation of the software.
For any clinic or practice with a large number of partners or practicing physicians, but a relatively low number of treatment rooms, workstations can keep costs down - as opposed to equipping each individual practitioner with their own tablet PC.
If mobility is still a concern, workstations can be mounted to a powered mobile cart to allow for more mobility in the office.
Scanning and Printing when Upgrading to Electronic Medical Records
A common concern for many small practices when upgrading to electronic medical records software is how they will handle existing records. Imaging devices such as all-in-one printers and scanners can help with the transition between paper charting and electronic medical records software. During the initial implementation, a high speed scanner can simplify the task of updating the records of existing patients for a much smoother integration.
Lastly, consider the common medical devices you use. Any medical device capable of connecting to EMR technology is going to greatly reduce the number of transcription errors. A lot of current medical equipment can feed data into an EMR system including ECG machines, Holter recorders and electronic vital sign monitors.
The costs associated with upgrading to a system relying on electronic medical record software are negligible in the end. Between stimulus offerings for small to mid-sized practices as well as the cost-savings resulting from more
efficient EMR operations
, many practices have found that they save money and improve their bottom line once the system is fully in place.