Electronic medical records are nothing new; they became a standard part of the medical industry over 20 years ago. Nevertheless, a number of myths surrounding EMRs persist. These myths may serve to discourage the very practices that could most benefit from the adoption of an EMR system. The following are a few of the most pervasive and misleading myths about EMR: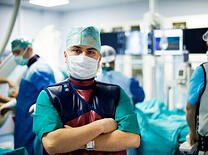 All EMR Systems Are Made The Same
Medical professionals unfamiliar with EMR often hold the mistake impression that all electronic medical records are the same. This could not be further from the truth. Each EMR vendor has its own specific setup and policies. Many vendors differ even in how they define the term "electronic medical records," as it is still regarded as a somewhat abstract specification.
There is no such thing as a universal fit for EMR systems -- practices need to assess their own needs alongside the unique features of possible EMR vendors in order to decide which EMR providers will work best. It may help to see the software in action, as this will provide users with a better idea of whether the new EMR system will be compatible with their current setup.

EMR Gets In The Way Of Doctor-Patient Relationships
The rapid advancement of technology has a lot of medical professionals worried. While new technologies can help in effective detection and treatment of a variety of diseases and conditions, some feel that it also may interfere with the natural flow of doctor-patient relationships. If used incorrectly, this is certainly a possibility, but that's where good technology training comes in. Medical professionals with accurate information on hand (through computers, tablets or smart phones) can spend more time asking communicating with patients and less time digging through old paperwork. Thus, EMR actually fosters better relationships when used correctly.
EMR Is A Security Risk
This myth may have had some truth to it in the early days of EMR, but thanks to federal legislation, that is no longer the case. The Health Insurance Portability and Accountability Act (HIPAA) was passed in 1996 to address patient and health care provider concerns about the security and privacy of health information. Under HIPAA, health care providers and insurers can disclose protected information to other entities, making it easier for different institutions to work together. However, the patient also has the right to know when his or her information has been shared.
The Security Rule was added to HIPAA in 2003 in order to ensure that any passage of information take place electronically was done in a safe and secure manner. This addition to HIPAA lays out specific standards that institutions must comply with in order to maintain security at administrative, technical and physical levels -- the three main ways which intruders typically attempt to gain access to private information. EMR systems that hold true to HIPAA's requirements are incredibly secure, for they provide protection at otherwise overlooked points of access.
Moving to a more technology-based approach to health care may seem risky or overwhelming, but this transition has been proven to benefit institutions in the long run. The adoption of EMR technology allows for better organization, improved security and an overall satisfactory experience for patients and employees alike.