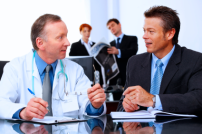 Electronic medical records have come a long way since physician Lawrence L. Weed first conceived of the concept in the 1960s. Actually, the healthcare industry was one of the last industries to embrace a computerized way of keeping records. Even when it began to catch on, many physicians resisted making the change from paper charts and hand-written notes. Instead, they focused on their billing and patient registration departments, and utilized electronic systems in those areas initially.
The Beginning of EMR
Weed's goal was to provide patients with better care. He envisioned being able to automate and reorganize medical records to better serve the needs of the patient, in accordance with the needs of the physician. In 1967, the results of his work formed the PROMIS project, which was a collaborative effort from both physicians and IT experts. The PROMIS project had its humble beginnings at the University of Vermont, while those involved captured Weed's vision, and began working toward developing a system that would provide doctors with instant patient data, while allowing rapid data collection for epidemiological studies and various audits. Meanwhile, The Mayo Clinic was also working hard at developing their own EMR system.
The PROMIS project led to POMR, which stands for Problem-Oriented Medical Records. In the 70s, POMR was used in the Medical Center Hospital of Vermont for the first time. This system featured touch-screen data entry technology, which was very new at the time. Over time, drug information was added to the system, which provided physicians with all-inclusive drug information, including drug interactions, allergies, side effects and dosage instructions. Over 600 treatment plans for common medical problems were also designed and implemented within the POMR system.
Popularity and Development Increases
During the 70s and 80s, EMR development continued. Academic and research institutions worked to perfect them, and add more features that would allow them to be useful in specialty practices, as well as in other medical disciplines. Their work resulted in the development of such systems as the Technicon system, which was hospital-based and the Regenstrief record in Indiana, which was one of the first inpatient/outpatient systems ever developed.
The 90s brought increased use and widespread demand for EMR, as the benefits to patients and physicians became more understood. Technological advances made EMR more complex, and easier to learn and implement. More and more medical practices began making use of these systems, although most of them began by testing them only inpatient billing and registration.

EMR Today
While it's been difficult to assist physicians in getting adjusted, EMR has now become the standard in most medical practices, hospitals and clinics. Even though a few still cling to paper charts, as the ICD-10 deadline looms ever-closer, EMR will become a necessity. EMR will allow those practices to maintain 100% compliance rates by correct coding and billing procedures.
To encourage EMR, Medicare and Medicaid have put Meaningful Use incentives into place that will provide funding for practices who utilize electronic medical records for twenty-five different platforms within their practices or facilities. In order to qualify physicians must use EMR for many different facets of their patients' care, including writing prescriptions and recording patient demographics. It must maintain a high level of privacy protection under HIPAA and it must also conform to various menu guidelines that have been specified by the government.
Has your practice implemented EMR? Are you satisfied with your current system? If you're looking for an alternate EMR system, we'd like to talk to you about what makes ours different. We're dedicated to ensuring that your practice runs as efficiently as possible. For more information about our EMR systems, contact us today.