How to Engage With Your Patients While Using EHR?
Electronic medical records offer a number of efficiency and accuracy benefits for physicians offices, but a new study shows tech tools can also reduce patient engagement when not used correctly. During the study, researchers from the University of Wisconsin and Northwest University analyzed 100 doctors visits that involved physicians accessing patient data through electronic health records. Researchers noted that physicians looked at the computer screen for one-third of the visit. The patient also looked at the screen more, even though researchers pointed out that the patients didn't always know what they were looking at.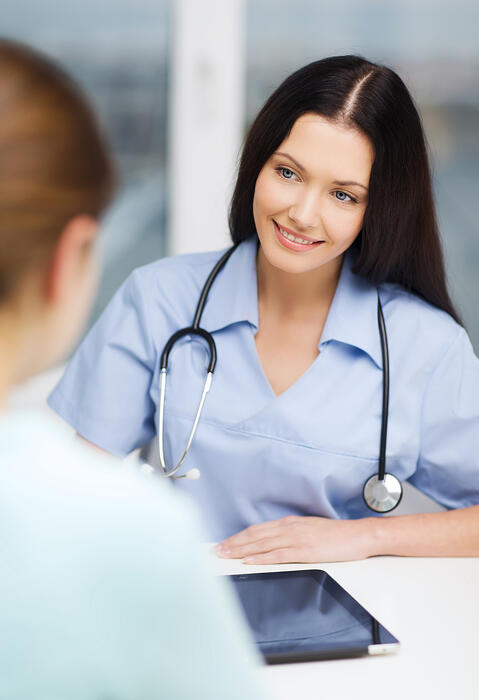 Enid Montague, one of the researchers and an assistant professor in medicine, said reduced eye contact and physician concentration on a computer screen is bad for the patient. She said it's likely physicians lose some ability to listen, think creatively, and problem solve when they are more involved with the screen. That doesn't mean electronic health records should be removed from offices--the technology is too valuable and brings many benefits to the doctor, office staff, and the patient. Instead, providers must learn to use the tools as part of patient engagement.
1. Use EHR Like a Physical Chart
When an EHR portal, computer, or mobile device is available in each patient consultation room, physicians shouldn't have to spend time looking up patient data. Office staff, who generally settle the patient in the room prior to the physician's visit, can pull up applicable records. This reduces the amount of time the physician must deal with the computer. Physicians can also access records via computers in their office or mobile devices prior to entering a consultation room. Scanning the chart first lets physicians immediately concentrate on patients after entering the room.
2. Use Computer Charts to Spark the Conversation
Invite patients to view the screen with you when appropriate and point to certain areas that are applicable to the conversation, especially when verifying information such as reported symptoms. EHR software that includes image clues, such as a body diagram, can make it easier to communicate with patients who find it difficult to describe symptoms. Physicians can ask patients to point to areas that hurt or can use various images to question children about symptoms.
3. Turn the Monitor Off or Around
During a physical exam or in-depth conversation, turn the monitor off or around to avoid wandering attention. Removing the screen lets the physician concentrate solely on the patient and vice versa. Patients should never feel like they are competing with the computer, especially during conversations about treatment options.
4. Use Voice Recognition or Recording Options
Physicians are not typists, and chances are, they aren't going to be hitting 60 words per minute or more at good accuracy. Don't waste valuable time entering findings and impressions during a patient consultation. Use voice recognition and recording options in medical software to dictate pertinent data during the consultation or just after and let office staff enter notes. A number of offices are discovering that using medical scribes is the most efficient way to keep records complete and accurate while ensuring physicians have plenty of time with the patient. Some information, such as diagnostic codes, can be selected by the physician from pre-populated lists to reduce entry time.
5. Use the Right EHR Software for Your Practice
Increase the efficiency of EHR software and the time you can spend with patient engagement by selecting the right program. Specialty EHR programs designed to meet the needs of certain practices reduce unnecessary data-entry, toggling, and searching. Software is available for a number of specialties, including cardiology, dermatology, family practices, OB-GYN, pediatric, psychiatric, and orthopedics.
For more information about integrating electronic medical records successfully into your office, contact RevenueXL today.