What is a Patient Portal?
Patient portals offer numerous benefits to patients, but one of the most significant benefits is the ability for patients to access their personal health information conveniently and securely. Patient portal is a secure online platform that provides patients with secure, direct access to their personal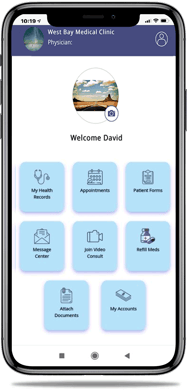 information and health records (EHR) from anywhere that an internet connection is available. With a patient portal, patients can be in control of their own personal health and care. Patients log into patient portals by using a user name and their own chosen password. This is to make sure only they have access to their health information.
Many medical practices have an integrated patient portal with their EHR system, which includes convenient mobile apps, text messaging, and secure, encrypted email. They allow the medical team to send messages such as appointment reminders, electronic statements, and lab results to patients. Patient data is exchanged between patients and care team through a patient portal in a completely HIPAA-compliant, secure fashion.
Functionality Offered by Patient Portals
Patient portals are designed around the central theme of enhancing patient-provider communication and increasing patient engagement. The security and convenience of a patient portal encourages patients to collaborate with their healthcare providers and to take a more active role in their own health outcomes. Core features found in most patient portals provide patients an ability to securely view and print portions of their health records including:
Secure messaging between the provider and patients
Record of recent provider visits
Review discharge summaries
Accessing and requesting prescriptions and prescription refills
View and print immunization record
View and print any allergies
Provide access to most lab test results
In addition to the standard core features provided by Patient Portals, several additional features provide patients with the ability to further engage with their care teams and with relevant and required administrative and clinical functions. These additional features of a Patient Portal may include:
Scheduling, changing, and confirming non-urgent medical appointments
Downloading, completing, and electronically submitting required pre-visit and intake forms
Reviewing medical insurance benefits and coverage options
Making co-payment, co-insurance, or other related medical payments
Updating medical history and reviewing relevant, patient-specific educational materials and information
Downloading or completing intake forms
Updating contact information
Benefits of Patient Portals
Patient portals significantly increase patient engagement, decrease costs, and result in positive patient health outcomes among other benefits listed below.
1. Patient portals improve patient communication
Patient portals allow patients to self-manage scheduling and administrative tasks that traditionally require direct communication, through either a phone call or office visit, on their own time and at their convenience. This lets the provider team to focus their attention on the needs of those patients that need in-person care. This improves medical staff efficiency levels.
2. Practices experience increased efficiencies and reduced cost due to improved patient communication
Patients can complete routine transactions, including scheduling of appointments, paying bills, and prescription refills on the patient portal, reducing the need for phone calls to the office. By using the portal to send regular automated appointment reminders, providers can see a reduction in missed appointments by their patients.
3. Providers are able to streamline front office workflow
Patient portals give healthcare providers greater control of their most precious asset: Time. The resources and tools provided by a patient portal allow the most time-consuming processes, including completing in-take forms, gathering health insurance information, and completing required consent forms, to be completed electronically and submitted prior to arriving for a scheduled important.
4. Increased Focus on Patient Care and Improved Clinical Outcomes
Patient portals give healthcare providers the resources to quickly send patients important reminders, share test results, provide prescription refills and engage patients in online conversations during normal office hours, allowing you and your entire health care team to provide better, more responsive care to your patients.
5. Decreased Overhead Costs, Increased Revenues
Patient portals support the continued shift toward value-based reimbursement, more personal patient interaction, increased patient engagement by allowing healthcare providers to utilize portal features to automate important communications, such as reminders for annual preventative care appointments and upcoming scheduled appointments. Patient portals are also increasingly being used to automate and send electronic patient billing statements, reminders, and payment options.
Healthcare practices using patient portals consistently demonstrate higher patient payment yield rates while at the same time increasing patient loyalty and return rate, which translates into increased revenue for your practice.
6. Convenient 24/7 access to the provider team
Patients can access their secure personal health information and be in touch with their provider's office 24 hours a day. Patients do not need to wait for office hours or returned phone calls to have basic issues resolved.
7. Secure Access to Health Records in One Secure Location
The ability to quickly and easily access their complete health records gives patients the ability to be more engaged with, and better manage, their health. Using a patient portal, a patient is able to use one secure location to store healthcare records and data and connect all of their healthcare providers to this information for a more streamlined, collaborative user experience.
8. Easy Scheduling of Appointments
Patients using a patient portal are able to quickly and efficiently schedule their own appointment that works with their personal schedule and from a computer, tablet, or smartphone, saving time for both the patient and front office of the provider.
9. Complete and Submit Electronic Forms Only Once
The ability to electronically complete and submit intake, consent, and other required forms saves patients a significant amount of time and effort. Being able to save these important completed forms in the patient portal not only saves time, it also reduces patient frustration and improves the overall patient experience.
10. Increased Communication With Healthcare Providers
Providing patients with multiple ways to communicate and allowing them to select their preferred method encourages patients to reach out to their healthcare providers for medical advice or with concerns through secure email, text, phone, or chat features.
If patients are working with a team of providers, or see specialists regularly, they can review results and reminders from all of them in one single patient portal. Providers can also see what other treatments and advice the patient is getting. This can lead to better care and better management of patient's medicines.
How Patient Portals can Increase Patient Engagement?
Improved health outcomes and patient satisfaction can be achieved by engaging patients in the delivery of health care. Patient portals increase communication between healthcare providers and patients and serve to bridge the patient-provider gap when ensuring a true partnership that results in improved quality of care, improved patient outcomes, and increased patient satisfaction with their healthcare experience.
Patient portals may enhance patient engagement by:
Enabling patients to access their electronic medical records (EMRs) and facilitating secure patient-provider communication.
Making portals engaging and user-friendly, supporting patient-centered outcomes and integrating them into clinical encounters so the care team uses it to convey information, communicate with patients, and support self-care and decision-making as indicated.
How to Optimize Your Patient Portal?
Fully optimizing your patient portal ensures your practice is taking essential steps to improve patient engagement and patient satisfaction while also improving your office's workflow and efficiency. Ensure your office's patient portal is optimized by taking the following steps:
Create specific patient-directed messaging specific to the patient population served by your practice. Clear messaging, direct communication of procedures and required steps, and easy to understand information provided through your patient portal communicates a clear message of professionalism, care, and concern to your patients.
Identify a clear strategy and point of contact to manage the patient portal enrollment process. The initial patient on-boarding and education process is the most important step transitioning your patients to the patient portal; once comfortable using the portal, most patients will turn to it to communicate with your healthcare providers, schedule non-urgent appointments, and review and pay their medical bills.
Customize the content of your portal. Patients desire value-based care from their healthcare providers; the same holds true when using a patient portal. Patients are much more likely to access and use your portal when they realize the value it provides to them; features like regularly-updated and relevant patient or condition-specific educational materials, responsive messaging and communication, and ease of use matter to your patients and should be key features of your patient portal.
Best Practices to Implement Patient Portal
Effective implementation of a patient portal is essential to the success of your practice's patient engagement efforts. When planning the successful role out of your patient portal, it's essential to :
Establish clear patient portal goals and priorities; ensure your practice understands the intent of implementing a portal - including goals and expectations for both patients and providers.
Identify key features and benefits you desire in a patient portal; portals have hundreds, sometimes, thousands, of features available to support your practice, but using all of these features could be overwhelming and unnecessary for your practice. Take time to determine the most important patient portal features and benefits for your practice.
Ensure Ease of Use; patients expect a portal that is user-friendly, efficient, fast, and easy to use.
Be Responsive; office staff must be trained and ready to quickly respond to patient's portal requests for appointment changes, prescription refills, medical questions or additional care information.
Develop a strategic plan to roll out your patient portal to your patients; this includes patient-specific strategies designed to introduce, enroll, educate, manage, and retain.