Modifier 25
When used appropriately, modifier -25 can enhance revenue for a physician practice. That's because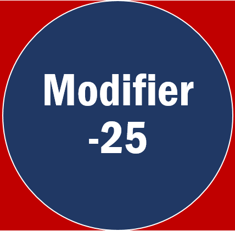 reporting this modifier allows physicians to bypass an Outpatient Code Editor (OCE) edit to receive additional payment. However, physicians must understand the rules regarding this modifier—and the documentation required to support it. No physician wants to discover after the fact—during an audit—that he or she must pay the money back.
Here are some facts about modifier -25 that can help physician practices maintain compliance.
1. CPT provides a definition of modifier -25.

More specifically, CPT defines this modifier as one used to indicate that the same physician performs a significant and separately identifiable evaluation and management (E/M) service on the same day of another procedure or other service.
2. Documentation must reflect the significance of the E/M service.
CMS' Internet-Only Manual, Chapter 12, section 40.2 states the following:
The physician may need to indicate that on the day a procedure or service that is identified with a CPT code was performed, the patient's condition required a significant, separately identifiable evaluation and management service above and beyond the usual preoperative and postoperative care associated with the procedure or service that was performed.
The key phrase is "above and beyond the usual preoperative and postoperative care." To report modifier -25, a physician must be able to clearly define the extra work he or she performed that is not typically included in the procedure. Can this extra work justify a completely separate note that warrants an E/M level in addition to the procedure or other service? If so, modifier -25 may be appropriate.
3. Different diagnoses are not required.
According to CMS, physicians don't need to report separate diagnoses for the E/M service and other procedure or service as a pre-requisite for appending modifier -25. The diagnoses may be the same—but the documentation must always justify the separately reportable E/M service.
4. Physicians must abide by certain global day requirements.
More specifically, physicians may be able to append modifier -25 to the appropriate level E/M code when they perform one of the following two types of procedures or services:
Minor surgical procedures with a global period of 000, 010, or 090 days.
Procedures that are not covered by global surgery rules (i.e., procedures with a global indicator of XXX).
Annual wellness visit (AWV) or initial preventive physical examination (IPPE). NOTE: Some of the components of a medically necessary E/M service [e.g., a portion of history or physical exam portion] may have been part of the IPPE or AWV. Physicians shouldn't include these components when determining the most appropriate level of E/M service to be billed for the medically necessary, separately identifiable, E/M service.)
Specific documentation will determine whether modifier -25 is appropriate in any of the scenarios listed above. To identify the global period of a surgery, refer to the Medicare Physician Fee Schedule database.
5. Physicians could be subject to pre-payment screenings.
According to CMS, Medicare Administrative Contractors (MAC) may impose prepayment screens or documentation requirements for certain providers with high volumes of modifier -25. Before doing so, MACs must first determine that a physician has engaged in inappropriate use of the modifier. Then the MAC must perform remedial education/outreach before imposing the pre-payment reviews.
6. The rules for reporting an E/M service with modifier -25 don't change when the patient is new to the provider.
For example, a physician determines that a new patient with a sliced finger requires sutures. The physician confirms the patient's allergy and immunization status, obtains informed consent, and performs the repair. The E/M service is not separately billable in this scenario. However, if the physician also performs a medically reasonable and necessary full neurological examination, an E/M service may be separately reportable, depending on the documentation.
7. Individual MACs may have their own requirements for modifier -25.
For example, WPS Government Health Administrators (WPS GHA) has published a modifier -25 fact sheet. Palmetto GBA has also published information about modifier -25. Be sure to check with your MAC regarding specific requirements for this modifier.
Looking Ahead
Ensure compliance, avoid audits
To proactively promote compliance, practices must conduct internal audits of documentation and coding. Was modifier -25 appended appropriately, and did the documentation support it? For more information about modifier -25, view the NCCI Policy Manual for Medicare Services effective January 1, 2016.
Learn more about how your EHR vendor can assist with coding and billing compliance.
You will find the following posts useful: