What is e Prescribing?
Electronic prescribing, also known as e-prescribing, is a secure and efficient method for healthcare providers to send accurate and error-free prescription electronically from the point of care to the patient's pharmacy. By reducing medication errors, improving prescription accuracy, and streamlining the prescription process, e-prescribing significantly enhances patient safety.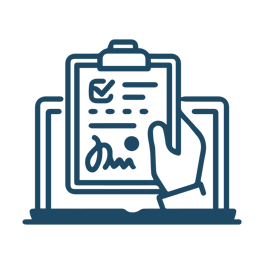 In e-prescribing, the provider typically uses a computer or mobile device, a secure software application, and a connection to a centralized database that stores patient information and medication records to electronically prescribe medication to patients and automate the prescription process. Healthcare providers get access to comprehensive information about a patient's medication history, including any allergies or interactions with other drugs. This information is used to ensure that the right medication is prescribed at the right dose, and helps to prevent medication errors.
Once the prescription is created, it can be sent electronically to the pharmacy, reducing wait times for patients and improving overall efficiency. In some cases, the e-prescribing system may also be integrated with electronic health records (EHRs) to provide a comprehensive view of a patient's health information and medication history.
Standard Components of Electronic Prescription
Although e-prescribing systems vary in terms of available functionalities, most offer the following standard components.
Medication Selection
Providers can typically select from several medication options, including generic alternatives to brand-name drugs. When the patient's insurance information is available, formulary options may also be included.
Prescription Creation and Submission
Prescriptions can be conveniently created on a provider's desktop or mobile device and sent directly to the patient's pharmacy. Most systems offer confirmation of prescription receipt and the ability to manage more than one prescription at a time.
Safety Checks
An alert is provided by the e-Prescription application, if a prescription is considered a potential hazard for some reason. Possible issues include drug-drug interaction, medication duplication, patient allergies, and dosage amounts outside recommended ranges.
Authorization of Refills
When a patient needs a prescription refill, the pharmacy can send the request directly to the provider, who can then approve or deny the refill electronically.
Access to Medication History
Through various methods—such as the pharmacy's database, insurance claims for medications, or the electronic medical record—providers can view the patient's medication history to aid them in prescribing decisions.
How to Choose e-Prescribing Software?
Types of e-Prescribing Software
Standalone e-Prescribing systems: These are standalone applications designed specifically for the purpose of electronic prescribing.

Integrated e-Prescribing systems: These are e-Prescribing solutions that are integrated with electronic health records (EHRs) to provide a comprehensive view of a patient's health information and medication history.

Web-based e-Prescribing systems: These are e-Prescribing solutions that can be accessed via the internet, making it easy for healthcare providers to access patient information and prescribe medications from anywhere.

Mobile e-Prescribing systems: These are e-Prescribing solutions that can be accessed via a mobile device, making it easy for healthcare providers to prescribe medications while on-the-go.
Choosing the right e-Prescribing solution depends on the needs of the healthcare organization and the preferences of the healthcare provider. Some providers may prefer a standalone e-Prescribing system, while others may prefer a more comprehensive solution that integrates with their EHR system.
5 Key Features of E-Prescribing Software
Integration Capabilities: When choosing an e-prescribing software, it's essential to consider its integration capabilities with other healthcare systems, such as electronic health record (EHR) systems, pharmacy databases, and clinical decision support systems. Seamless integration allows for efficient data exchange and reduces the need for duplicate data entry. Look for a software solution that offers robust integration capabilities, enabling real-time access to patient information, medication history, and relevant clinical data.

Electronic Prior Authorization (ePA): Prior authorization is often required for certain medications before they can be dispensed. Manual processes involving phone calls and faxes can be time-consuming and burdensome. An e-prescribing software with electronic prior authorization (ePA) functionality simplifies the process by allowing healthcare providers to electronically submit and track prior authorization requests. Look for a software solution that offers a streamlined ePA process, reducing administrative burdens and expediting the approval process for necessary medications.

Drug Interaction Checking: A robust e-prescribing software should include a comprehensive drug interaction checking feature in order to minimize medication errors and adverse drug events. This feature alerts healthcare providers to potential interactions between prescribed medications and a patient's existing drug regimen or known allergies. Look for a software solution that provides real-time drug interaction alerts, helping healthcare providers make informed decisions and prevent potentially harmful interactions.

User-Friendly Interface and Ease of Use: An intuitive and user-friendly interface is essential for smooth adoption and efficient use of an e-prescribing software. Look for a software solution that offers a clean and easy-to-navigate interface, with features and functionalities logically organized. It should be straightforward to input prescription details, access patient information, and navigate through various screens. A user-friendly e-prescribing software enhances user satisfaction and minimizes the learning curve for healthcare providers and their staff.

Mobile Accessibility: In today's mobile-driven world, having access to critical healthcare information on the go is crucial. Look for an e-prescribing software that offers mobile accessibility, allowing healthcare providers to securely access the system from smartphones or tablets. Mobile accessibility enables healthcare providers to prescribe medications, review patient information, and perform other essential tasks even when they are away from their office or clinic. This feature enhances flexibility, improves efficiency, and supports seamless care delivery.
Recent Trends in Electronic Prescription
Increased Adoption:

According to a recent study by the National ePrescribing Patient Safety Initiative, the use of e-Prescribing in the United States has increased dramatically in recent years, with over 80% of office-based physicians now using e-Prescribing.

Integration with Electronic Health Records (EHRs):

According to a report from the Office of the National Coordinator for Health Information Technology (ONC), the majority of EHR systems now have e-Prescribing capabilities integrated into the system.

Mobile Access:

A recent survey by Black Book found that over 60% of healthcare providers now use mobile e-Prescribing solutions.

Increased focus on patient safety:

According to a report by the Institute of Medicine, e-Prescribing systems can help to reduce the risk of medication errors by up to 50%.

Increased Use of Telemedicine:

According to a report by the Centers for Disease Control and Prevention (CDC), the use of telemedicine increased by over 200% during the COVID-19 pandemic.

Increased use of Interoperability:

According to a report by the Office of the National Coordinator for Health Information Technology (ONC), the use of interoperable health information technology, including e-Prescribing solutions, is becoming increasingly important for improving the quality, safety, and efficiency of healthcare.
In our rapidly changing world of healthcare, e-prescribing capabilities are no longer luxuries. Increasingly, they are the essential tools needed to provide the highest quality of patient care, meet regulatory requirements, and optimize efficiencies within your practice.
If you would like to learn more about how our offerings can meet your e-prescribing needs, contact us today for a free demonstration.