Benefits & Types of e-Prescribing Systems
Electronic prescribing or e-Prescribing is the process of electronically generating a prescription order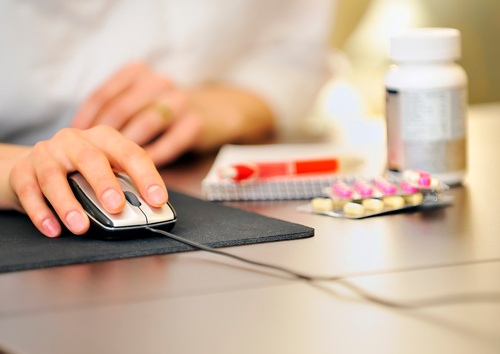 and sending it directly from a healthcare provider to the patient's pharmacy. It lets providers enter prescription details into a tablet, desktop or mobile device and transmit it in a secure manner. e-Prescribing system can be a stand-alone system or be an integral component of electronic health record software.
Benefits of electronic prescribing include :
Reduction of medication errors
Improved convenience for providers, patients, and families
Reduction of healthcare costs
Increased efficiency
Enhanced safety and quality of prescribing process
Standard Components of Electronic Prescription
Although e-prescribing systems vary in terms of available functionalities, most offer the following standard components.
Medication Selection
Providers can typically select from several medication options, including generic alternatives to brand-name drugs. When the patient's insurance information is available, formulary options may also be included.
Prescription Creation and Submission
Prescriptions can be conveniently created on a provider's desktop or mobile device and sent directly to the patient's pharmacy. Most systems offer confirmation of prescription receipt and the ability to manage more than one prescription at a time.
Safety Checks
To prevent adverse interactions, e-prescribing software provides an alert if a prescription is considered a potential hazard for some reason. Possible issues include drug-drug interactions, medication duplication, patient allergies, and dosage amounts outside recommended ranges.
Authorization of Refills
When a patient needs a prescription refill, the pharmacy can send the request directly to the provider, who can then approve or deny the refill electronically.
Access to Medication History
Through various methods—such as the pharmacy's database, insurance claims for medications, or the electronic medical record—providers can view the patient's medication history to aid them in prescribing decisions.
Benefits of e-Prescribing
1. Improved Patient Safety
According to the Agency for Healthcare Research and Quality (AHRQ), adverse drug events (ADEs) account for nearly 700,000 visits to the emergency department and 100,000 hospitalizations annually. The agency reports that nearly five percent of hospitalized patients experience an ADE and say that rates may be even higher in ambulatory care settings.
Although adverse drug events may occur due to various reasons, AHRQ estimates that about half are considered preventable—including medication errors. Historically, such errors have often been linked to some failure within the traditional paper pathway of prescribing, transcribing, and filling/dispensing prescriptions. The paper-prescribing framework is fraught with an array of potential errors due to lack of access to the patient's complete record, illegible handwriting, inconsistent ordering formats, and lack of alerts for allergies and interactions.
For reasons such as these, improved patient safety is one of the most significant benefits of e-prescribing—which is why the AHRQ recommends the use of computerized provider order entry (CPOE), which incorporates e-prescribing software.
2. Convenience for everyone
When medications are ordered through e-prescribing software, everyone benefits when it comes to convenience.
Patients and families do not have to keep track of paper prescriptions, deliver them to the pharmacy, and wait while they are filled. Instead, the order is transmitted directly from the point of care. The pharmacy notifies the patient when the prescription is ready for pick-up. Such convenience also supports medication adherence.
Providers have everything they need at their fingertips. Instead of creating paper orders in a silo, they are provided with access to the patient's medication history, options for medication selections that optimize care and reduce costs, safety features to prevent ordering errors, and the convenience of ordering from electronic platforms accessible on a desktop or from a mobile device.
Pharmacy staff works more efficiently and with greater accuracy since they don't encounter illegible handwriting and orders that aren't clear, requiring provider call-backs for order verification.
3. Reduced Healthcare Costs
E-prescribing reduces healthcare costs in many ways. These include provider access to more cost-effective options when selecting medications, the reduction of medication errors that may require additional care, and the overall optimization of care quality, reducing the need for ongoing intervention.
In fact, one study published in 2014 about the use of e-prescribing in the ambulatory care setting estimated "cost savings due to improved patient outcomes and decreased patient visits…to be between $140 billion and $240 billion over ten years for practices that implement e-prescribing."
4. Fulfillment of Regulatory Requirements
Several federal regulations have significantly impacted the growing momentum of e-prescribing in all patient care settings.
Meaningful Use and the HITECH Act
The Health Information Technology for Economic and Clinical Health (HITECH) Act of 2009 proposed "that healthcare professionals throughout the United States have access to EHRs and use them meaningfully according to standards set by the Centers for Medicare and Medicaid Services (CMS)." In that context, the intent of "meaningful use" was to show how technology was being used to improve patient care—and e-prescribing was an important way to do it.
Meaningful Use and the EHR Incentive Programs
In 2011, CMS established the Medicare and Medicaid EHR Incentive Programs "to encourage Eligible Professionals EPs, eligible hospitals, and CAHs to adopt, implement, upgrade (AIU), and demonstrate meaningful use of certified EHR technology (CEHRT)." As an essential tool within EHR systems, e-prescribing software contributed to the demonstration of meaningful use.
Meaningful Use and the Medicare Access and CHIP Reauthorization Act of 2015 (MACRA)
On April 16, 2015, MACRA was signed into law. According to CMS, this bipartisan legislation "created the Quality Payment Program that repeals the Sustainable Growth Rate formula; changes the way that Medicare rewards clinicians for value over volume; streamlines multiple quality programs under the new Merit-Based Incentive Payments System (MIPS); and gives bonus payments for participation in eligible alternative payment models (APMs)."
Although the framework for meaningful use has changed with the implementation of MACRA, it is still an essential component of optimizing patient care. HealthIT.gov notes that within the MACRA model, meaningful use "was transitioned to become one of the four components of the new Merit-Based Incentive Payment System (MIPS), which itself is part of MACRA." As an integral part of meaningful use, e-prescribing continues to play a critical role in helping providers optimize the quality of patient care and embraces the financial rewards of doing so within this new value-based payment system.
Types of e-prescribing Systems
Two types of e-prescribing systems are available to providers—those that stand-alone and those that are integrated into EHR software.
Stand-alone systems cost less and maybe an attractive option for smaller practices. Still, they are more limited in terms of access to patient information and tools that support clinical decision-making.
E-prescribing software integrated into an EHR platform is typically more expensive but offers access to comprehensive patient records and is supported by various functionalities geared toward optimizing patient care.
Recent Trends in Electronic Prescription
1. Rapid adoption of e-Prescribing
Surescripts' 2017 National Progress Report presents the following data:
71%—of the U.S. population was in the Surescripts master patient index
26%—increase in transactions delivered through the Surescripts network
26%—greater prescription accuracy
13%—increase in connected healthcare professionals
59%—increase in the number of prescribers enabled for EPCS
35%—increase in the number of medication histories delivered
2. Real-Time Prescription Benefit and Expanded Prior Authorization Solutions
In 2017, Surescripts introduced its Real-Time Prescription Benefit and expanded Electronic Prior Authorization solutions.
"Real-Time Prescription Benefit delivers patient-specific drug benefit and cost information directly from PBMs to the e-prescribing workflow at the point of care, including up to five therapeutic alternatives.
Electronic Prior Authorization integrates directly with electronic health records, enabling healthcare professionals to easily obtain prior authorizations in real-time at the point of care."
Surescripts reported that both options were very popular with providers, and rapid adoption is anticipated in the year ahead.
3. Quality Improvement Efforts
Quality improvement efforts also impact e-prescribing trends. According to a 2018 joint presentation from the Health Information Management Systems Society (HIMSS), the National Council for Prescription Drug Programs (NCPDP), and Surescripts, the following quality improvement efforts are underway:
Use of Codified Sig to reduce variances in the Sig-writing process and improve clarity in provider directions to patients
Refinement of drug descriptions to reduce variations and inconsistencies by adopting the ePrescribing Names (EPN) from the drug compendia
Increased use of RxChange transactions to enable automation of the medication adjustment process
Increased use of CancelRx transactions to increase quality and safety and reduce costs
Increased use of EPCS to reduce the abuse of controlled substances, fraud, and drug diversion A growing number of state mandates requiring the use of EPCS are adding momentum to this process.
4. Focus on Integrated Suite rather than Individual Add-ons
According to a summary of EHR market trends gleaned by the consulting firm, Kalorama Information, "add-ons" to the EHR are becoming increasingly important. They state, "The benefits of component tools such as computerized provider order entry, e-prescribing, image archiving, and decision support have become clear to end-users, and they may prefer to have these components integrated as part of a suite of applications."
In our rapidly changing world of healthcare, e-prescribing capabilities are no longer luxuries. Increasingly, they are the essential tools needed to provide the highest quality of patient care, meet regulatory requirements, and optimize efficiencies within your practice.
If you would like to learn more about how our offerings can meet your e-prescribing needs, contact us today for a free demonstration.