Electronic Health Records - Meaningful use is phased out
The definition of 'Meaningful use of Electronic Health Records' has undergone a vast change since it was first mooted. With 2011 fast approaching, the authorities have obviously found it hard to reconcile the views of different parties - legislators, vendors, physicians and consultants. So what are the authorities doing? Phasing out the requirements and getting started with basic criteria to be met for satisfying meaningful use paradigm.
According to David Hunt, M.D., Chief Medical Officer in the Office of the National Coordinator for Health Information Technology (ONCHIT), the federal government now intends to implement a basic level of initial 2011 criteria for meaningful use of electronic health records systems to determine who will receive Medicare and Medicaid incentives under the American Recovery and Reinvestment Act (ARRA).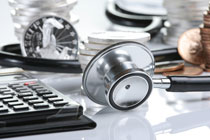 The government's meaningful use definition will probably focus on goals that hospitals and physicians can achieve quickly and reasonably. Thus, the Centers for Medicare and Medicaid Services will primarily be seeking evidence in 2011 that providers have purchased and are using EHRs. This may simply mean that you have to be able to send data and CMS has to be able to receive it.
Meaningful use of EHR to get tougher in 2013
The meaningful use criteria are expected to get progressively tougher in 2013 and 2015. The current thinking is to spread the meaningful use criteria for EHRs over three major phases: 2011 as a period of "structure," 2013 a period of "process" and 2015 a period of "outcomes."
• Meaningful use criteria in 2013 will focus on process measures to demonstrate providers have started to meaningfully use EHRs
• Meaningful use criteria in 2015 will be heavily outcomes-oriented with eventual efforts to measure the actual impact EHRs have on the quality of care.
It is expected that CMS will publish proposed rules in December governing meaningful use incentives and certification of EHRs for meeting meaningful use criteria and collect public comment for a period of 60 days.
Certification Agency for EHRs
It is also expected that the Certification Commission for Health Information Technology (CCHIT) will be one of the many entities that will certify EHRs as meeting meaningful use criteria.