EMR & Medical Billing Best Practices Series: #4
Organization is an essential component of a successful medical office, and we've spent the last two weeks discussing how organization in billing and scheduling processes saves you time, money, and headaches. As the push for electronic health records continues, small medical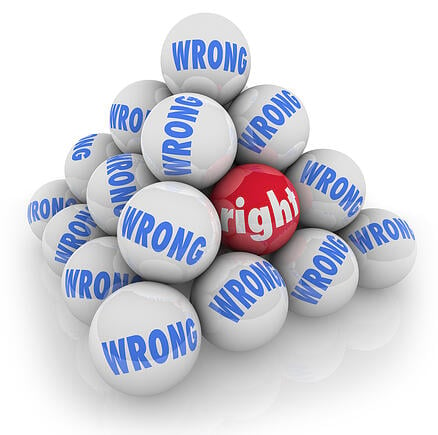 offices and clinics are beginning to make the shift to EHRs. Organizing your expectations prior to EHR selection ensures you choose a service that meets the current and future needs of your practice.


Proactive communication with EHR vendors is the best way to collect the data necessary to make a solid decision, so don't skip these six fundamental questions when coming up with criteria and reviewing potential systems.
1. What features are included?
Not all systems are created equal, so a demo of each system you're considering is important. EHR demos not only let you see what features are included in a vendor's product, but they also let you see those features in action. Relying on a simple list of features without asking in-depth questions or viewing the functionality for yourself leads to communication issues—what the vendor calls "A," you might call "B."
When comparing vendor offerings, it helps to have a baseline for your needs. Talk with your staff and create a list of required functionality for any EMR selection. Divide the list into critical items—those that are required to maintain business functionality—and items that would be nice to have. Review both general products and specialty EHR systems. As you review software, use your checklist to find the product that meets most requirements.
2. Can your EHR integrate with outside products?
Even if a vendor is marketing their system as a comprehensive product, the ability to integrate the EHR system with outside programs offers flexibility and scalability in your practice. You may already have legacy systems in place for communications or scheduling; integration lets you leverage existing resources or data housed in disparate systems. Technical efficiency usually diminishes as you add multiple systems, but fencing your processes in with a stand-alone software limits future capabilities.
3. What is the cost?
Price is an obvious concern, but ensure you understand the overall EHR cost of every system. Ask about the cost of training, implementation, and future upgrades. Ensure you understand all service fee schedules or subscriptions that relate to the product, especially if the vendor offers the program on a license structure. License structures involve extra purchases or fees for installing the program on multiple computers or registering additional users.
4. Is the product scalable?
When purchasing technical resources for your practice, it's important to think about how your office will grow in the future. Ask your vendor whether the product has scalability. Can you add additional functions or capacity? It's also a good idea to talk with the vendor about their plans. Does the vendor plan to add future functionality to the product or are there current upgrades in the works? You should also find out if there are customization options that allow the software to meet specific practice needs prior to making any EHR selection decision.
5. How are updates handled?
Any provider dealing with the recent ICD-10 requirements understands the importance of accurate, timely software updates. Federal rules for handing patient medical records change, and the regulations for each state vary. Keeping up with legal, compliance, and technical regulations is an impossible task for busy medical practices, which means you need a vendor who keeps up with industry changes, makes proactive changes, and provides accessible updates to your EHR system.
6. Is there an EHR implementation team?
A complete EHR implementation team is essential to success, and your team should include vendor participants. Find out how active vendors will be in the implementation. Will training be provided? Does the vendor work directly with your staff to design the system, or do they provide out-of-the-box functionality based on industry best practices?
For a demo of web-based or server-based EHR solutions, contact RevenueXL. We look forward to answering these six questions and any others you might have about your EHR selection.
Readers may also like the following:
Reasons to Adopt Web-based EMR for Small and Mid-sized Clinics
EHR Software - 5 Tips for a Smooth Transition
4 Common Challenges in Small Clinic EHR Implementations
New EHR Implementation: 5 Essential Reasons Why

Watch the following videos:
EHR Software: Top 10 Benefits
Cardiology EHR Software: Top 8 Features for All Cardiologists