What are EMR Systems?
EMR or Electronic Medical Records are digital charts of medical information on an individual that offer a comprehensive view of a patient's medical history. It is created, gathered, managed, and consulted by authorized clinicians and staff within one health care organization and replaces traditional paper-based charts and manual workflows with digital files and electronic transmissions.

It includes "all of the key administrative clinical data relevant to that person's care under a particular provider, including demographics, progress notes, problems, medications, vital signs, past medical history, immunizations, laboratory data and radiology reports". In short, Electronic Medical Record is an electronic version of the paper chart.
EMRs are designed to be used by medical practices for improving the quality of patient care and efficiency in care delivery by managing, storing, and sharing patient health information electronically as well as driving continuous quality improvement programs. They were developed as digital replacements for paper-based medical records but have gradually evolved into modern Electronic Health Record systems with lot more functionality.
RevenueXL's Electronic Medical Record System was created to meet the requirements of small practices and addresses all their needs including customized workflow, provider specific templates, eRx, patient engagement, clearinghouse interfaces, billing, etc.
Learn more about our Specialty EMR Systems.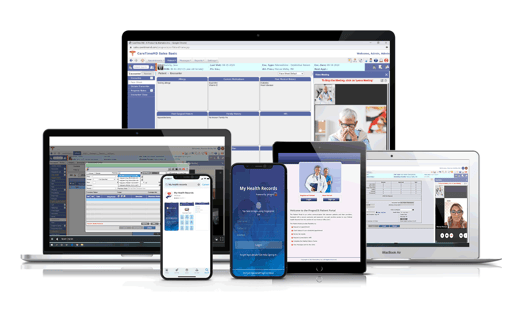 ---
What you should know about EMR Systems?
With EMR Systems, you not only get a technology that enables the digitization process and provides several benefits, it also includes features to increase efficiencies and improve the quality of care.
Providers also can simplify the care delivery, documentation, and billing processes unique to a specialty practice. The design therefore revolves around the workflows, procedures, and processes of a particular organization and medical specialty.
Ancillary services such as lab and imaging, and clinical decision support are often incorporated into EMR Systems , but these components are tightly organized around the needs of the individual physician and practice.
Benefits of Electronic Medical Records Systems
After implementation of EMR Systems, healthcare providers are able to improve the quality of care they deliver to patients, increase efficiency, and reduce costs, while also improving the overall patient experience
Improved patient treatment across the care continuum.
Improved care coordination and faster access to records.
Practice efficiencies and cost savings through decreased paperwork and elimination of workflow redundancies.
Increase patient participation and transparency.
Improved diagnostics and patient outcomes including more accurate prescribing and higher patient satisfaction scores.
Key Functions of EMR Systems
EMR Systems support the following group of eight key functions for safety, quality, and care efficiency:
Physician access to patient information, such as diagnoses, allergies, lab results, and medications.

Access to new and past test results among providers in multiple care settings.

Computerized provider order entry to enhance legibility, reduce duplication, and improve the speed with which orders are executed.

Computerized decision-support systems to help improve compliance with best clinical practices, ensure regular screenings and other preventive practices.

Secure electronic communication among providers and patients to improve the continuity of care, increase the timeliness of diagnoses and treatments, and reduce the frequency of adverse events.

Patient access to health records, disease management tools, and health information resources.

Computerized administration processes, such as scheduling systems.

Standards-based electronic data storage and reporting for patient safety and disease surveillance efforts.
---
Types of EMR Systems
EMR systems can be classified in a variety of ways based on different criteria. Some common ways of classification include:
A. Based on settings for which an EMR is designed
1. Ambulatory EMR
These EMR systems are specifically designed for use in outpatient medical facilities, such as primary care clinics, specialty clinics, and physician practices.

Ambulatory EHRs are designed to support the unique needs of outpatient care, including scheduling and appointment management, patient registration, charge capture, and clinical documentation. They often include features such as e-prescribing, lab and imaging integration, and patient portals that allow patients to access their health information and communicate with their care team.

Ambulatory EHRs are typically more lightweight and streamlined than EHRs designed for inpatient care, with a focus on ease of use and efficiency for busy outpatient practices. They are designed to support the needs of individual practitioners, small clinics, and larger medical groups.
2. Acute Care EMR
Such EMR Systems are specifically designed for use in hospitals and other inpatient care facilities.

Acute care EMRs are designed to support the unique needs of inpatient care, including patient admission and discharge, real-time tracking of patient information, and management of complex medical information such as vital signs, lab results, and medications. They often include features such as decision support, alerts and notifications, and integration with clinical decision support systems.

Acute care EMRs are typically more comprehensive and complex than EMRs designed for outpatient care, reflecting the more complex needs of inpatient care environments. They are designed to support the needs of larger healthcare organizations, including hospitals, critical care facilities, and rehabilitation centers.
3. Hybrid EMRs
A combination of both ambulatory and acute care EMRs.
B. Based on Specialty
1. Specialty-specific EMR
Specialty-specific EMR systems are designed to meet the specific needs of a particular medical specialty or type of healthcare organization, such as dermatology, ophthalmology, or mental health clinics. These systems often include pre-configured templates and workflows that are tailored to the specific needs of the specialty, but may lack the flexibility and customization of general purpose EMR systems.
2. Multi-specialty EMR
A multi-specialty EMR (Electronic Medical Record) is a type of EMR system designed to support the needs of healthcare organizations with multiple medical specialties.
These systems are designed to provide a unified view of patient information across multiple specialties, allowing healthcare providers to access and manage patient data from a single system, regardless of the specialty involved. This can improve efficiency and coordination of care, as well as provide a more complete picture of a patient's health history.
Multi-specialty EMRs typically include a range of features and functionalities that are common to many different specialties, as well as customization options to meet the specific needs of each specialty. They are typically more flexible and customizable than specialty-specific EMRs, and are well suited to healthcare organizations with multiple specialties, such as large clinics or hospitals.
In general, a multi-specialty EMR can be a good choice for healthcare organizations that need to manage a variety of medical information, but still want a single, unified system for managing patient data.
C. Based on the mode of Deployment
1. Server-based EMR
Also known as on-premise EMR, these systems are installed and run on a server within a healthcare organization's own infrastructure. While the benefit of an on-premise deployment is that you have control over the equipment -- that is also a drawback. Medical practices that deploy EMR systems in-house must have an IT expert to maintain the hardware, software and the data it stores. If equipment has a breakdown, it can add unexpected expenses to your bottom line.
2. Cloud-based EMR
In a cloud-based deployment, patient health information is stored, managed, and accessed through the internet on remote servers instead of on local servers or personal computers. This type of EHR allows healthcare providers to access patient information from anywhere with an internet connection, and also enables secure sharing of patient data between different healthcare organizations.
3. ASP based EMR
ASP-based EMR stands for Application Service Provider-based Electronic Medical Record. It refers to a type of deployment for EMR systems where the software and data are hosted by a third-party provider, usually on remote servers, and accessed by healthcare organizations over the internet.

In this model, healthcare organizations pay a fee to access and use the EMR system, and the ASP is responsible for maintenance, upgrades, security, and other technical aspects of the system. This can reduce the cost and complexity of implementing an EMR system for healthcare organizations, as they do not have to invest in and maintain their own infrastructure.
D. Based on Open Source vs. Proprietary
EMR systems can be classified by whether they are open source or proprietary.
1. Open source EMR
These have their source code available for anyone to modify and use. They often have a more active community of developers and can be more customizable, but may also have limited support options.
2.Proprietary EMR
Proprietary EMR systems are owned and controlled by a single vendor.
E. Based on Vendor Size
EMR systems can be classified by the type of vendor that provides them. For example, some vendors specialize in providing EMR systems for small practices, while others focus on larger healthcare organizations.