What is an EMR?

EMR is "an electronic record of health-related information on an individual that can be created, gathered, managed, and consulted by authorized clinicians and staff within one health care organization."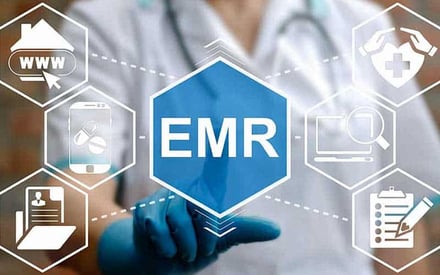 In other words, an EMR is a digitized paper chart (paperless medical chart) that includes "all of the key administrative clinical data relevant to that person's care under a particular provider, including demographics, progress notes, problems, medications, vital signs, past medical history, immunizations, laboratory data and radiology reports". It offers a comprehensive view of a patient's medical history and replaces traditional paper-based charts and manual workflows with digital files and electronic transmissions in the physician practice. In short, Electronic Medical Record is an electronic version of the paper chart.

People tend to use the phrases "electronic medical record" and "electronic health record" interchangeably, but in truth, there are differences between the two. Perhaps the most significant difference is that an electronic medical record is limited to the data collected and maintained on a particular individual in one single medical practice or health care system and intended to be used primarily for the convenience of the staff within that practice.
---
RevenueXL's Electronic Medical Record System was created while keeping in mind the requirements of small practices and addresses multiple needs including customized workflow, provider specific templates, eRx, patient engagement, clearinghouse interfaces, billing, etc. Learn more about our

Specialty EMR Systems.
---
Paper vs. Electronic Medical Records
According to HealthIT.gov, the easiest way to define an electronic medical record is to compare it to a digital version of the paper chart in a doctor's office. EMR can:
Collect patient demographic data

Document patient encounters and treatment history; record response to treatment

Track data and health metrics over time

Identify patients due for preventive services and routine care

Generate data to help monitor and improve the overall quality of care within the practice
These functions are extremely helpful to clinicians within the practice.
What you should know about EMR?
EMR is designed to replace the paper chart and streamline the documentation and data management within a particular practice.

EMR does not travel with patients, it isn't amenable to information sharing across health care systems and networks
What are EMR Systems?
EMR System is an 'integrated' set of interoperable software tools and solutions including EMR Software, Practice Management Software, ePrescription, Dashboards, telemedicine, interfaces to labs and clearinghouses, workflow tools, patient portal, etc. - all working seamlessly to help healthcare providers improve patient care, stay compliant and reduce medical costs. Note the emphasis on 'integrated'. It means to put together a set of coordinating separate elements so as to provide a harmonious, interrelated whole.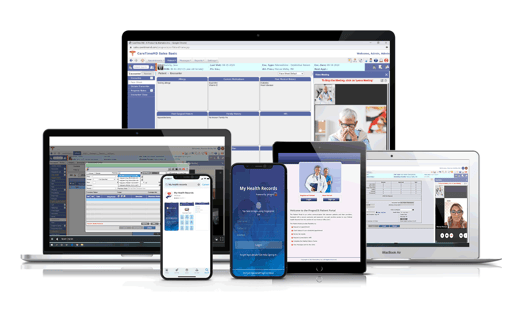 The Electronic medical record is a technology that not only enables the digitization process and provides several benefits, it also includes features to increase efficiencies and improve the quality of care.

Electronic Medical Records Software is designed around the workflows, procedures, and processes of a particular organization and medical specialty. Therefore you will see Pediatrics-specific EMR, or Cardiology EMR, for example. These specialty-specific EMRs include templates and features that simplify the care delivery, documentation, and billing processes unique to a specialty practice.

EMR Systems may incorporate ancillary services such as lab and imaging, and even include clinical decision support, but these components are tightly organized around the needs of the individual physician and practice.
Benefits of Electronic Medical Records Systems
The benefits of EMR Systems exist for both practices and their patients. There are five primary categories of benefits of EMR adoption that extend to both patients and providers, including:
Improved patient treatment across the care continuum.
Improved care coordination and faster access to records.
Practice efficiencies and cost savings through decreased paperwork and elimination of workflow redundancies.
Increase patient participation and transparency.
Improved diagnostics and patient outcomes including more accurate prescribing and higher patient satisfaction scores.
Key Functions of EMR Systems
EMR Systems should support the following group of eight key functions for safety, quality, and care efficiency:
Physician access to patient information, such as diagnoses, allergies, lab results, and medications.

Access to new and past test results among providers in multiple care settings.

Computerized provider order entry to enhance legibility, reduce duplication, and improve the speed with which orders are executed.

Computerized decision-support systems to help improve compliance with best clinical practices, ensure regular screenings and other preventive practices.

Secure electronic communication among providers and patients to improve the continuity of care, increase the timeliness of diagnoses and treatments, and reduce the frequency of adverse events.

Patient access to health records, disease management tools, and health information resources.

Computerized administration processes, such as scheduling systems.

Standards-based electronic data storage and reporting for patient safety and disease surveillance efforts.
---
Types of EMR Systems
There are two types of EMR (Electronic Medical Record) systems:
Cloud based EMR
Server-based EMR
There are pros and cons to both, so it is important to understand which of these might be more suitable for your practice.
What are Cloud-based EMR Systems?
Cloud-based EMR systems are housed on a third-party server accessed through the Internet. The third-party vendor maintains all server hardware, handles security, and any software updates. They are offered on low-cost monthly subscription basis. That is one of the biggest benefits of these services; medical practices do not have to incur the hardware and maintenance expenses that come with on-premise deployments of medical systems.
What is a Server-based EMR System?
A server-based EMR system is housed on-site at your practice. While the benefit of an on-premise deployment is that you have control over the equipment -- that is also a drawback. Medical practices that deploy EMR systems in-house must have an IT expert to maintain the hardware, software and the data it stores. If equipment has a breakdown, it can add unexpected expenses to your bottom line.