How to Verify Insurance Eligibility and Benefits?
EMR & Medical Billing Best Practices Series: #6
According to RemitData, two of the top five claim denial reasons for 2013 were insurance-coverage related. Millions of claims were denied because eligibility had expired or the patient or service was not covered by the plan in question. Putting a solid insurance verification process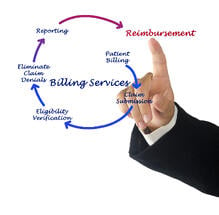 in place can reduce these types of denials in your practice, making medical billing practices more efficient and raising your overall bottom line.
Insurance should be verified before clinical services are provided and should never be a task the medical billing staff handles on the back end. Follow these five steps to reduce the chance your billing team deals with constant eligibility-based denials.
1. Insurance Verification Checklist
Ask the right questions during insurance verification. Front office staff should enter information gleaned from the insurance card, phone calls with the insurance company, or electronic eligibility systems. Insurance eligibility verification information in each patient's electronic medical record for your practice should include:
Insurance name, phone number, and claims address
Insurance ID and group number
Name of insured, as it isn't always the patient
Relationship of the insured to the patient
Effective date of the policy
End date for the policy
Whether coverage is currently active
Whether the insurance covers the procedure, diagnosis, or services to be provided
Whether your practice participates with the plan
Limitations of the policy, including exclusions or documentation requirements for bills
Whether a referral, pre-authorization certificate of medical necessity is required for payment
The amount of the patient's copay and deductible
2. Get a Copy of the Patient's Insurance Card
Begin the process of collecting insurance eligibility verification information by asking for a copy of new insurance information from the patient. It's a good idea to ask for a copy of the card even if the patient states that insurance hasn't changed. An updated image of both sides of the insurance card in your electronic health record provides informational backup in case someone mistyped insurance information into the record. Medical billers should double check ID numbers against cards before sending claims.
3. Contact the Insurance Provider
Don't take information on cards at face value. Even a few weeks after a card is issued, insurance coverage may have changed or been discontinued. Contact the insurance company directly to ensure eligibility. Place a phone call using the provider hotline provided by the payer or use your integrated EMR and Billing System to ping larger payers such as Medicaid, Medicare, or Blue Cross for eligibility data. When you can set up electronic eligibility systems for payers, this is the most efficient option. You may be able to import data directly into electronic medical record systems, making the process even faster and avoiding possible data-entry errors.
4. Record Accurate Information
Train office staff to take extra care when transcribing information into the patient record. The information builds the foundation of the medical claim, and a single transposed number can mean the difference between a clean claim and a denial. Rushing through insurance verification practices and making data errors may cause days or weeks of delay on payments, or the claim could go completely unpaid, which is bad for any medical practice.
5. Follow Up With Patient as Needed
If there are any questions or concerns, follow up with the patient about insurance information. Using a patient portal to inform patients of eligibility through email or online communication is efficient, but office staff can also phone the patient to let them know about copays or other issues. Informing the patient as early as possible about out-of-pocket expenses increases the chance you'll collect those funds.
For information about setting up connectivity with clearinghouses to verify eligibility from your integrated EMR and medical billing software, contact Revenue XL.
Readers may also like the following:
How will ICD-10 impact Physician Offices?
Why is Days in AR important for any Medical Office?
What are the top 5 KPIs any small medical practice can not ignore?
What should any clinic manager do to prevent claim denials?

Watch the following video: