Patient Collection Improvement Strategies
In today's healthcare environment, patients have significant financial responsibility, including higher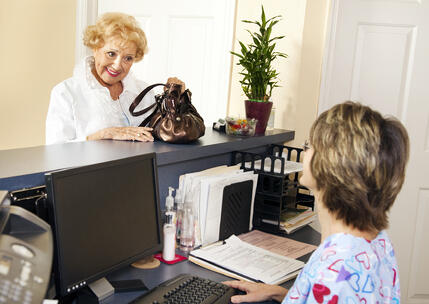 deductibles and greater out-of-pocket expenses. Practices must devise collections strategies that focus on the patient's contribution to the overall revenue stream. These strategies should highlight proactive communication that provides patients with options and flexibility.
This article provides seven tips for improving patient collections in the physician practice setting. These tips should serve as the basis for a practice's overall collections strategy to reduce bad debt and enhance revenue.
---
Tip #1: Register patients before their appointments.
This includes checking insurance eligibility to ensure that the coverage is active and to identify any copayments and/or deductibles for which patients may be responsible. Let patients know in advance whether any money will be due on the day of the visit. This gives patients the opportunity to ask questions and check with their insurer if they feel that the practice has provided incorrect information. If the practice's policy is to call patients to remind them of their appointment day/time, take this opportunity to remind patients of their specific copayment/deductible as well.
---
Tip #2: Communicate the practice's payment policy.
Ideally, all copayments and deductibles would be paid on the day of or even prior to the visit. If the practice's policy is to ensure payment up-front, employees shouldn't waiver from this policy. In other words, don't hesitate to reschedule a patient's appointment if he or she cannot—or will not—pay the amount due. Post this policy clearly on the check-in window as well as on the practice's website or portal. Encourage patients to ask questions about this policy if they find it unfair. Patients who understand that a medical practice is a business just like any other—and that a provider's time is valuable and limited—are more likely to comply.
If the practice's policy is to allow patients to pay after the visit, ensure that they understand their financial responsibility. Many practices ask patients to sign an agreement stating they will pay for any services that are not covered by their insurance company.
---
Tip #3: Hire staff members who are respectful and knowledgeable.
Many patients may not be willing to pay simply because they don't understand the complexities of their individual health plans. For example, some patients may be surprised to hear that they must meet a deductible before their insurer will begin to pay. A brief explanation may be sufficient to overcome any defensiveness and unwillingness to pay. All front-end and back-end staff members must keep this in mind when communicating with patients, many of whom are simply the victims of an over-complicated healthcare system.
---
Tip #4: Provide payment options.
The more payment options a practice can provide, the better. This includes options for cash, checks, debit cards, and credit cards. If possible, allow patients to submit payment online through the practice's website or portal. Some practices may want to consider offering payment plans—including automatic debit—for patients who are willing and able to pay in smaller increments. This plan should be documented, signed by the patient, and include fees for any late payments or non-payment.
---
Tip #5: Consider revamping the practice's billing statement to make it more patient friendly.
If your billing statement isn't easy to read, many patients may dismiss it entirely. Tailor the messaging as much as possible. For example, older patients may want to receive a bill that includes a larger font size. Some patients may want an itemized list of services and fees while others simply want to know the total amount due. Ask patients for feedback and input. How can the practice make the statement easier to read? What information is missing? What information can be deleted? What would make patients more likely to pay the bill promptly? Encourage patients to ask questions about their statement, including how to interpret it. Patients who understand their bills are much more likely to pay those bills.
---
Tip #6: Send statements as soon as possible.
Patients may be more likely to respond when they receive a statement shortly after their appointment. At a minimum, send these statements on a weekly basis. The longer the practice waits to bill the patient, the more likely the patient will delay or deny payment. Many patients don't remember services they received six months ago, for example, and they may even think that they've already paid for them.
If bill remains unpaid after two or three attempts, ensure that a process is implemented to send that bill to a collections agency.
---
Tip #7: Track and trend your data.
Practices that constantly monitor their performance are the ones that ultimately improve patient collections. Have collections improved or worsened over time? If they've improved, to what can this be attributed? If they've worsened, what factors have affected the decline? For example, perhaps the practice's website is unable to process credit/debit card requests for some reason. Perhaps a staff member isn't performing due diligence when pre-registering patients. Perhaps patients don't understand their statements and therefore don't pay them. Performing a root-cause analysis is key.
---
Ensuring success
Practices that take the time to address patient collections—including developing a policy and procedure—will be most successful in the long-term. As insurers become less responsible for payments, forward-thinking practices will turn their attention and efforts toward patients. A proactive approach that focuses patient education and communication is key.
Readers may also like the following: