This time I decided to write this post about a slightly different topic - Coding Compliance. As we discuss below, when physicians implement EMR or EHR, the need for a good compliance plan will not disappear contrary to what some physicians may believe.
While most physicians would like to avoid an coding audit, it is a fact of life in today's healthcare world. To lessen the stress and potential penalties, preventive maintenance is the key. Regular internal and external audits should be part of every compliance plan.
The OIG (Office of the Inspector General) states: "The best evidence that a provider's compliance program is operating effectively occurs when the provider,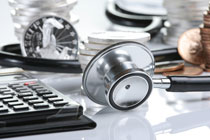 through its compliance program, identifies problematic conduct, takes appropriate steps to remedy the conduct and prevent it from recurring, and makes a full and timely disclosure of the misconduct to appropriate authorities." To identify problem areas, utilization of internal and external audits is key.

As most EHR Vendors proclaim, Electronic Health Records help physicians maximize billing in the following two ways:
When using paper charts, to be on the safe side of the law, many physicians down code (use a lower billing code), rather than use an appropriate level of code. Providers who use EHR software can increase revenues by using System recommended E&M billing codes that are based on the service accurately documented within the EHR, without the fear of an audit, or if an audit occurs, being confident that their coding is compliant with their documentation. Medical Economics magazine has estimated that physicians, who routinely down-code to avoid audits, lose an average of $40,000 annually.
EHR software allows physicians to produce adequate supporting documentation that complies with CMS guidelines and supports the appropriate level of service to be billed. Accurate coding speeds up the reimbursement process and results in fewer rejected claims from insurance companies. Even better, an EHR Software helps produce clean claims the first time, significantly reducing the number of rejected claims!
The question that often arises when we talk to Physicians is: We are investing money in an EMR or EHR. Do we still need to have a Coding Audit or Coding Compliance program? The answer is "YES".
February 2010 edition of American Academy of Professional Coders' (AAPC) Coding Edge magazine states, "The goal of the EMR is to improve the efficiency of the physician in documenting services and ensuring all work performed is capture in the record." While EMRs can help with speeding up reimbursement, they will not prevent a physician from receiving denials. EMRs can improve coding and documentation, but physicians need to take the time to document services in order to meet medical necessity standards.
Physicians sometimes fail to realize that coding is more than just code selection and needs to consider items like Commercial payer rules, local coverage determinations, mitigating circumstances, government health programs and numerous other variables introduce rules, exceptions to the rules, and more. How many EHR Solutions can automate all the aforementioned complex rules which are forever in a state of flux and keep changing frequently? My guess is that by pareto's principle, EHRs can probably code 80% of the encounters accurately while balance 20% of the encounters need to be reviewed and/or coded appropriately by experienced coders. An example of this would be modifier selection and proper use of modifiers. These would need to be manually entered by either the physician or a certified coder.

Our experience reveals that when a Practice implements an EHR, the extent of coding audit required may decrease but nevertheless every Practice still needs to implement coding audits. You can choose to conduct the audits internally or use external auditors. Internal audits are a valuable tool, but are limited by the auditor's knowledge and expertise. Internal auditors may already be overwhelmed by their daily duties of running an office. They may not have the time between scheduling patients, ordering supplies, etc...to conduct a thorough audit. Regulations change constantly, which means a designated employee must be assigned to read publications, attend seminars and share this information with physicians and coders in their practice. Auditors should be certified and competent. An auditor is not just a Certified Coder. It takes many years of experience and education to be a thorough auditor. It is a separate skill from coding.

For these reasons, an annual external audit is invaluable for objectively analyzing billing and coding operations. It can uncover documentation deficiencies that an internal auditor may overlook and identify missed revenue in the process. Professional billing companies with dedicated teams of auditors can provide this service in a cost effective manner.

It takes physicians years of education to successfully practice medicine and even more to specialize in one area, plus stay abreast of changes and advancements in medicine. With the billing and coding requirements of today, it takes a specialist in that field to provide the same level of expertise. External auditors will also take the time to provide one-on-one feedback to individual physicians utilizing their own charts as examples and can pinpoint precise documentation deficiencies.

In closing, while implementing an EHR is a giant step in automating clinical processes, a good compliance plan that utilizes internal and external auditors shows your offices' desire to operate within the guidelines is equally important. If discrepancies are found, penalties will be less severe because you are showing due diligence to be in compliance.

(Parts of this blog post have been contributed by Kathy Husted, CPC, CPC-H, CPC-I, who works for Professional Billing & Management Services, an Affiliate of RevenueXL Inc.)